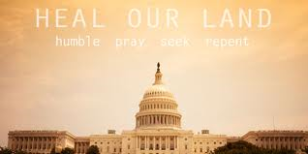 National Repentance for the United States
2 Chron 7:14  If my people, which are called by my name, shall humble themselves, and pray, and seek my face, and turn from their wicked ways; then will I hear from heaven, and will forgive their sin, and will heal their land.
15  Now mine eyes shall be open, and mine ears attent unto the prayer that is made in this place.
A great man of God, died Feb 9th, 2013, named Richard Twiss.
Richard Twiss (b. June 1954 – d. February 9 2013 Rosebud Lakota/Sioux Reservation in South Dakota[1]) was a Native American educator and author. He was a member of the Sicangu Lakota Oyate from the Rosebud Lakota Sioux Reservation in South Dakota. He was the Co-Founder and President of Wiconi International (Wee-choe'-nee is Lakota for "life") .
In 1972, Twiss was a participant in the forced occupation of the Bureau of Indian Affairs Building in Washington, D.C., with the radical political group, the American Indian Movement or "AIM." Twiss later became a Christian minister, author, and public speaker.
His vision was, "Serve as a bridge builder and consultant, nationally and internationally, to develop understanding, respect and mutual appreciation for one another, especially among Native American/First Nations people." http://en.wikipedia.org/wiki/Richard_Twiss
I quote from his book:
David Tavernier, an intercessor, had a profound experience with Jesus in October 1993. During of time of deep prayer for the United States, he asked 'Holy Spirit, what is the root sin, in the heart of America?' Immediately, God spoke to him and said: "Native American Indians".
He goes on to say how Holy Spirit then led him deeply into a time of great mourning and grieving in prayer….p50,51
In 1963, the late John F. Kennedy said: 'Before we can set out on the road to success, we have to know where we are going, and before we can know that, we must determine where we have been in the past.
            It seems a basic requirement to study the history of our Indian people. America has much to learn about the heritage of our American Indians. Only through this study can we as a nation do what must be done is our treatment of the American Indian is not to be marked down for all time as a national disgrace.
One Church, Many Tribes, Richard Twiss
 Since 1995, at Sacred Assembly in Hull, QC, I have endeavored to learn the heart of God for First Nations peoples.
Ps 92:6  A brutish man knoweth not; neither doth a fool understand this.
I grew up in a military home, and am the product of 15 schools in my life, now, three major Bible schools on top of that. Since I had my radical 'open heaven' experience with Jesus in 1989, I have walked with Jesus, determined to have truth at any cost (and the cost has been high), to hear and obey His voice and His Word….
Last year, I fasted and prayed for 8 weeks from October-early December 2012, during the second term election of President Barack Obama. During that time, I asked the Lord what the keys of truth are, to unlock this land we call the United States, to the move of the Holy Spirit, we all seek.
He showed me many things that I will not share here but in order of priority, the three spiritual strongholds that we must topple in prayer are:
1.      First Nations
2.      Racism
3.      Abortion.
This summer, I spent many weeks, weeping over a list of the 39 Indian tribes of Oklahoma, and the 500 tribes of North America.
During the dedication of the Cherokee house of prayer, in Talequah, a Messianic rabbi brought forward the following word:
"Even as Yeshua took 39 stripes in His Body, for the healing of your physical body, so these 39 tribes have taken stripes in their body, having suffered horribly for many generations. Even so, I will visit them with deep, deep healing, and as I do, I will raise them up as instruments of healing, not only to the other tribes, but also to this land, you call the United States of America.
            This is one of the keys you have sought, that will unlock the move of my Spirit across this nation, so I have spoken it, so it shall be: Red Man Rising!"
I understand prophecy, faith, authority, and spiritual responsibility before God. That prophecy must be governed and judged by the Scripture. I am convinced that this is a word from the Lord.
1Ti 1:18  This charge I commit unto thee, son Timothy, according to the prophecies which went before on thee, that thou by them mightest war a good warfare;
I have included this word on my daily prayer list, and am believing for this to come to pass…along with a move of the Holy Spirit among the other 500 tribes of North America.
I also believe that though the whole Zimmerman trial appeared to be a political move, to cover up the treacherous actions that occurred at Benghazi, yet the Lord has used it, to uncover His second priority item of prayer for this nation, the dismantling of institutionalized racism in the United States. Though I did not enter into deep intercession and fasting over this trial, it is my hope and prayer, that many others did, and that repentance, forgiveness,  reconciliation, healing, and peace would come from it. That now, the spiritual groundwork is being done, to destroy this demonic blood sacrifice in the land, we call abortion.
In Daniel chapter 9, we read: . 19  O Lord, hear; O Lord, forgive; O Lord, hearken and do; defer not, for thine own sake, O my God: for thy city and thy people are called by thy name.
20 ¶  And whiles I was speaking, and praying, and confessing my sin and the sin of my people Israel, and presenting my supplication before the LORD my God for the holy mountain of my God;
Daniel, humbled himself before God in prayer, and confessed the sin of the nation, and God literally moved in the heavenlies, and sent angels to change the government. This needs to happen again, and happen now, in America…..
Whether President Obama repents of his position legalizing abortion and same sex marriage (my prayer for him, for I honestly love the man, though I hate some of what he does), or He removes this current President, and installs one who will institutionalize righteousness, I care little, only that righteousness would again prevail, that the nation be exalted….
Let's pray:
'Father, open our eyes spiritually, and help us to break before you in vicarious intercession for the United States, and the rest of the nations of the earth. We ask you to forgive us for our blindness , pride, complacency, and hardness of heart, for our disobedience against You, and Your Word. Show us Lord, where we, by our silence or culture, contribute in any way to: injustice against the First Nations peoples, Bitterness, Racism, or abortion. Forgive us Father, and forgive this nation we call the United States of America. Father, restore to us, true righteousness, and give us wisdom and understanding, to know how to rebuild this nation, strong in You, and the power of Your might and holiness, with freedom, liberty, and justice for all! In Your name we pray Lord Jesus, Amen."
1Sa 16:7  But the LORD said unto Samuel, Look not on his countenance, or on the height of his stature; because I have refused him: for the LORD seeth not as man seeth; for man looketh on the outward appearance, but the LORD looketh on the heart.