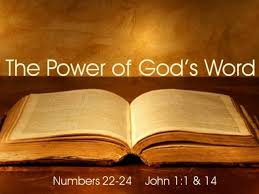 God's Word has power!
Job 26:1 Then Job replied:
2 "How you have helped the powerless!
How you have saved the arm that is feeble!
3 What advice you have offered to one without wisdom!
And what great insight you have displayed!
4 Who has helped you utter these words?
And whose spirit spoke from your mouth?
Job heard words, devoid of power, that could do nothing to help him, or anyone else. Yet God's Word, spoken out of the mouth of man, have POWER to heal, deliver, and empower! What are you speaking today?
Luke 24:19
"What things?" he asked. "About Jesus of Nazareth," they replied. "He was a prophet, powerful in word and deed before God and all the people.
When we walk with God, we will speak His Words, and do glorious deeds, for His Word, is His Will, and He demonstrates it in POWER.
1 Corinthians 2:4
My message and my preaching were not with wise and persuasive words, but with a demonstration of the Spirit's power,
Let's pray:
'Father, May my speech and preaching be in demonstration of Your power Holy Spirit, for I want to be like you Lord Jesus, Amen!'