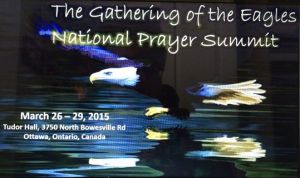 Our prayer in the Gathering of the Eagles National Prayer Summit was this would be a 'point of an arrow' that would launch us into a shared future in the leading of the Lord.
As a core leadership, we wanted to hear what the Lord was saying through the people. We felt that the historical and traditional hierarchy of leadership was not conducive to encouraging all people to share their hearts in a safe environment.
We wanted to come together to worship in spirit and in truth. We wanted to pray, wait on the Lord to hear and see what the next steps were going to look like. We had a collective vision and direction to focus as a guideline Dr. Billy Graham's statement of 40 years ago. "The greatest moments of Native History lie ahead of us, if a great spiritual renewal and wakening should take place. The Native American has been a sleeping giant. He is awakening. The original Americans could become the evangelists who will win America for Christ! Remember these forgotten people!"
March 2015 marks 40 years since Dr. Graham's word. The number 40 is often associated with a time of testing, trials, judgment and making one new generation ready to enter God's promised land. It is therefore a time of purification and a new beginning. This year will test our resiliency in our faith and in our love to God.
What could the greatest moments of Native History look like? How should we prepare for what could be the greatest moments ahead of us? If, a great spiritual renewal and wakening should take place today, what is the role and place of our people today? How should we prepare today?
What put or who put the Native American giant to sleep? How is the 'giant' awakening? Is he awakening today? What will be required to fully awaken the giant to fulfill its destiny? How will the original Native American become the evangelists to America for Christ?
Worship was a significant time of intimate, intense warring in the spirit, celebratory, and at times people with instruments joined in the worship. Corporate prayers were released from various individuals. People were free to express in their God-given gifting, anointing and calling. People shared freely and received healings in times of worship, intercession, and sharing of hearts.
The Lord's agenda is not like ours and he can do much with a few when we trust him and submit to his leadership. It is no longer our own timing of doing things when we feel like it but we must pursue the Lord with the highest level of honour, and in the fear of the Lord.
Dreams, vision and revelations must be carefully listened to and regarded with respect and adherence, especially when we have discerned the voice of the Lord. We must be sensitive, discerning, ever-seeing, ever-knowing the signs and times we live in. An atmosphere of heaven is created when by faith we praise, and worship the Lord.
We need to be desperate for the deeper things of the Lord. We sleep deep in darkness; someone had turned the lights off but now the light is turned back on – how do we bring the light to those who like the darkness?
A spirit of generosity is key to breaking a spirit of poverty over our people. Protocol is first done as unto the Lord then carried out to others. With one voice and one heart, we can restore, repair and renew the original spiritual foundations and spiritual coverings of our homes, communities, and nations. In so doing, ensure persistent and consistent intercession for our people and nation. The word of God must be the one and true foundation of our identity in Christ.
Taking a hold of the prophetic word of Dr. Billy Graham for Native American people we ask, "Where do we go from here? Keys to a renewal and spiritual awakening in our people require strategic fasting and praying. We need a national clarion call in this. We have completed the first, of perhaps many similar summits throughout North America. This will be dependent on how serious we are in pursuing a move of God, in and through our people.
Lou Engle brought us a much-needed encouragement and a timely perspective. He asked, "Who will pick up the mantle of Dr. Billy Graham?" Lou believes in our people, and strongly supports our youth to run with their vision. We must embrace our youth in their vision for a national gathering in 2016. Chasity Roanhorse is running with the A.N.N.A Call 2016 with the support of Lou Engle. As First Nations, Inuit and Métis pastors, leaders and ministries, we must rally around our youth in their national vision. We must promote their gathering, and we must raise funds to stand alongside them.
Picking up the mantle of a revivalist will cost. We must break the bondages of the negative past with prevailing faith. We must mobilize a strategic network of Native pastors and leaders, along with other ministries. We must decree our people are stepping out of 40 years of wandering in the wilderness of unbelief and disobedience, and stepping into the original plan and purposes of God. We must decree we will rise up and be the carriers of the healing Word of God for such a time as this, and that we will win North America for Christ!
Native American people in North America – its our time to rise up to the challenges of today. This is not the time to remain as the forgotten people. We just didn't survive all the past atrocities – we can conquered – therefore we are more than conquerers in Christ!
This is our time to truly be the host peoples and stewards of our homeland to the glory of God! This is our time to rise up as a strategic army of revivalists! North America needs us – for such a time as this!
Thank you all who prayed and who support the Gathering of the Eagles National Prayer Summit.
This is not the end – this is the beginning!