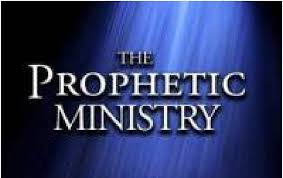 pro•phet•ic
prəˈfetik/
adjective
1.
accurately describing or predicting what will happen in the future.
"his warnings proved prophetic"
2.
of, relating to, or characteristic of a prophet or prophecy.
"the prophetic books of the Old Testament"
That all might prophesy!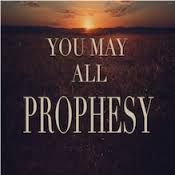 Numbers 11: 26 However, two men, whose names were Eldad and Medad, had remained in the camp. They were listed among the elders, but did not go out to the tent. Yet the Spirit also rested on them, and they prophesied in the camp. 27 A young man ran and told Moses, "Eldad and Medad are prophesying in the camp."
28 Joshua son of Nun, who had been Moses' aide since youth, spoke up and said, "Moses, my lord, stop them!"
29 But Moses replied, "Are you jealous for my sake? I wish that all the LORD's people were prophetsand that the LORD would put his Spirit on them!"
It is good to seek and operate in the gifts of the Holy Spirit, in the love of God, for as we study, learn, and grow, there is clearly a revelatory aspect to the kingdom of God, where God speaks to us from heaven, things that we could not know naturally. Here are a few Scriptures to meditate upon:
1 Corinthians 13:9
For we know in part and we prophesy in part,
1 Corinthians 14:5
I would like every one of you to speak in tongues, but I would rather have you prophesy. The one who prophesies is greater than the one who speaks in tongues, unless someone interprets, so that the church may be edified.
1 Corinthians 14:39
Therefore, my brothers and sisters, be eager to prophesy, and do not forbid speaking in tongues.
Revelation 19:10 (NIV)
At this I fell at his feet to worship him. But he said to me, "Don't do that! I am a fellow servant with you and with your brothers and sisters who hold to the testimony of Jesus. Worship God! For it is the Spirit of prophecy who bears testimony to Jesus."
Revelation 19:10 (NASV)
Then I fell at his feet to worship him. But he *said to me, "Do not do that; I am a fellow servant of yours and your brethren who hold the testimony of Jesus; worship God. For the testimony of Jesus is the spirit of prophecy."
1 Corinthians 14:3
But he who prophesies speaks edification and exhortation and comfort to men.
So we see that God desires that every New Testament believer should prophesy….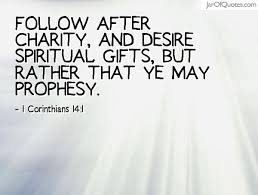 Yet, it doesn't take much discernment in the Body of Christ, to discover that not everything that calls itself a prophet, is of God.
2 Peter 2:2 But there were also false prophets among the people, even as there will be false teachers among you, who will secretly bring in destructive heresies, even denying the Lord who bought them, and bring on themselves swift destruction.
For those who love truth, please consider: https://chrisaomministries.wordpress.com/2014/11/10/test-the-spirits-love-truth/
https://chrisaomministries.com/2015/05/23/love-truth-best-protection-for-these-last-days/
Just as there are authentic prophetic ministries, there are false prophets and teachers. Seems as I have walked with God for all these years, I have discovered that the authentic, when you get around them enough, will ALWAYS preach holiness unto the Lord at some point. There will always be in their ministry, a hatred of sin, and desire for people to come out from wickedness and immorality and to live clean, pure lives before the Lord. They will always point people to Jesus, never away from Him…
When I have seen those I consider false prophets and teachers, there is a tolerance of sin, evil, or unconsecrated lives.
Yet, God still speaks through prophets and prophecy….
Daniel 2: 22 He reveals deep and secret things;
He knows what is in the darkness,
And light dwells with Him.
As I read today's readings I am reminded of my years, walking amongst the prophets. Rather than really digging into this topic, I highly recommend that in order for this to become more that than another 'ear-tickling' sermon, that those who would desire to walk in the prophetic would:
1. Make a firm decision to submit to the authority of the written Word of God. It is my conviction that prophecy may illuminate the written Word, or reveal actual times and events occurring in the earth, it will never contradict it.
2 Timothy 3:16
All Scripture is given by inspiration of God, and is profitable for doctrine, for reproof, for correction, for instruction in righteousness,
2. Surround yourselves with prophetic people:
1 Corinthians 14:32
And the spirits of the prophets are subject to the prophets.
Read teaching materials from proven prophetic ministries: Three books to get you started might be: Growing in the Prophetic by Mike Bickle, The Elijah Task, John Sandford, and Developing Your Prophetic Gifting by Graham Cooke.
3. There are levels of prophetic growth and maturity. While any believer should be able to bring a word of exhortation, comfort and edification, corrective or directive words, are usually given to leaders of proven Christian character, and should never be substituted for the voice of the Lord in an individual's life, personally.
John 10:27
New King James Version (NKJV)
27 My sheep hear My voice, and I know them, and they follow Me.
Jesus is Lord of our lives, not any prophet or spiritual leader. As great as spiritual leaders are, one day, we will all give an account, personally to Him alone.
Corrective or directive prophecy should always confirm both the Scripture, and what Holy Spirit is already saying to us, personally.
4. Just because someone moves in the prophetic, does not make them equal to the five-fold ministry of the prophet. This office takes years of training and development, before God generally releases it into the earth.
In reading Mike's book, I am reminded of the three things we should always consider with any prophecy: revelation, interpretation and application.
God is always speaking, and He loves us!
The challenge is when He reveals something, how to interpret it and apply it to our lives, in His timing.
I could preach on this, much, but I would strongly caution any believer in this:
When God reveals something, test it against Scripture, pray about it, and be careful who you share it with.
Joseph's brothers had no problem with the interpretation of Joseph's dream, but their application was 'Kill Joseph!'. They did not disagree with either the revelation, or the interpretation, but their application caused Joseph great pain!
A vision, a word, a dream in the night, can be so vivid, clear, and definitely of the Lord, but my experience has been this: How do I interpret what Holy Spirit has shown me? What am I to do with it? Speak it, proclaim it, pray about it? What is the timing of what He is showing me? Why is He showing me certain things?
Two nights ago, I had a vivid dream, that immediately came to pass this weekend, in the first half of it. The part that involved me, has not finished happening yet….
Let's pray:
'Father God, like Moses, I pray that all of your people might prophesy. May You breath Holy Spirit upon us today with revelation, visions, dreams, words and utterance granted. As You do Sir, please help us to correctly interpret and apply, in Your timing, exactly what You are showing us. How we need Your encouragement, edification and comfort today, Lord Jesus! Bring it to our lives I pray, Amen!'
Links to reference books:
http://www.amazon.com/Elijah-Task-Todays-Prophets-Intercessors/dp/1599790203/ref=sr_1_1?s=books&ie=UTF8&qid=1382376152&sr=1-1&keywords=The+Elijah+Task+John+Sandford
http://www.amazon.com/Growing-Prophetic-practical-biblical-spiritual/dp/1599793121/ref=sr_1_1?s=books&ie=UTF8&qid=1382376233&sr=1-1&keywords=Mike+Bickle+Growing+in+the+Prophetic
http://www.amazon.com/Developing-Prophetic-Gifting-Graham-Cooke/dp/0800793269/ref=sr_1_1?s=books&ie=UTF8&qid=1382376276&sr=1-1&keywords=graham+cooke+developing+your+prophetic+gifting