Seven Reasons I believe Jesus is the Messiah
I believe Jesus is Messiah, Yeshua, not merely the son of God, but God the Son, and the only way to God the Father, creator of the universe!
Ok, I get it. Many will not take time to read this, so I have posted an abbreviated version on Youtube:
Opening Prayer and worship by my son Jedidiah: https://www.youtube.com/watch?v=3iRMwFEBMbk
Seven Reasons Teaching by Chris: https://www.youtube.com/watch?v=dty63JsrT7E&t=143s
There are many more fulfilled prophecies of Jesus listed on: 100prophecies.org
This is basic Christian doctrine:
The Apostles Creed:
I believe in God the Father Almighty, Maker of heaven and earth, And in Jesus Christ his only Son our Lord, Who was conceived by the Holy Ghost, Born of the Virgin Mary, Suffered under Pontius Pilate, Was crucified, dead, and buried. He descended into hell; The third day He rose again from the dead; He ascended into heaven, And sitteth on the right hand of God the Father Almighty; From thence he shall come to judge the quick and the dead. I believe in the Holy Ghost; The Holy catholic Church, the Communion of Saints; The Forgiveness of sins; The Resurrection of the body, And the Life everlasting. Amen. (https://billygraham.org/answer/what-is-the-apostles-creed/)
Reason #1
1.The Messiah would be preceded by a messenger
Bible prophecy: Isaiah 40:1-5,9
Prophecy written: Between 701-681 BC
Prophecy fulfilled: About 27 AD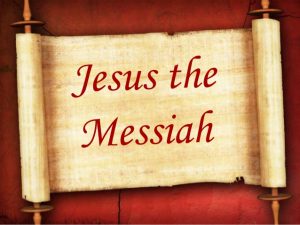 In Isaiah 40:3, the prophet writes about a person in the desert who prepares the way for the Lord. This prophecy foreshadowed the life of John the Baptist, who played an important role in preparing the groundwork for the ministry of Jesus Christ. Jesus was born shortly after John the Baptist about 2000 years ago. The book of Matthew records many events of the life of Jesus and of John the Baptist. In Matthew 3:1-2, it says: "In those days John the Baptist came, preaching in the Desert of Judea, and saying, Repent, for the kingdom of heaven is near."
Matt 3: In those days John the Baptist came, preaching in the wilderness of Judea 2 and saying, "Repent, for the kingdom of heaven has come near."3 This is he who was spoken of through the prophet Isaiah:
"A voice of one calling in the wilderness,
'Prepare the way for the Lord,
make straight paths for him.'"[a]
Isaiah 40:1-5,9 (NIV):
1 Comfort, comfort my people, says your God.
2 Speak tenderly to Jerusalem, and proclaim to her that her hard service has been completed, that her sin has been paid for, that she has received from the LORD's hand double for all her sins.
3 A voice of one calling: "In the desert prepare the way for the LORD; make straight in the wilderness a highway for our God.
4 Every valley shall be raised up, every mountain and hill made low; the rough ground shall become level, the rugged places a plain.
5 And the glory of the LORD will be revealed, and all mankind together will see it. For the mouth of the LORD has spoken."
9 . . . say to the towns of Judah, "Here is your God!"
Jesus, Yeshua, is Messiah, the Word made flesh among us, God the Son.
He would perform miracles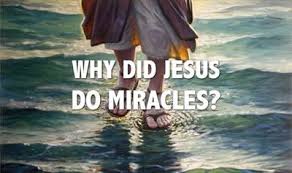 Bible prophecy: Isaiah 35:4-6
Prophecy written: Between 701-681 BC
Prophecy fulfilled: About 27-31 AD
Isaiah, who lived about 2700 years ago, prophesied that there would come a time when God would arrive and heal the eyes of the blind, the ears of the deaf, the mobility of the lame, and the voice of the mute.
Jesus did each of these things in a spiritual sense, in offering truth and salvation, and in a literal sense by performing miracles of healing.
The web site at About-Jesus.org provides details about 34 miracles performed by Jesus. He still does miracles today, for He is the same yesterday, today and forever. Let's believe for Your miracle, today:
'Father, we come to you through the precious blood of Jesus, and ask you Creator of Heaven and earth to touch us, now. Heal, deliver, and glorify your name'.
Isaiah 35:4-6 (NIV):
4 say to those with fearful hearts, "Be strong, do not fear; your God will come, he will come with vengeance; with divine retribution he will come to save you."
5 Then will the eyes of the blind be opened and the ears of the deaf unstopped.
6 Then will the lame leap like a deer, and the mute tongue shout for joy. Water will gush forth in the wilderness and streams in the desert.
Matt 8: 16 When evening came, many who were demon-possessed were brought to him, and he drove out the spirits with a word and healed all the sick.17 This was to fulfill what was spoken through the prophet Isaiah:
"He took up our infirmities
and bore our diseases."[b]
Matthew 11: 2 When John, who was in prison, heard about the deeds of the Messiah, he sent his disciples 3 to ask him, "Are you the one who is to come, or should we expect someone else?"
4 Jesus replied, "Go back and report to John what you hear and see:5 The blind receive sight, the lame walk, those who have leprosy[b] are cleansed, the deaf hear, the dead are raised, and the good news is proclaimed to the poor. 6 Blessed is anyone who does not stumble on account of me."
7 As John's disciples were leaving, Jesus began to speak to the crowd about John: "What did you go out into the wilderness to see? A reed swayed by the wind? 8 If not, what did you go out to see? A man dressed in fine clothes? No, those who wear fine clothes are in kings' palaces.9 Then what did you go out to see? A prophet? Yes, I tell you, and more than a prophet. 10 This is the one about whom it is written:
"'I will send my messenger ahead of you,
who will prepare your way before you.'[c]
He did send John the Baptist to prepare the way for THE WAY, Messiah, Yeshua, Lord Jesus, the only way to the Father.
Some years ago, I went through a very dark season in my life. I was studying for ministry, and driving a handicapped school bus to provide for myself and rented room with a Christian family. During that time, I was assigned to drive a handicapped bus, with children suffering from MS, Cerebal Palsy, and various brutal life conditions. Incredibly heartbreaking picking them up in the snow, in 20 below zero, strapping their wheelchairs down, and driving them to school for the day. Just me, a nurse, and 6-8 precious children. During this season, my mom got lung cancer, that spread to her lymph nodes, and eventually killed her. Early dark mornings driving the bus, studying all day at Bible school, going to the hospital, eventually palliative care, and hospice until she died. Though it was a public school, I was allowed a cassette/CD player, and I constantly played worship tapes on the bus and sang along with them with the children. I remember breaking in tears one morning as a little boy named David was being strapped in. David had no use of his arms and legs, and breathed through a trac tube. As I leaned over him to reach the ratchet strap for his wheel-chair, our eyes met, and he began to cry. Deep, anguished sobs, from a pain few could understand – yet suddenly I did, and I too began to sob deeply, and hugged, and held him for a few seconds – and we became friends that day at a very deep level. One little girl Rae I nick-named 'Ray, my little sunshine', and she would sit behind me each morning, and we would sing along to the music. One song she had me play over and over was the Bob Fitts song, from this verse, 'He will come and save you…". Well one morning, I gave up. Mom had died, and I could not understand a God that would leave precious children in wheel chairs. I couldn't take it anymore, and instead of singing, I slumped into a deep despair. Suddenly, Rae was yelling, breaking into the dark cloud of my depression. I looked in the rearview mirror to see what she wanted, and she was lit up in a visible glow, and I began to focus on what she was yelling. She was smiling and laughing and yelling: 'Sing with me! Sing with me!" as this Bob Fitts song played in the background: https://www.youtube.com/watch?v=dEXP41LUC44
As this was happening, God answered my anguished prayer 'Why do you allow these children in wheelchairs', He spoke to me, shattering my darkness: 'Child, sometimes I send one with a broken body, to heal another with a shattered soul'
Isaiah 35: 4 say to those with fearful hearts, "Be strong, do not fear; your God will come, he will come with vengeance; with divine retribution he will come to save you."
Why do I believe Jesus is Messiah, God the Son, the Way to our Father? Because I know Him, and He has come and saved me….
Isaiah foreshadows the ministry of Jesus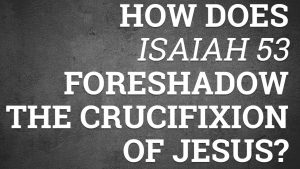 Bible prophecy: Isaiah 61:1-2
Prophecy written: Between 701-681 BC
Prophecy fulfilled: About 27-31 AD
In Isaiah 61, there are passages that speak of an anointed one who preaches the good news to the poor, frees the people who are imprisoned, heals the blind and releases the oppressed. About 700 years after the time of Isaiah, Jesus relates these Bible passages to Himself:
Luke 4:14-21 (NIV translation):
14 Jesus returned to Galilee in the power of the Spirit, and news about him spread through the whole countryside.
15 He taught in their synagogues, and everyone praised him.
16 He went to Nazareth, where he had been brought up, and on the Sabbath day he went into the synagogue, as was his custom. And he stood up to read.
17 The scroll of the prophet Isaiah was handed to him. Unrolling it, he found the place where it is written:
18 "The Spirit of the Lord is on me, because he has anointed me to preach good news to the poor. He has sent me to proclaim freedom for the prisoners and recovery of sight for the blind, to release the oppressed,
19 to proclaim the year of the Lord's favor."
20 Then he rolled up the scroll, gave it back to the attendant and sat down. The eyes of everyone in the synagogue were fastened on him,
21 and he began by saying to them, "Today this scripture is fulfilled in your hearing."
At this point during the ministry of Jesus, he had already been preaching the good news to the poor and he had already healed many people of various afflictions, including blindness, both in a physical sense and in a spiritual sense.
But Jesus had not yet begun the other part of his mission, which includes a "day of vengeance," which Bible scholar John Gill explains as "the day of vengeance of our God; when vengeance was taken on sin, in the person of Christ; when he destroyed the works of the devil, … and who will take vengeance on antichrist at his spiritual coming, and upon all the wicked at the day of judgment."
With this in mind, it is interesting that Jesus stopped reading Isaiah 61 mid way through verse 2, immediately before the mention of a "day of vengeance."
Isaiah 61:1-2 (NIV):
1 The Spirit of the Sovereign LORD is on me, because the LORD has anointed me to preach good news to the poor. He has sent me to bind up the brokenhearted, to proclaim freedom for the captives and release from darkness for the prisoners,[1]
2 to proclaim the year of the LORD's favor and the day of vengeance of our God, to comfort all who mourn,
NIV Footnote: [1] Instead of "prisoners," the Greek Septuagint renders the word as "blind."
Numbers 23:19 God is not a man, that he should lie; neither the son of man, that he should repent: hath he said, and shall he not do it? or hath he spoken, and shall he not make it good?
I have met Jesus personally, and He is absolute truth. He cannot lie, He is holy. He, in this verse, said that He fulfilled this Scripture, that clearly refers to the coming of Messiah, stating He was and is, the fulfillment of the promise.
God is alive, and He still speaks. Here is my testimony of one of the times Jesus appeared to me: https://chrisaomministries.wordpress.com/2014/11/05/seven-that-ways-god-speaks-to-you-part-3/
4.The Messiah would enter Jerusalem while riding on a donkey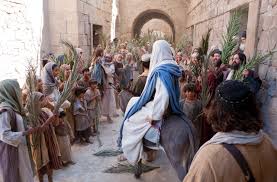 Bible prophecy: Zechariah 9:9
Prophecy written: Between 520 and 518 BC
Prophecy fulfilled: About 31 AD
In Zechariah 9:9, the prophet speaks of a future king presenting himself to Jerusalem while riding on a humble donkey. This foreshadowed something that happened about 500 years later. As explained in Luke 19:35-37, Jesus rode into Jerusalem on a donkey and presented himself as the Messiah, the King.
Alfred Edersheim, a Christian Jew who lived during the 1800s, studied ancient Rabbinical writings, and said that Zechariah 9:9 was often interpreted as being about a Messiah. In his book, The Life and Times of Jesus the Messiah, Edersheim wrote: "The Messianic application of this verse in all its parts has already been repeatedly indicated. We may here add that there are many traditions about this donkey on which the Messiah is to ride; and so firm was the belief in it, that, according to the Talmud, 'if anyone saw a donkey in his dreams, he will see salvation' (Ber 56 b)."
The name "Jesus," means "salvation" in Hebrew.
Zechariah 9:9 (NIV):
Rejoice greatly, O Daughter of Zion! Shout, Daughter of Jerusalem! See, your king comes to you, righteous and having salvation, gentle and riding on a donkey, on a colt, the foal of a donkey.
John Chapter 12, from the Amplified Bible records this event:
The Triumphal Entry
12 The next day, when the large crowd who had come to the Passover feast heard that Jesus was coming to Jerusalem, 13 they took branches of palm trees [in homage to Him as King] and went out to meet Him, and they began shouting and kept shouting "Hosanna! Blessed (celebrated, praised) is He who comes in the name of the Lord, even the King of Israel!" 14 And Jesus, finding a young donkey, sat on it; just as it is written [in Scripture], 15 "Do not fear, Daughter of Zion; Behold, Your King is coming, seated on a donkey's colt." 16 His disciples did not understand [the meaning of] these things at first; but when Jesus was glorified and exalted, they remembered that these things had been written about Him and had been done to Him.
This event is recorded again in Matthew's gospel: (AMP)
The Triumphal Entry
21 When they approached Jerusalem and had reached Bethphage, at the Mount of Olives, Jesus sent two disciples [ahead], 2 saying to them, "Go into the village opposite you, and at once you will find a donkey tied, and a colt with her; untie them and bring them to Me. 3 If anyone says anything to you, you should say, 'The Lord needs them,' and without delay the owner will send them [with you]." 4 This happened so that what was spoken by the prophet would be fulfilled, saying:
5 "Tell the daughter of Zion (the people of Jerusalem),
'Behold, your King is coming to you,
Gentle and mounted on a donkey,
Even on a colt, the foal of a beast of burden.'"
6 Then the disciples went and did as Jesus had instructed them, 7 and they brought the donkey and [a]the colt, and [b]placed their coats on them; and Jesus sat on the coats. 8 Most of the crowd spread their coats on the road [as before a king], while others were cutting branches from the trees and spreading them on the road. 9 The crowds that went ahead of Him, and those that followed Him, were shouting [in praise and adoration],
"[c]Hosanna to the Son of David (Messiah);
Blessed [praised, glorified] is He who comes in the name of the Lord;
Hosanna in the highest [heaven]!"
10 When He entered Jerusalem, all the city was trembling [with excitement], saying, "Who is this?" 11 And the crowds were saying, "This is the prophet Jesus, from Nazareth in Galilee."
Last year as we hiked the mount of Olives, and stood at the top where Jesus bodily ascended into heaven with 500 eyewitnesses, the place where I believe He will come again and stand, to walk down through the Kidron valley, through the Eastern gate of Jerusalem, to stand upon the temple mount.
Zechariah 12:10 "I will pour out on the house of David and on the people of Jerusalem, the Spirit of grace (unmerited favor) and supplication. And they will look at Me whom they have pierced; and they will mourn for Him as one mourns for an only son, and they will weep bitterly over Him as one who weeps bitterly over a firstborn.
Romans 11:  26 and so [at that time] all Israel [that is, all Jews who have a personal faith in Jesus as Messiah] will be saved; just as it is written [in Scripture],
"The Deliverer (Messiah) will come from Zion,
He will remove ungodliness from Jacob."
27 
"This is My covenant with them,
When I take away their sins."
5. Jesus proclaims that he is the Messiah
Bible prophecy: John 4:19-26
Prophecy written: During the first century
Prophecy fulfilled: Since the time of Jesus
In Matthew 5:17, John 4:25-26, and in other verses, Jesus proclaims that he was the Messiah promised by the Old Testament prophets. Jesus remains the first and only person in history to be taken seriously by people throughout the world as being the Messiah that so many of the Bible's prophets had prophesied about.
Remember the story of the woman at the well?
John 4:19-26 (NIV):
19 "Sir," the woman said, "I can see that you are a prophet.
20 Our fathers worshiped on this mountain, but you Jews claim that the place where we must worship is in Jerusalem."
21 Jesus declared, "Believe me, woman, a time is coming when you will worship the Father neither on this mountain nor in Jerusalem.
22 You Samaritans worship what you do not know; we worship what we do know, for salvation is from the Jews.
23 Yet a time is coming and has now come when the true worshipers will worship the Father in spirit and truth, for they are the kind of worshipers the Father seeks.
24 God is spirit, and his worshipers must worship in spirit and in truth."
25 The woman said, "I know that Messiah" (called Christ) "is coming. When he comes, he will explain everything to us."
26 Then Jesus declared, "I who speak to you am he."
Jesus has Himself proclaimed that He is Messiah. He cannot lie…
6. There would be a son called God
Bible prophecy: Isaiah 9:6-7
Prophecy written: Between 701-681 BC
Prophecy fulfilled: About 5 BC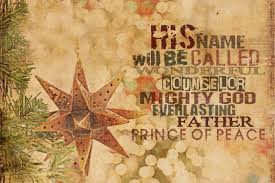 In Isaiah 9:6-7, which was written about 700 years before the time of Jesus, the prophet Isaiah speaks of a son who would be called "Mighty God" and "Eternal Father." Isaiah also indicates that this son would reign on the throne of King David and that this reign would be everlasting. King David is the great, God-obeying king who reigned from about 1050 BC to about 1010 BC. God had promised King David that the reign from David's throne would be everlasting. Christians acknowledge that this promise is fulfilled in Jesus Christ, who is a descendant of King David, and whose reign is everlasting. Today, the teachings of Jesus govern the lives of as many as an estimated 2 billion Christians worldwide. The New Testament also says that Jesus will return in the future and that his kingdom will have no end.
Isaiah 9:6-7 (NIV):
6 For to us a child is born, to us a son is given, and the government will be on his shoulders. And he will be called Wonderful Counselor, Mighty God, Everlasting Father, Prince of Peace.
7 Of the increase of his government and peace there will be no end. He will reign on David's throne and over his kingdom, establishing and upholding it with justice and righteousness from that time on and forever. The zeal of the LORD Almighty will accomplish this.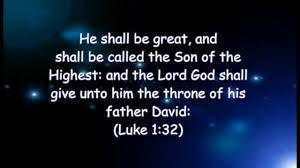 As I have said, Jesus was born of a virgin, the egg was human, the seed that impregnated Mary, divine. He is fully God and fully man, God the Son.
John 1:1 In the beginning [before all time] was the Word ([a]Christ), and the Word was with God, and [b]the Word was God Himself. 2 He was [continually existing] in the beginning [co-eternally] with God.
14 And the Word (Christ) became flesh, and lived among us; and we [actually] saw His glory, glory as belongs to the [One and] only begotten Son of the Father, [the Son who is truly unique, the only One of His kind, who is] full of grace and truth (absolutely free of deception).
Add Matt 28: All authority in heaven and earth…
16 Now the eleven disciples went to Galilee, to the mountain which Jesus had designated. 17 And when they saw Him, they worshiped Him; but some doubted [that it was really He]. 18 Jesus came up and said to them, "All authority (all power of absolute rule) in heaven and on earth has been given to Me. 19 Go therefore and make disciples of all the nations [help the people to learn of Me, believe in Me, and obey My words], baptizing them in the name of the Father and of the Son and of the Holy Spirit,
7. The Messiah would be rejected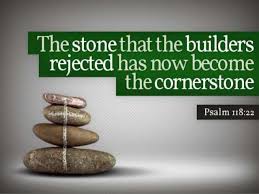 Bible prophecy: Isaiah 53:1-3
Prophecy written: Between 701-681 BC
Prophecy fulfilled: About 31 AD
In Isaiah 52:13-53:12, the prophet foreshadowed the life and mission of Jesus, who was born about 700 years later. In Isaiah 53:3, the prophet said that a servant of God would be rejected and despised. Jesus was indeed rejected by many people living in the land of Israel, and He was later crucified by the Romans.
It has been claimed by some commentators that Isaiah 52:13-53:12 actually refers to Israel as a nation and not to an individual Messiah. But, there are several commentaries written by rabbis that confirm that the prophecy refers to a Messiah and not to a nation. Several examples of these writings are listed in the book, The Fifty-Third Chapter of Isaiah According to the Jewish Interpreters, edited by S.R. Driver and A.D. Neubauer. Here are two examples from that book:
"Our Rabbis with one voice accept and affirm the opinion that the prophet is speaking of the King Messiah, and we shall ourselves also adhere to the same view." – Rabbi Moshe Alshekh, 16th century.
"But he was wounded for our transgressions, bruised for our iniquities, the meaning of which is that since the Messiah bears our iniquities which produce the effect of his being bruised, it follows that whoso will not admit that the Messiah thus suffers for our iniquities, must endure and suffer for them himself." – Rabbi Eliyyah de Vidas, who wrote during the 16th century.
Isaiah 53:1-3 (NIV):
1 Who has believed our message and to whom has the arm of the LORD been revealed?
2 He grew up before him like a tender shoot, and like a root out of dry ground. He had no beauty or majesty to attract us to him, nothing in his appearance that we should desire him.
3 He was despised and rejected by men, a man of sorrows, and familiar with suffering. Like one from whom men hide their faces he was despised, and we esteemed him not.
4 AMP But [in fact] He has borne our griefs,
And He has carried our sorrows and pains;
Yet we [ignorantly] assumed that He was stricken,
Struck down by God and degraded and humiliated [by Him].
5 But He was wounded for our transgressions,
He was crushed for our wickedness [our sin, our injustice, our wrongdoing];
The punishment [required] for our well-being fell on Him,
And by His stripes (wounds) we are healed.
6 All of us like sheep have gone astray,
We have turned, each one, to his own way;
But the Lord has caused the wickedness of us all [our sin, our injustice, our wrongdoing]
To fall on Him [instead of us].
7 He was oppressed and He was afflicted,
Yet He did not open His mouth [to complain or defend Himself];
Like a lamb that is led to the slaughter,
And like a sheep that is silent before her shearers,
So He did not open His mouth.
He was the perfect, sinless, holy, pure, Lamb of God, who willingly went to the cross as a sacrifice for all humanity, a perfect atonement for the sin of all who would receive Him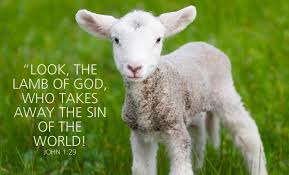 John 1:12 Amplified Bible (AMP)
12 But to as many as did receive and welcome Him, He gave the right [the authority, the privilege] to become children of God, that is, to those who believe in (adhere to, trust in, and rely on) His name—
I have received Him, my Lord, my savior, and I have been adopted into the precious family of God – the eternal question then is this: Who is Jesus to you? Will you receive Him?