Park Elementary Update
As most people know, I am that man determined to end Veteran homelessness here in Tulsa, and I have been working on a way to do that. Hopefully, you have read: https://www.chrisaomministries.com/2020/01/veterans-tiny-home-community-tulsa
I have visited Veterans Community Project in Kansas City twice, and met with the executive director Chris Admire there, and have been greatly encouraged by the 'homes for hero's' program they operate . It is a very comprehensive program, operated with military honor and excellence, by vets for vets.
Myself, Chris Admire(VCP) Major Al Flowers (US Army retired)
Here is where everything is at.
Over the past year, I have put my construction and ministry management skills to use, meeting with architect Leon Ragsdale and every qualified construction contractor required to transition the campus from a school into an effective community multi-use facility that has 3 facets.
WEST SIDE STORY
The Bivouac – A military term for temporary military housing. The East Wing of the school would be retrofitted to house veterans support services offices and administrative staff. In the East soccer field, the first ten cabins housing ten currently homeless veterans, fully supported for a residency of typically 3-18months, to empower them to successfully integrate into civilian life and permanent housing.
A Community Food Warehouse- With Covid, many people living at or below the poverty line, have need of basic food to survive: The West wing of the school, currently the cafeteria area, would be retrofitted to house a 1000sf of walk-in cooler, to receive produce, dairy and perishable food items. I would love to pattern this area into a facility like Tulsa Dream Center, maybe even call it Dream Center West.
A church – In these difficult times, people need to know that God loves them, and we all need a place to serve our community. The church is Gods plan for each of us and His way of healing and empowering communities through His love. Furthermore, I have studied at three Bible schools, having graduated pastors group at Rhema in 1999, now the masters in ministry program in August 2021 from Oral Roberts University. I need to be pastoring and helping people, it is who I am.
As obstacles have arisen, I have endeavored to keep moving forward. Here are the current challenges:
Finances – While many contractors have embraced the vision to help our veteran population, they cannot work for free, nor can I. I have received absolute best pricing on construction costs based upon my relationships with great contractors in my profession, yet the insane inflationary costs of building materials in 2020-2021 have produced actual material costs that are substantially more than 2019, and 2020. This has been an interesting journey. I was asked to present my vision at the Tulsa Community Foundation(TCF) Board meeting some months ago, and as I listened carefully to their counsel, they suggested I interview with Becky Gligo of Housing Solutions,(https://www.housingsolutionstulsa.org/contact/) since there is a very real housing component to our proposal. Becky suggested I rephrase the description of this project as a 'Community multi-use facility, that provides transitional housing for reintegrating veterans into civilian life, that includes wraparound services.' I am grateful for her endorsement, but as I went back to TCF to discover the next step in the funding process, I was referred to the Zarrow Foundation. I SUBMITTED  their grant application by the Jan 15th , 2022 deadline. They voted on potential funding the first week of February. and denied funding. Yet, I am not discouraged, because the complexity of their grant application forced me and fellow patriots to do more research to produce more accurate financial spreadsheets, that now include more than building purchase and construction costs, but also an estimated first 2 years program costs. I am more and more convinced that someone surely will fund it. It is a clear need in our city and community that has touched the heart of fellow patriots. Throughout the course of 2021, I have met often with veterans and spoken at several veterans support groups, City Council, Tulsa School Board, and have held at least six on site meetings at the school with various contractors, our architect, school board staff, veterans, pastors and other business people and ministers, to share the vision, and to solicit accurate estimates on construction costs. From this we have received some very generous offers to help. The site will require installation of an additional high voltage service, transformer and electric rack for the additional cottages to house residents. AEP offered to install this $40-50K service for free. Most contractors are patriots and gave me written estimates at their cost price, for we all believe that this is an idea whose time has come. Many have done business with me over the years here in Tulsa, and trust me, my construction expertise, and the call of God upon my life.
City Council and HOA- As I have met with City Councilors and representatives from INCOG, it was mentioned that there would be opposition from local HOA to any repurpose of this site to house homeless individuals. The same old 'not in my backyard' argument. I have received three telephone calls from supposed members of 'The Red Fork Homeowners Association' stating that they will never allow this project in their neighborhood with minds like concrete – all mixed up and thoroughly set. Only one of the three individuals that called, would even consider allowing me to speak the facts of the project, two others were clearly only venting their agenda. Rather than argue with any of them, I thought to myself: 'How can I get this project rezoned through the planning commission, knowing that whoever the invisible 'Red Fork Homeowners Association' represents, will probably show up at the mandatory public meeting to discuss purchase and rezoning. As I prayed about how best to navigate this challenge, help arrived in the form of three people who have successfully been through this process on other projects.
The first is Tulsa's own Leon Ragsdale. Leon grew up in West Tulsa and is the architect on this project. Leon is famous in my mind, every time I see the 'Up with Trees' signs around town. Here's how the legend is described. 'When Oklahoma underwent the Great Depression caused from drought that resulted in Oklahoma becoming; 'The Dust Bowl', with prevailing winds carrying off our precious topsoil. Leon had the great idea of digging ponds and planting trees as windbreaks with the thought that in time, we could literally change the environment from 'the dust bowl' to 'Green Country' by allowing trees to provide a windbreak to prevailing winds, and ponds to provide water for livestock and irrigation of crops. Well, we all enjoy living here in Green Country now, thanks to Leon and the great group of Oklahoman's that endorsed this project, immortalized by former City Councilor Sid Patterson in 1976. Throughout Leon's career, he has designed and built 700 schools and 300 churches. He has produced the initial site plan for the project and agreed to field any calls from the Red Fork HOA – His number is 918 814 6265.
Update: Unfortunately Leon died on May 23rd of this year. (https://www.echovita.com/us/obituaries/ok/tulsa/delbert-leon-ragsdale-14709056)
The second is Major Al Flowers (US Army Retired) – Major Al has been a military administrator during his service in the Army and served as President of HOA in his subdivision. He too is willing to answer calls and field questions His cell number is 8087731694.
The third person that has graciously agreed to help as a paid consultant on this project is former city councilor Eric Gomez. Eric has had a working relationship with the planning commission on other projects and feels he can help consolidate, the required Platte and construction documents with INCOG (https://tulsaplanning.org/) and the planning commission, and perhaps represent the project better at Council than I am able to do. Eric and I just transported an emergency food shipment to the Navajo reservation in New Mexico and had lots of time to talk during the 14 hour drive each way. Eric currently works as a contractor and developer, and understands intimately the complexity this project requires, and like me, is convinced it is a good thing for our city
Well great thanks must go out to pastor Thomas Kole, Major Al Flowers, and Daryl Simmons, the naval intelligence officer that formally deployed navy Seals. Great patriots, with much service to this country and a heart for veterans Without their wise counsel and military input, it is doubtful this project would be as far along as it is. What began as a good idea, filled with inspiration and passion, has now become a full 3-year development plan?
As is typical in my life, I find myself literally creating something out of apparently nothing.
Here is where we are at practically: Assuming we can obtain construction funding for this project, perhaps this project could be formally heard by the Planning Commission late summer of 2022. Presently, Park Elementary has been leased until June to film the native American comedy: Reservation Dogs'. It is my intention to attempt to meet with their leadership, and work around their schedule, as I have much depth of understanding of native American culture and history, having done what I could as a missionary to many native American tribes since 1995. (https://www.chrisaomministries.com/2017/02/the-first-nations-mandate-pray)
By Jan 2023, we could have initial veterans support services and administration in place to intake our first ten residents to the Bivouac. In 2023, we could begin the process of constructing the next 10 units, while adding more services for vets and community. There is discussion regarding construction of a splash pad for residents on the East side of the campus. Practically, this would not be possible until all fencing and veterans' services are operational. Best estimate I have received on that to date is 80K. To summarize: Construction cost estimates as of Dec 2021 were $1,745,645, and Operating costs at 1,678,530 for the first 2 years bringing our total start up cost to $3,424,175.00.
Since we received the SBA PPE grant last year, that really helped with the publication of my bestselling Christian Leadership book.(https://www.chrisaomministries.com/2019/11/leadership-in-the-river). I was encouraged to apply for the EIDL funding package, and like a lamb to the slaughter, I danced with the SBA. The only way to describe this process is administrative insanity. They have lost documents, and requested various documents at least 5-7 times, but according to them, they have released a $144,000 start up loan, (It was a lie) to pay my salary and administrative costs, to relaunch AOMMinistries after Covid, but like this 'best selling author' status, it has yet to produce one red cent to support me and my family. In the process, I was introduced to some Federal Housing emergency Housing grant program that my bank had to apply for, not our organization directly. When I was tempted to quit and move on to other things, I received a friendly phone call from Wayne, the business manager at CrossFirst bank, requesting my financial statements, and that they had located the grant information and were applying for a million dollar start up on our behalf. This was done this Spring. I was asked to formally submit by July 20th, but was then told that they might not fund building purchase and remodel, only veterans housing. That might buy us the building and get it up to code. My construction mind goes tilt at school use and public use of this facility presently as I could never get it past permitting and fire codes, as there is currently no fire suppression system in the building, but clearly the Tulsa School Board is in bed with the City of Tulsa, and somehow bends these rules.
Update on Affordable Housing Program (https://www.fhlbtopeka.com/ahp). In order to rework this project, I broke it into two phases:
Purchase of the school and retrofit to provide church, food band, and administrative offices for veterans support – Cost: 2 million
Construction of 10 SIPS cottages, complete with electric, water and utilities (cost one million)
I scheduled a call in early May with Eric Degenhardt, one of the directors with AFP in Kansas City. He informed me that they would not fund the purchase of the school and retrofit costs, but that if I could reapply within the next 12 months, they were still willing to  potentially fund the construction of the veterans housing portion.
So, I am left with only a 2 million dollar Goliath in front of me, instead of a potential 3 million.
Personal Comments and conclusion:
In May of 2021, I was made aware of a homeless 'tent village' operating just south of River Spirit Casino with over 200 residents. I partnered with Tulsa Dream Center, Victory Christian Center's Native American connect group, and friends from the cycling community on Team Suicide Prevention
IMG_0269 (3)
and began to research what could be done to help people there. What began as making 100 sack lunches
Victory Native American Connect Group leader Mike Wofford armed with his butter knife, making peanut butter and jelly sandwiches for homeless brown bag outreach. Jimmy Harjo (slice) carving up watermelons to distribute on hot summer nights.
and heading down into the woods to attempt to pray with and meet campers, became a Friday night regular event that resulted in distribution of 225 food boxes donated by Tulsa Dream Center, and hundreds of cases of iced tea.
I met pastor Paul Schmidt of 'The Merchant' and the legendary Noe Rodriguez from Tulsa Day Center, who connected me with many community resources across our city. Through the diligent efforts of outreach workers from Housing Solutions (notably, Tyler Parette, and his outreach worker Kyle), and the incredible work of Jennifer Smith (the criminal homeless advocate from mental health) there are not more than ten people left living in those woods. Like the old saying: 'It takes a village to raise a child', homelessness is a complex problem, yet there are some great resources to help people get off the street here in Tulsa. It is not easy though. Sometimes, all it takes is a compassionate person with a working cell phone or vehicle able to connect broken people with resource workers. Obviously, I was sifting through the crowd attempting to meet homeless veterans, as this is my target group, and I did connect with several of them, mostly great people with PTSD or some other trauma, that caused them to fall through the cracks of the veterans support network in our city for many reasons…In my Homes for Hero's initiative, homeless vets will be offered support from military family under the 'No man left behind' motto. Battle buddies will support broken brothers and sisters from the military family, and aggressively help each other navigate street to straight. I know this will work. Major Al asked executive director Chris Admire of Veterans Community Project in Kansas City. "Chris, what is the rate of recidivism from graduates of your program? Chris replied: 'I'd like to say zero, sir, but for the record I will state that upwards of 85% of our graduates successfully transition into permanent housing and meaningful purposeful lives from our program, off the record, I honestly do not know of anyone that we helped move into permanent housing that ever ended up back on the streets.' Great encouragement! We can most definitely do better in helping our vets. In my long-awaited interview with the legendary Becky Gligo of Housing Solutions, I asked her: "Bottom line Becky, do you think I'm on the right tract? Is this facility actually needed in this city?" Emphatically, she exclaimed "Of course it is, there is a huge need for more resources to empower our homeless community to help get them off the street. For the record, you may say, "I give my full endorsement to this project'. Special thanks go out to the Restore Hope Rental Assistance program and to covid 19.(LOL!) Had I not tested positive for covid after my Mexico missions' trip in July 2020, I would not have been eligible for covid disaster assistance and the Restore Hope Rental Assistance program. Without them paying my rent and utilities this year, I would not have been able to help the homeless, rather, I would have been homeless. This has given me the precious gift of time, to be able to meet architect, contractors, various veteran advocacy groups, and to put in the required hours to accurately pull this project together into something tangible and fundable.(Note: We have created 2 Excel spreadsheets: 1. purchase and Construction costs 2. Operating costs for initial two years of operation) Most importantly, It has forced me to literally put my money where my mouth is. Sure I have preached on local news stations and every available outlet that 'I am the man determined to end veteran homelessness here in Tulsa, Oklahoma' but after going over a year, working full time on this and other ministry projects, with literally no visible means of support, I now have the equivalent of a years project management salary invested into this as my personal skin in the game. The saying is true; 'The proof of passion is in the pursuit of your dream'. I am determined to see this happen, as I realize clearly that there are people on the other side of my obedience that will not receive help, unless we help them. Our military hero's have served and fought for the freedoms we all enjoy, I owe a debt of gratitude that I hope to repay.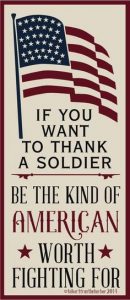 As the son of a naval officer, we grew up in military housing and I and my siblings are the product of 15 different schools, as dad was posted and deployed to many cities all over North America. At the time I hated moving all the time, for I did not understand why dad was away at sea for much of my childhood, nor did I honor his military service. Yet, as USA faces constant threats to our democratic republic, I now understand the call to arms these warriors have answered, and in many cases, been damaged by. My own daughter currently serves as a combat medic in the Army, currently stationed at Ft. Sam Houston in San Antonio. TX.When one serves, that whole family serves, as we endeavor to pray and support our daughter from a far.
This project is something I must do. Already, it has grown me immensely simply doing the research on what it will take to build and run it for the first two years of operation. My budget is between 2.5 and 2.6 million dollars to purchase the facility, retrofit it into a community multi-use facility, and create jobs for 19 people to operate all the programs incorporated into it for the first two years of operation.
Financing it is Gods business, here is what I ask of you:
Pray for me and my family. God needs to provide for us. I am currently working at a 'work from home shipping contract' that pays nothing til August 27th, Though I applied for a pay advance, they denied it, keeping me in the face of Jesus for daily needs.
Please forward this to any Christian military personnel or veterans and ask they prayerfully consider supporting this project.
Pray for the struggling homeless veterans that are currently mostly disillusioned and disenfranchised in that they are not generally able to access many of the services and resources that are available to them, and that this facility will provide for them.