Persecution Purifies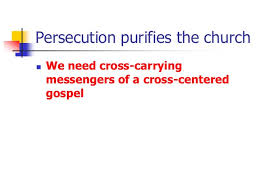 Armed with the mind to suffer:
Forasmuch then as Christ hath suffered for us in the flesh, arm yourselves likewise with the same mind: for he that hath suffered in the flesh hath ceased from sin;
In this account, we see persecution occurring in the early church:
Acts 8:1 And Saul was consenting unto his death. And at that time there was a great persecution against the church which was at Jerusalem; and they were all scattered abroad throughout the regions of Judæa and Samaria, except the apostles.
Here's my take on this verse: People found the love of Jesus, and the beautiful community that had come as a result of Holy Spirit being poured out upon a group of believers, and this rich, ever deepening fellowship was wonderful.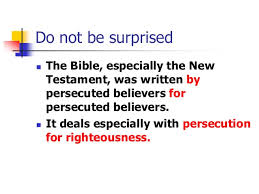 Yet, the church is more than a place of loving community. It is God's arsenal against the gates of hell, that shall never prevail against it!
The great commission had become the great omission here, and instead of aggressively working to take the gospel to the nations, they had become complacent, comfortable, and probably segregated from the general population, intent on simply growing their own families and community, and not reaching out to the world.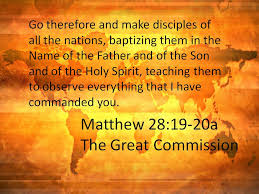 So, God allowed persecution to come.
What was the result?
'And they were all scattered abroad'.
If we refuse to willingly GO in obedience to the clear directive of the Word of God, seems God will allow the Word of God written upon our hearts to get out there the hard way.
And so we see America today. Today they not only legalized same-sex marriage federally, but have ruled that it be enforced in each state. They have already brought in government health care that provides for abortion, and so demons are ruling where we have permitted them, and now there will come persecution to the church in America.
There is no demilitarized zone in the kingdom of God. We are either aggressively enforcing with our faith and authority the victory Jesus has provided over the world the flesh and the devil, or we are responding to hellishly inspired attacks.
The day of comfortable Christian community has ended, and now, godless people demand: 'Who are you to tell me what to do?'
When we say that sin is wrong, they will persecute us, and we must stand boldly in the love of God and proclaim the gospel.
As we do, the leaders of the day will feel the power of the Holy Spirit….
And as he reasoned of righteousness, temperance, and judgment to come, Felix trembled,
It has become kingdom against kingdom, as God flexes His muscles against this onslaught of hell.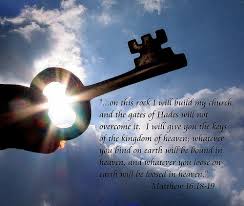 It is the last days: Luke 21:10
Then said he unto them, Nation shall rise against nation, and kingdom against kingdom:
2 Timothy 3(AKJV)
1 This know also, that in the last days perilous times shall come. 2 For men shall be lovers of their own selves, covetous, boasters, proud, blasphemers, disobedient to parents, unthankful, unholy, 3 without natural affection, trucebreakers, false accusers, incontinent, fierce, despisers of those that are good,
These are those who will bring the persecution….
For those of us that have endured hardship, and sold out for Jesus, it will just be another day in the gospel, good news, as God moves desperately needed laborers into kingdom work, but for those serving their own 'version' of Christianity:
Woe to them that are at ease in Zion,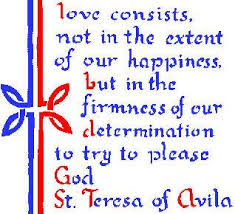 Good news to those sold out for him…tough times for those sitting on the fence as God radically adjusts things…
Let's Pray:
'Father, in Your light, we see light. Show me the areas where I have compromised Your Word, and neglected Your will, Your ways, and Your work. As shaking comes, give me grace to stand boldly for you, serving in love, the great commission and this great harvest You are bringing into your church. I love You Lord Jesus. Amen'