That we may lead a quiet and peaceable life in all godliness and honesty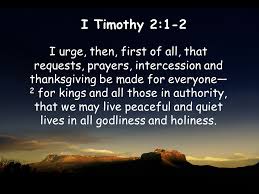 1 Tim 2 2 Kings 1, 2 1 ¶ I exhort therefore, that, first of all, supplications, prayers, intercessions, and giving of thanks, be made for all men;
2 For kings, and for all that are in authority; that we may lead a quiet and peaceable life in all godliness and honesty.
3 For this is good and acceptable in the sight of God our Saviour;
4 Who will have all men to be saved, and to come unto the knowledge of the truth.
5 For there is one God, and one mediator between God and men, the man Christ Jesus;
Ever notice that this portion of the promise, that is a life of godliness and honesty, lived quietly and peaceably, comes after the exhortation to pray for government and leaders.
Sure, we have First Amendment rights here in the US to speak up against evil, and to bring correction where the government has sinned against God, but it seems that many Christians spend more time railing against the government, than actually praying for them.
As for me and my house, we serve the Lord, and I don't know about you, but I want my house, to be a place of godliness, honesty, peace, with quietness from the storms of life.
Guess I'm kinda old school in this, but I actually take God at His Word here. Each morning, I pray for His kingdom to come, in love in this nation, and the many others He has given me to pray for each morning, and I trust His kingdom to show up, in righteousness, peace, and joy in the Holy Ghost, in America.
I honestly believe, that God Almighty in heaven pays more attention each day, to the quiet prayers of His church, His children, exercising His authority against wickedness, than in all the raging, passionate filth that pollutes the airwaves.
As I do, I am living my life quietly on the home front.
Gently teaching and loving my children, keeping the peace, honesty, holiness, in all godliness in my home: a refuge of peace from the storms of life.
How about you?
What are you going to do today?
Let's Pray:
'Father, I bring before you today, President Obama, the executive,judicial and legislative branches of the government today. I pray for each government employee, whether military or civil, at every level of authority you have granted them.I pray for Homeland security, and every intelligence agency, that they would do right, in protecting our borders and families from evil. I pray for every state government, every police officer, fire fighter, EMSA, and every medical personnel across the land. I pray for every school, teacher, and educational institution across this land, including every homeschool group, that every person might learn and grow in truth and knowledge today. Father, touch them today, protect them from evil, and work in them to will and to do of Your good pleasure. Give them wisdom, direction, correction, and lead them in peace today, in Your name I pray Lord Jesus.
As I pray for this, the government you have set in place, I exercise Your authority in the earth, enforcing Your kingdom in righteousness, peace, and joy in the Holy Ghost, trusting you to convict, correct, and counsel those that have missed it, and to rebuke and remove those intent on doing evil.
As I pray this morning Father, I believe you make my home, a place of peace, prosperity, quietness, joy, godliness, and honesty, where I can raise my family in the love of Jesus, Amen.