The Mountain Way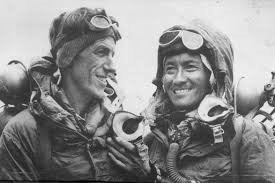 From John Maxwell's 'Laws of Teamwork'
Mount Everest, as many of us would know, is the tallest mountain above sea-level in the world. It is a majestic, formidable work of God that has stood unconquered for thousands of years, not until a unique pairing of a Nepalese and a New Zealander came along. In any Everest climb, Tenzing and his fellow Nepalese porters, or Sherpas as they are still known, would, literally, be the arms and legs of the expedition team. Their job is to help carry tons of equipment up and down the Himalayas, ease the supply flow and set up camps at various inhospitable locations. During this historic ascent, Tenzing was the Sherpa leader. "Tenzing would have to hire between two and three hundred people just to get the supplies in the vicinity of the mountain."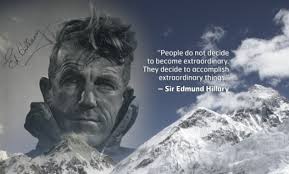 As the climbers inched towards the summit at every level, a greater degree of teamwork was required. A group of Sherpas would tire themselves out just to ease the passage for the next group, by finding suitable paths, cutting steps and securing ropes. And then they were done. Whatever hard work that they have put in was for the next team to make the next leg of the climb possible for another. Of this, Tenzing once remarked, "You do not climb a mountain like Everest by trying to race ahead on your own or by competing with your comrades. You do it slowly and carefully…………..by unselfish teamwork….."
This is the "mountain way". This is an effective team-based mountaineering method that enabled only two pairs, out of the two to three hundred climbers, to make the penultimate attempt up to the Everest summit. Eventually, only Tenzing and Edmund Hillary reached that impossible peak and carved their famous names into world history. The following was what Tenzing wrote in his book:
"…..For where would Hillary and I have been without the others? Without the climbers who had made the route and the Sherpas who had carried the loads? Without Bourdillon and Evans, Hun and Da Nmgyal, who had cleared the way ahead? Without Lowe and Gregory, Ang Hyima, Ang Tempra and Penba, who were there only to help us? It was only because of the work and sacrifice of all of them that we were now to have our chance on top."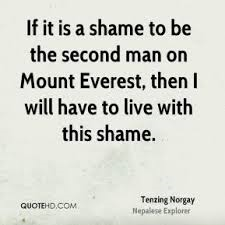 We are all part of God's team – the Bible says that we are the Body of Christ, designed to function with each other unselfishly, for the health, strength, and increase of the whole to be accomplished.
Eph 4:15 Rather, let our lives lovingly [d]express truth [in all things, speaking truly, dealing truly, living truly]. Enfolded in love, let us grow up in every way and in all things into Him Who is the Head, [even] Christ (the Messiah, the Anointed One).
16 For because of Him the whole body (the church, in all its various parts), closely joined and firmly knit together by the joints and ligaments with which it is supplied, when each part [with power adapted to its need] is working properly [in all its functions], grows to full maturity, building itself up in love.
We Must all do our part, in order for the Kingdom of God to grow, we must grow!
Let's Pray:
'Father, Clearly we are part of your team, chosen, loved, and selected for the part we are commissioned to play in Your great plan of Redemption of humanity. Cause us to grow today, to learn, to seek You in all that we do, doing Your plan, not our own. In Your name I pray Lord Jesus, Amen'