Rev 5 – Worship!
v 9 And they sung a new song, saying, Thou art worthy to take the book, and to open the seals thereof: for thou wast slain, and hast redeemed us to God by thy blood out of every kindred, and tongue, and people, and nation;
10 And hast made us unto our God kings and priests: and we shall reign on the earth.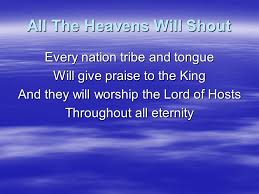 Red and yellow, black and white, we are precious in His sight, Jesus loves the little children of the world!
Redemption! Adoption! Royalty! Victory! Authority! Mercy! All through the blood of the Lamb!
Every tongue, every tribe, every nation shall be represented there before the throne, peoples washed in the precious blood of Jesus, holy and spotless, gratefully, humbly, boldly, joyfully worshipping before His throne!
The culture of heaven overruling and superceding every other culture of the earth!
This is heaven! This is our future! This is why we preach, pray, pay, suffer, sacrifice, endure!
That all may be there for eternity, singing joyfully praises to our king!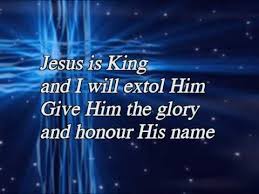 There is no prayer deep enough, no praise loud or exuberant enough, no worship expressive enough, no heart thankful enough to declare the worthiness of Jesus, for what He has done for us! Thank you Father, Thank you Lord, Thank you Holy Spirit! I worship, I praise, I adore and forever thank you for your mercy and greatness, in allowing me to be part of your family, your kingdom, you government, your greatness! Amen and Amen!