Hotter than hell!
As many of you know, I actually completed the Hotter than Hell 100mile bicycle challenge beginning and ending in Wichita Falls, TX last weekend.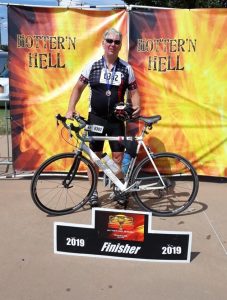 What many of you may not know, is my backstory.
On March 22nd of this year, I had a full blown stroke stemming from a blockage in my carotid artery. A piece of gunk broke off from my artery walls and caused a blockage in my brain causing excruciating pain and immediately leaving me completely paralyzed on the left side of my body.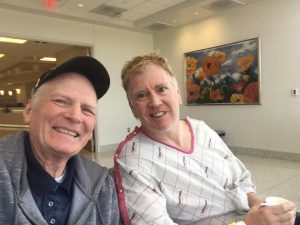 My daughter called 911, and EMT's managed to get me into ICU where Dr Pandev managed to make an incision in my groin that allowed him to insert a long tube up through my body, through my neck, up into my brain, where he managed to suck out the blood clot in my brain.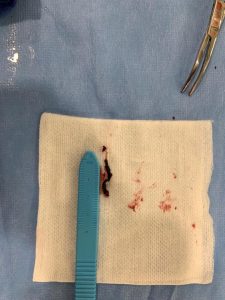 The blood clot taken out of my brain.
Immediately after this happened, I was able to gently open and close my left hand, and the urge to vomit subsided.
For  the next 48 hours, medical staff came into my room every 15-30 mins and woke me up and took blood or something. No fun, but hey, probably saved my life. Eight days in ICU and they released me to come home with prescriptions for a pile of medications – statins as blood thinners, and baby aspirin, that left me groggy, like trying to walk through pea soup fog all day. Weak.
So, the fight began!
I had been watching my diet and powerifting over the winter, training for the 1000 pound challenge – Three lifts, squat, bench press, and deadlift had to break 1000 pounds.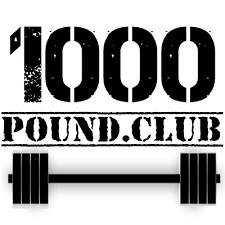 I got it done in early March, 365 on squat and deadlift then right at 300 on bench. Doctors told me no more heavy lifting as it could cause another stroke, but that light weights and cardio would be okay. So, I began to work out with my 14 year old son, and great things began to happen as we hit weights 4x week. It is a joy watching him embrace iron and I watched a boy become a man this year, as he has become stronger.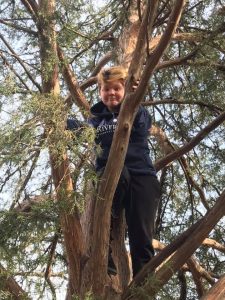 I nicknamed my bicycle 'war machine' and began to discipline myself to do the 20 mile loop on Riverside 5 times each week, beginning to log my 100 mile weeks in on the bike. Then at SpokeHouse, one of the local bike shops, I learned of a HHH100 training group that met weekly for a progressively longer ride each week. They had been at it for a while, so when I jumped in for my first ride, I ended up riding 67 miles with them. Phew! Was tired until the following week when we rode in 100+F heat 87 miles! Learned much about hydration, electolytes and carefully staying in a paceline. The friendships made here were critical for what was about to come.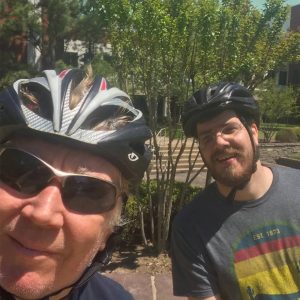 Along the way, I had to recalibrate my entire life. My left side was initially so weak that I began my arm curls with 2-5lb dumbells. When I tried bench, just the 45 pound bar was maximum effort, there was no strength on my left side, and the bar kept dropping to that side. After a couple months of consistant effort I managed to hit 185lbs again with my warrior son spotting for me. Far cry from 300 and my 315lb goal, but hey, I'm alive, and that counts for something.
The meds really messed me up. There were days I would come home at noon and have to lay down for a nap. One day, I did not get back to work but slept til 4:30 in the afternoon! I spoke with other stroke survivors to see if I could learn anything that might help.
I never join or generally purchase any product that is only sold through MLM as I am not willing to become a 'spot' on someone's downline, nor willing to fulfill minimum order commitments just to make some quota. Neither am I endeavouring to build yet another business, and I am not willing to merchandize friendships of trust built over years in business and ministry. When I sit down to visit someone, I want to talk about life and Jesus, and maybe construction, not try to sell them products and get them into my circle or downline. Yet, a man from our business Bible study told me about a Meleleuca product called Pro V metabolic pack. So I bought a months supply to check them out. Great product! Really helped me have enough energy to get through my day. One pouch with breakfast, and another before bed. Took these for 2 months and they help.

Then another MLM company told me I could have free Kangan water to help hydrate me for my cycling goals. Great product. BUt $5,000 for a good machine is a lot of money. Yet the science behind the stuff seems solid, https://www.youtube.com/watch?v=40bGtZgATQA this water really does enhance blood flow.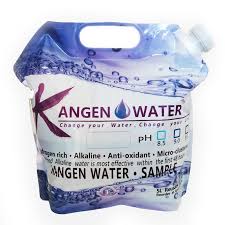 Somehow, by the grace of God I will get one of these machines for our family cause this water is great!
Our weekly cycling group had a Facebook group and communicated on Messanger, and we all decided to ride HHH together, regrouping at the 30 mile, 60 mile, and 90 mile checkpoints.
I am a Christian that aggressively believes the Bible and seeks to serve God. For many years we have taught and lived a lifestyle of divine health. Each morning, I recite the Charles Capps Healing confessions, as I see clearly that Jesus still heals us, and that HE does that when we believe and act upon His Word. The primary action of our faith must be our words, if only uttered before His throne in prayer. Here it is: (https://drive.google.com/open?id=1UZWQPhEGxB3uzjqC5emhjt9IHtyjOCPwObQt8IU7DI0)
Ultimately, God is the giver of life, and He must be first place in our lives. Daily I begin each day with my daily reading of the One Year Bible, and seeking first Jesus and His will for my life, each day. If you do not know Him yet, here's how: https://www.chrisaomministries.com/2017/02/do-you-want-to-go-to-heaven
Truthfully, when we got to Wichita Falls Texas the night before the event, I could not sleep. I was scared and I told God that I did not want to die attempting this event, and that I was scared of the extreme heat this event is named after. In speaking with successful finishers from previous years, I learned that the rule was you had to make it through the check point entitled 'The Gates of HELL' at 60 miles, or race organizers would reroute you on a shorter course.
I prayed God protect me from the heat, and He gave me a deep peace and I slept deeply for the five hours before we had to get up. So the race morning dawned as my alarm went off at 5AM.We quickly jumped in the Jeep to get over to the coliseum for the pre-paid breakfast, we had come in late the night before and missed the spaghetti fest yet found a Mexican restaurant open for some great enchiladas.
I knew 100 miles was further than I had ever ridden before and I need to EAT, to get some gas in the tank. Rules of riding far in the heat: Eat before you are hungry, drink continually before you are thirsty. Do not stop too long at rest stops or its too hard to get going again. Set a steady pace that is comfortable, not too fast at the first, or you have no gas for the last 10 miles which are notoriously hot and hard.
After a wonderful breakfast we hurried to the bike check in, where I grabbed my trusty steed, and began to meander to the starting gate. Stopped at a bike truck and got air in my tires, and then it was time to go. Incredible start, they played the national anthem, and jets from Shepherds Air Force base, did  a fly-by before the cannon went off to send this sea of cyclists off.Amazingly, the air temperature was only 68F at start time, so I was determined to make good time before the inevitable heat for which the race was named. In training we only averaged 15-16mph, for the first 30 miles I rode between 19-21mph easily.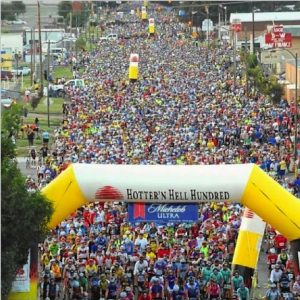 Incredible event! Police block every intersection allowing cyclists, all 8900 of us to roll through and there is great opportunity to draft and allow other, stronger riders to act as bulldozers for you into the wind. Before I knew it, I was at the 30 mph checkpoint, and easily found our Tulsa group of 7 riders, that were about to become my life-long friends. We blasted through to the 60 mile Gates of Hell to meet Pyro Pete, the huge inflatable monkey warning cyclists that we were about to turn out into the open heat, with a strong wind in our face.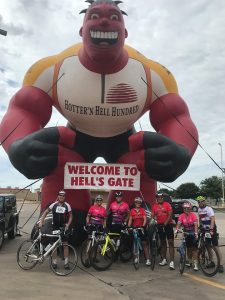 This is where I again had a crisis of confidence and prayed. "Father God, You have got me this far, please help me to finish and not cramp up" and He did! I'm told that temperatures this year were a record low staying between 94-98F. Still hot, but not 100+ blast furnace hot! Yet, it was still intimidating to turn out into the wilderness in that wind and heat. Holy Spirit reminded me that He was with me, compforting me with the verse: Matt 16:11  I will build My church, and the gates of Hades shall not prevail against it. Well, there we were at the 'Gates of Hell' in the heat, and I knew God was going to give me the strength to go the next 40 miles.
I learned there is a substance that seems obnoxious, but that is awesome! Pickle juice! Check points served it, and I chugged a couple of cups of it back. Seems nasty but phew! It stops you from cramping!
In fact when you get to 80 miles there was a sign that said we were entering the Strava(the cycling app for your phone) Pickle Juice challenge segment. Our group was working together in a 16mph paceline at this point, and it is so good to have friends help share the brunt of the wind. We wanted to see if we could finish in a 16mph average ride time, yet in the wind, there were times when we suffered to make it to 10mph. We hung together till about mile 90, and then we all broke up and ground our way through. They added a 'bonus mile' at the end, through downtown. This cyclist pulled alongside me with a stereo on his bicycle and cranked out the Lone Ranger song, and said "Come on, let's finish strong', so we stepped it up and sprinted for the last mile! What a day! God was glorified, He truly gave me grace and strength to do this. Thank you Jesus!
.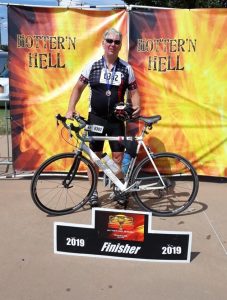 This is America! Land of the free and home of the brave! IT is not what happens to you in life that defines you, rather what you overcome that make hero's. To all the overcomers out here, lets get this done! Serve JEsus bravely!
I have to believe that I am a manifest miracle, riding a Century (actually 103miles) only 5 months after a full blown stroke.