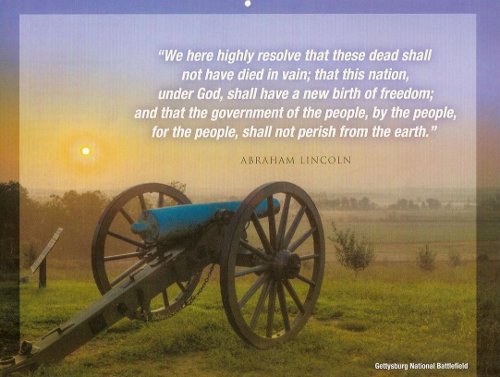 Prayer For Unity: God's Commanded Blessing!
As I again read these words of Jesus, I am compelled to write yet again:
John 17: 11 ¶ And now I am no more in the world, but these are in the world, and I come to thee. Holy Father, keep through thine own name those whom thou hast given me, that they may be one, as we are.
17 ¶ Sanctify them through thy truth: thy word is truth.
18 As thou hast sent me into the world, even so have I also sent them into the world.
19 And for their sakes I sanctify myself, that they also might be sanctified through the truth.
20 ¶ Neither pray I for these alone, but for them also which shall believe on me through their word;
21 That they all may be one; as thou, Father, art in me, and I in thee, that they also may be one in us: that the world may believe that thou hast sent me.
22 And the glory which thou gavest me I have given them; that they may be one, even as we are one: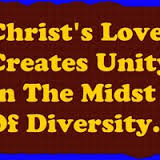 We need each other, for the kingdom only advances when we work together as we read:
Eph 4:15 But speaking the truth in love, may grow up into him in all things, which is the head, even Christ:
16 From whom the whole body fitly joined together and compacted by that which every joint supplieth, according to the effectual working in the measure of every part, maketh increase of the body unto the edifying of itself in love.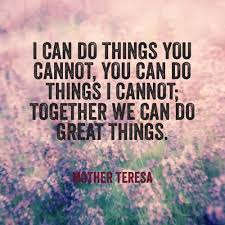 The precious promise from Psalms:
Ps 133:1 ¶ «A Song of degrees of David.» Behold, how good and how pleasant it is for brethren to dwell together in unity!
2 It is like the precious ointment upon the head, that ran down upon the beard, even Aaron's beard: that went down to the skirts of his garments;
3 As the dew of Hermon, and as the dew that descended upon the mountains of Zion: for there the LORD commanded the blessing, even life for evermore.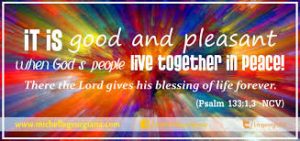 Let's Pray:
Father, I join in the prayer of Jesus, for unity in the Body of Christ in my city, state, and this nation. Reveal the glory that you have given us Jesus, sanctify us and cleanse us of our foolish ways. May truth be spoken in love that is revealed to us deep within, that cleanses us of our own ways and agendas, that we may take our place in the Body of Christ, bringing our particular gift and supply of Holy Spirit, that we may all work together for the harvest, the increase of your kingdom and Body, as we grow together in love. Help me to be a peacemaker in this City and region, a bridge builder causing ministries, governments, businesses, organizations, and community groups to work together in love and one accord, sharing resources to get needs of people met, that you be glorified.
Father help us as leaders to stand strong for programs, ministries, administrative processes, ordained of you, constantly growing and refining them to bear much fruit for you. Those agendas that are of our own making, or that have outlived their usefulness to you and your specific calling upon our lives, please prune and remove them from our lives. Help us to be pliable in your hand, flowing together with other ministries in our city and region, avoiding strife and discord in our area. Help to remain humble, teachable, and make your servant heart of aggressive growth continue to burn bright in and through us, that the world may see your love.
In your authority, I break dividing walls between ministries, governments, denominations, and congregations, loosing reconciliation, revelation, love, and understanding between us. I command all judgment, haughtiness, bitterness, pride, arrogances and unforgiveness, religion, hatred, offence, tradition, racism: MOVE, in the name of Jesus! There, we enforce your kingdom in righteousness, peace, and joy, in power, anointing, and commanded blessing, in the love of God, in Your name and authority King Jesus! Amen
Here in the United States, we presently have a great division between the political platforms of the Republican and Democratic parties. We need to recognize that we are first of all humans, second of all Americans, and that together we must work to make this nation the best it can be. In the preamble to our constitution, we seek a more perfect union: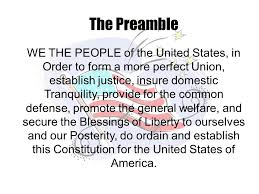 May God Himself, reveal His love and righteousness across this land, and create in the hearts of its people this more perfect union, through His Spirit, and the love of Jesus Christ.