Bible Study Breakfast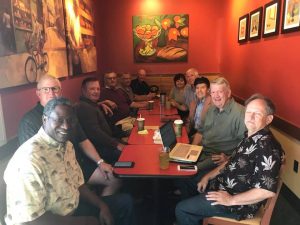 Lead by Chris Walsh: AOMMinistries
Tel 918 269 5350, email:[email protected]
WHERE: Panera Bread, Tulsa Hills Shopping Center,
https://locations.panerabread.com/ok/tulsa/7547a-s–olympia-avenue.html
WHEN: Tuesdays, from 7:30AM until 8:30Am
Schedule: 7:30 Introduce yourself, and hand out cards – Network
7:40 Read the Proverb of that day's date, everyone read a verse or two
8:00 Discuss what God is speaking to you
8:20 Network and make people aware of business opportunities
8:25 Prayer requests
8:30 Dismiss promptly ( You can stay if you like, but people need to go to work)

Awarding 'Thank-you' plaques to the staff members of Panera for their great work in serving us all these years!
Four Main Purposes
Fellowship and Networking – Economic Development

Encouragement, Prayer, Support, Equipping, Godly counsel, Wisdom, Accountability

Employment – To deliberately win contracts and create jobs for the next generation.

Commonwealth – To provide ministries through spirit led compassionate acts of Jesus love:
James 1:27 (NKJV)
27 Pure and undefiled religion before God and the Father is this: to visit orphans and widows in their trouble, and to keep oneself unspotted from the world.
Isaiah 58: 12 And they that shall be of thee shall build the old waste places:
thou shalt raise up the foundations of many generations;
and thou shalt be called, The repairer of the breach,
The restorer of paths to dwell in
Format:
We encourage people to read through the Bible each year using whatever yearly Bible reading plan works for them. I use the OneYearBibleOnline, Victory has a good one, YouVersion has one. I encourage people to pick one, and read it.
Couple of years back we all read: http://waterbrookmultnomah.com/pdf/Sample_RichestManWhoEverLived.pdf
Great book by Steven K Scott. Great resource. He encourages people to meet and read a chapter of proverbs each day, and discuss it.
Proverbs – Whatever date we meet, we will read the chapter of proverbs from that date.
Discussion: Depending on how many people come, we will either simply go around the table and let everyone share, or if many come, we will break into small groups of 5-6 people, so everyone gets a chance to share.
We will begin promptly at 7:30AM and dismiss at 8:30Am.
If people want to stay, they are free to do so, but many of us gotta get to work.
Finances:
Jesus is to be Lord of this meeting, although I will do what I can to lead it. (Kinda like herding cats).
What this means, is simple: If we decide to do a project together, and we take up an offering together for it, I will provide tax receipts for donors, and make myself accountable for the handling of any money raised, and how it is spent. (full disclosure). If we do some kind of mega-project (which I suspect will probably happen, we serve a big God), we will probably register some sort of entity, form a board etc. (Like happened with 'The Global Israel Alliance')
However, since Jesus is Lord of this thing, and I am not, I encourage people going on missions trips, or doing neat things for the kingdom of God to make their needs known. It does not hurt my feelings one bit to help a person get where they need to go in God, and count it an honor to serve them as they go. There is no 'big I' and little you in the kingdom of God. We are all loved equally by a holy God.  If someone at our table is doing something for the kingdom of God, give money to them, not to me.
Suggestion: We keep a basic slush fund going to buy anyone that might need it coffee that morning, breakfast, or a tank of gas to get to work. It can be a long wait between checks when you are self-employed.