Joy?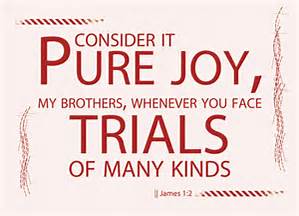 Luke 6:20 ¶ And he lifted up his eyes on his disciples, and said, Blessed be ye poor: for yours is the kingdom of God.
21 Blessed are ye that hunger now: for ye shall be filled. Blessed are ye that weep now: for ye shall laugh.
22 Blessed are ye, when men shall hate you, and when they shall separate you from their company, and shall reproach you, and cast out your name as evil, for the Son of man's sake.
23 Rejoice ye in that day, and leap for joy: for, behold, your …reward is great in heaven: for in the like manner did their fathers unto the prophets.
How many of us, actually believe the Words of Jesus here? Someone speaks ugly about us, and do we laugh, and count it all joy, that people saw enough of Jesus in us, to actually persecute?
The early church got arrested and beaten, and brought before the religious court of the day, and their response?
The apostles left the Sanhedrin, rejoicing because they had been counted worthy of suffering disgrace for the Name.
Just thinking out loud…