The Four Stages of Manhood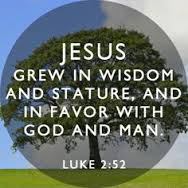 I am going to produce a series of short, Biblical articles on manhood, and the four stages that I see from the Word of God, we grow through, both naturally and spiritually. These four stages are:
1.Boyhood
2.Manhood
3.Fatherhood
4.The Age of the Patriarch
Today, we will look at spiritual and natural boyhood.
Boyhood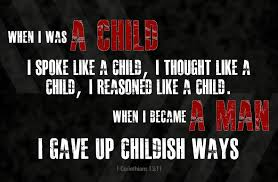 This is going to be a fairly short article for this simple reason: I want men to actually read it!
Over the years, as I have developed as a man of God, and more importantly as a man…Today we are going to talk about spiritual childhood, and growing through it, to become men of God….
In a perfect world, a child would be born into a Christian household, filled with love, nurture, the fruit of the Spirit, with boundaries of protection set around your world by the holiness of the Word of God.
There would be no drama, trama, or heartbreak, but parents would lovingly grow you up in the Word of God, until the day came that you, a fully responsible adult, would be launched out into your particular gifting and calling, deeply rooted in the Word and love of God, with wings to fly!
Yet, this is a fallen world, and not all of us grew up in a Christian home, furthermore, even those of us that did, could only be instructed in what our parents knew about the Word, and to the degree our parents were willing and able to recognize and respond to the giftings God had placed upon our lives, so that they might train us up in the way 'we should go'.
Train up a child in the way he should go: and when he is old, he will not depart from it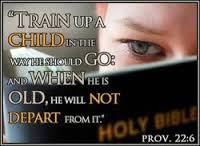 There is responsibility of spiritual adults to care for new Christians; spiritual babies are characterized by Innocence, Ignorance, and sometimes, irritability.
Babies are easily distracted, easily hurt, and easily frustrated. God wants us to grow up to the place where we become single minded, not easily hurt, and not so easily frustrated. Where you can give our word, and keep it!
Well let's look at God's Word on this topic today, and then let's see spiritual childhood, boyhood, and how to grow through it.
1 Corinthians 3:1  And I, brethren, could not speak unto you as unto spiritual, but as unto carnal, even as unto babes in Christ.
2  I have fed you with milk, and not with meat: for hitherto ye were not able to bear it, neither yet now are ye able.For ye are yet carnal: for whereas there is among you envying, and strife, and divisions, are ye not carnal, and walk as men?
When we receive Jesus as our Lord and Savior, we are born-again, new creations in Christ Jesus.
God Himself has come to live inside our recreated human spirit!
Jesus did not come to make bad people good, nor good people better, rather dead people: ALIVE!
We are born not only to our natural parents, but more importantly into the kingdom of God.
Just as the first thing a natural baby requires is to nurse, so in our heart of hearts, our recreated spirit also needs food to grow, the sincere milk of the Word of God!
Hebrews 5:12 For when for the time ye ought to be teachers, ye have need that one teach you again which be the first principles of the oracles of God; and are become such as have need of milk, and not of strong meat.
1 Peter 2:2 As newborn babes, desire the sincere milk of the word, that ye may grow thereby:
The truth is, no matter how good or bad your upbringing was, as we decide to walk with Jesus, the Holy Spirit will bring the appropriate Word to make us more like Jesus, to bring us to completeness as human beings.
Romans 8:29 For whom he did foreknow, he also did predestinate to be conformed to the image of his Son, that he might be the firstborn among many brethren
There may have been accidental parents, but no accidental children. God planned for you. He has given you and your life as a gift to this hurting planet, and He has an eternal plan being worked out for you, and in you.
You have been redeemed, adopted into God's family:Ephesians 3:15 of whom the whole family in heaven and earth is named.
No matter how great our earthly family may have been, we are now part of the royal family of God, training for reigning with Jesus!
1 Cor 13:11 When I was a child, I spake as a child, I understood as a child, I thought as a child: but when I became a man, I put away childish things
We are to be conformed to be like Jesus
Romans 8:29 (AKJV)
In a perfect world, in a perfect family (none exist on earth), a child would develop naturally, intellectually, and spiritually, in a wonderful cocoon of God's love, grace and protection.
Hebrews 5:13 For every one that useth

milk

is unskilful in the word of righteousness: for he is a babe.
Galatians 4  (AKJV)
4 :1 Now I say, That the heir, as long as he is a child, differeth nothing from a servant, though he be lord of all; 2 but is under tutors and governors until the time appointed of the father. 3 Even so we, when we were children, were in bondage under the elements of the world: 4 but when the fulness of the time was come, God sent forth his Son, made of a woman, made under the law, 5 to redeem them that were under the law, that we might receive the adoption of sons. 6 And because ye are sons, God hath sent forth the Spirit of his Son into your hearts, crying, Abba, Father. 7 Wherefore thou art no more a servant, but a son; and if a son, then an heir of God through Christ.
You have been adopted into the family of God, with eternal rank and privilege!


having predestinated us unto the adoption of children by Jesus Christ to himself, according to the good pleasure of his will,
So what is the job and responsibility of a child? To grow!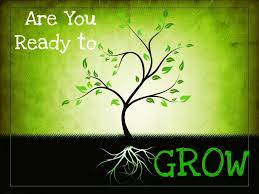 Have fun! Fall in love with Father God, let Jesus love you, receive His grace, goodness, and continually diet of instruction in the Word of God. Learn to feed your heart, your human spirit, and to allow the Word of God to grow within you, setting boundaries upon your heart, teaching you truth from lies, right from wrong, good from evil, holiness from profanity, true love from mere human sentiment. Grow!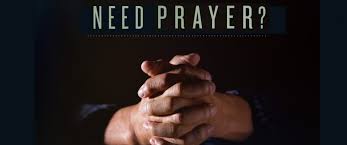 https://www.chrisaomministries.com/2016/08/06/the-purpose-of-this-blog/
Let's pray:
Father, thank you for adopting me and making me Your child. Reveal Your great love for me, and show me Your holy ways of love, that are always greater than the love of even my earthly parents. Bring into my life the sincere milk of Your Word, and cause me to grow in the character and likeness of Jesus, falling more in love with Him every day. Show me the things I have been taught by my parents, my teachers, society, and even church, that are not in line with Your Word, or Your particular calling and destiny upon my life, and show me truth that makes me free. I choose to separate myself fully on the purpose and plan You have created me for: grant me courage to walk in it, without compromise. I ask this, knowing I am heard and answered, for I ask in Your name Lord Jesus, Amen'