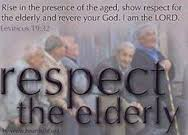 This is my noteset, from a sermon I originally preached in 2006, in Ottawa, Ontario, Canada.
I have learned and seen so much since then, I am praying about how best write on the call of God to elders…
Any thoughts?
Spiritual Growth – The Age of the Patriarch
For the last several weeks we have been studying the topic of Spiritual Growth. Every Christian who is born-again is born again a baby spiritually.
We talked about the responsibility of spiritual adults to care for new Christians, and we showed you from the Word how babies are Innocent, Ignorant, and sometimes, Irritable.
We ended by saying that babies are easily distracted, easily hurt, and easily frustrated. God wants us to grow up to the place where we become single minded, not easily hurt, and not so easily frustrated.
Next we looked at Spiritual Childhood
We looked at how children are Unsteady, Curios, and Talkative.
I explained unsteadiness is a lack of good old-fashioned 'stick-to-it-ness', becoming disciplined and focused in our goals.
I explained that there is godly and not so godly curiosity. Being inquisitive is godly, being nosy and gossiping is not.
We began to look at how important our speech is to be.
We saw that a devoted prayer life will help us say more to God and less to people. We talked about three main sins of the talkative,
Evil speaking, vain speaking, and foolish speaking.
Evil Speaking: talking about the faults and failures of one not present.
Vain Speaking – always talking about themselves
Foolish Speaking: Ephesians 5:4  Neither filthiness, nor foolish talking, nor jesting, which are not convenient: but rather giving of thanks.
Always blabbing and joking.
I then explained how to grow out of these bad habits by feeding on the Word of God, and recognizing these childish behaviours and growing up.
Today we are going to look at spiritual adulthood. Becoming a man or a woman of God.
1 Corinthians 3:1  And I, brethren, could not speak unto you as unto spiritual, but as unto carnal, even as unto babes in Christ.
2  I have fed you with milk, and not with meat: for hitherto ye were not able to bear it, neither yet now are ye able.
For ye are yet carnal: for whereas there is among you envying, and strife, and divisions, are ye not carnal, and walk as men?
Hebrews 5:12 For when for the time ye ought to be teachers, ye have need that one teach you again which be the first principles of the oracles of God; and are become such as have need of milk, and not of strong meat.
Hebrews 5:13 For every one that useth milk is unskilful in the word of righteousness: for he is a babe.
1 Peter 2:2 As newborn babes, desire the sincere milk of the word, that ye may grow thereby:
1 Corinthians 13:11 When I was a child, I spake as a child, I understood as a child, I thought as a child: but when I became a man, I put away childish things.
Galatians 4:1 Now I say, That the heir, as long as he is a child, differeth nothing from a servant, though he be lord of all;
Eph 4: 11  And he gave some, apostles; and some, prophets; and some, evangelists; and some, pastors and teachers;
12 For the perfecting of the saints, for the work of the ministry, for the edifying of the body of Christ:
13 Till we all come in the unity of the faith, and of the knowledge of the Son of God, unto a perfect man, unto the measure of the stature of the fulness of Christ:
That we henceforth be no more children, tossed to and fro, and carried about with every wind of doctrine, by the sleight of men, and cunning craftiness, whereby they lie in wait to deceive;
15 But speaking the truth in love, may grow up into him in all things, which is the head, even Christ:
2 Peter 3:18  But grow in grace, and in the knowledge of our Lord and Saviour Jesus Christ. To him be glory both now and for ever. Amen.
1 Corinthians 13:11 When I was a child, I spake as a child, I understood as a child, I thought as a child: but when I became a man, I put away childish things.
Eph 4: 11  And he gave some, apostles; and some, prophets; and some, evangelists; and some, pastors and teachers;
12 For the perfecting of the saints, for the work of the ministry, for the edifying of the body of Christ:
13 Till we all come in the unity of the faith, and of the knowledge of the Son of God, unto a perfect man, unto the measure of the stature of the fulness of Christ:
That we henceforth be no more children, tossed to and fro, and carried about with every wind of doctrine, by the sleight of men, and cunning craftiness, whereby they lie in wait to deceive;
Last week we looked at Spiritual Adulthood.
There are many attributes of spiritual adulthood described in the Word of God, last week we looked at three of them. They are:
1.Esteeming Earthly Things Lightly.
2.Deadness to Censure or Praise.
3.Ability to Recognize God at Work.
In a perfect world, in a Christian home where the Holy Spirit was at work and the Word of God was being both submitted to and taught, one would hope that a person would grow both spiritually and naturally at roughly the same pace. Obviously, in a fallen world this has not occurred, and even in the church, there are many who hear the word, but they don't believe it.
Hebrews 4:2  For unto us was the gospel preached, as well as unto them: but the word preached did not profit them, not being mixed with faith in them that heard it.
James 1:22 But be ye doers of the word, and not hearers only, deceiving your own selves.
Turn to your neighbour and say "Do the Word!"
Yet, there are those in Scripture that have gone even beyond Spiritual Adulthood, to become legends of Old, their lives depicted in the pages of God's Holy Word.
These are what I call spiritual Patriarchs, and it is these that I wish to set before you today, so that by faith, you too will strive to take your place among them in the hall of faith, making headlines in heaven, writing eternity upon this generation. Leaving a legacy of honour to the glory of God, and before the eyes of man.
First lets look at Caleb
We see in Numbers 13 that Caleb was a leader, chosen to lead the tribe of Judah by his peers, from the linage that would one day produce Messiah, Jesus our Lord.
Numbers 13:30  And Caleb stilled the people before Moses, and said, Let us go up at once, and possess it; for we are well able to overcome it.
He was a warrior, honouring God and respected among his peers. A man of courage, vision and faith with corresponding action, to change things.
Even though the people had a grasshopper mentality, and refused to do what was right and follow he and Joshua into battle, yet with passion he made his case known before God.
Numbers 14:6  And Joshua the son of Nun, and Caleb the son of Jephunneh, which were of them that searched the land, rent their clothes:
And God heard his cry and responded
Every single other person in the entire nation was sentenced to die without entering the promised land, except Joshua, and you guessed it, Caleb.
Forty years the entire nation of Israelites wandered in the desert eating Manna every day. One by one, they died there until a new generation was raised up who knew God, and who knew not Egypt. Even Moses died, and a new man was set in place to lead Israel, Joshua.
And Caleb was with him, still a warrior, still full of passion and faith, even though he must have now been in his eighties. Righteous, zealous for the Word of God to come to pass in his life we read:
Joshua 14:6 ¶ Then the children of Judah came unto Joshua in Gilgal: and Caleb the son of Jephunneh the Kenezite said unto him, Thou knowest the thing that the LORD said unto Moses the man of God concerning me and thee in Kadeshbarnea.
7  Forty years old was I when Moses the servant of the LORD sent me from Kadeshbarnea to espy out the land; and I brought him word again as it was in mine heart.
8  Nevertheless my brethren that went up with me made the heart of the people melt: but I wholly followed the LORD my God.
9  And Moses sware on that day, saying, Surely the land whereon thy feet have trodden shall be thine inheritance, and thy children's for ever, because thou hast wholly followed the LORD my God.
10  And now, behold, the LORD hath kept me alive, as he said, these forty and five years, even since the LORD spake this word unto Moses, while the children of Israel wandered in the wilderness: and now, lo, I am this day fourscore and five years old.
11  As yet I am as strong this day as I was in the day that Moses sent me: as my strength was then, even so is my strength now, for war, both to go out, and to come in.
12  Now therefore give me this mountain, whereof the LORD spake in that day; for thou heardest in that day how the Anakims were there, and that the cities were great and fenced: if so be the LORD will be with me, then I shall be able to drive them out, as the LORD said.
And Joshua blessed him, and gave unto Caleb the son of Jephunneh Hebron for an inheritance.
14 Hebron therefore became the inheritance of Caleb the son of Jephunneh the Kenezite unto this day, because that he wholly followed the LORD God of Israel.
And the name of Hebron before was Kirjatharba; which Arba was a great man among the Anakims. And the land had rest from war.
Joshua 15:14  And Caleb drove thence the three sons of Anak, Sheshai, and Ahiman, and Talmai, the children of Anak.
15  And he went up thence to the inhabitants of Debir: and the name of Debir before was Kirjathsepher.
16  And Caleb said, He that smiteth Kirjathsepher, and taketh it, to him will I give Achsah my daughter to wife.
17  And Othniel the son of Kenaz, the brother of Caleb, took it: and he gave him Achsah his daughter to wife.
18  And it came to pass, as she came unto him, that she moved him to ask of her father a field: and she lighted off her ass; and Caleb said unto her, What wouldest thou?
19  Who answered, Give me a blessing; for thou hast given me a south land; give me also springs of water. And he gave her the upper springs, and the nether springs.
20 ¶ This is the inheritance of the tribe of the children of Judah according to their families.
Now I need you to see some things here. Caleb could have rested after fighting with the armies of Israel for five years under Joshua. He was eighty-five years old. He could have died leaving a legacy of faith and honour behind him. Yet, He did not. Why? He had the heart of a Patriarch. He had gone past spiritual babyhood decades ago. He overcame his passions to pass through spiritual childhood. As a leader, husband, and father, he passed through spiritual adulthood, and now found himself as a Patriarch in the nation of Israel. He wasn't called to lead as head of the nation, but you can be sure He and Joshua were tightly knit friends. The same spirit of faith was in them both.
He could have been like Moses, and not fully accomplished the plan of God. For God cannot lie, and God's plan for Moses was that Moses lead His people into the promised land. Yet, Moses never fully allowed God to deal with his anger, and God judged him severly for it. He died without seeing the promised land.
Numbers 20:8  Take the rod, and gather thou the assembly together, thou, and Aaron thy brother, and speak ye unto the rock before their eyes; and it shall give forth his water, and thou shalt bring forth to them water out of the rock: so thou shalt give the congregation and their beasts drink.
Numbers 20:11  And Moses lifted up his hand, and with his rod he smote the rock twice: and the water came out abundantly, and the congregation drank, and their beasts also.
12  And the LORD spake unto Moses and Aaron, Because ye believed me not, to sanctify me in the eyes of the children of Israel, therefore ye shall not bring this congregation into the land which I have given them.
To whom much is given, much is required.
Yet notice Caleb. He was determined not to die before all the plan of God for His life was fulfilled. God had promised him Horeb, and he was going to take it.
Join me if you will in an imaginary journey into the thought life of Caleb at this time. Could it be that he reasoned, "Well, I could die, and leave things as they are. Israel is established in this land, and I don't really need Horeb. I'm well respected in the community, my family is fine. Who cares about Anak?"
Yet, he knew that darkness and light will never mix. Enemies will remain enemies. Even though there might be an apparent end to hostilities at present, he knew what would happen. If left alone, the children of Anak would multiply, and the day of reckoning deferred today would only rise up again in future generations. Anak would attack or defile either his children or his grandchildren.
So, if his life is any indication, he probably figured. Well, this world is not my home anyway. I'm going to die sometime, even if it is in battle.
And Caleb made a decision. He decided that the plan of God and God's promises to him were more important than even his earthly life.
Reminds me of:
Heb 11: 36  And others had trial of cruel mockings and scourgings, yea, moreover of bonds and imprisonment:
37  They were stoned, they were sawn asunder, were tempted, were slain with the sword: they wandered about in sheepskins and goatskins; being destitute, afflicted, tormented;
38  (Of whom the world was not worthy:) they wandered in deserts, and in mountains, and in dens and caves of the earth.
And these all, having obtained a good report through faith, received not the promise:
And Caleb went to war, determined to see the Word of God fulfilled or die trying.
And the Word of God came to pass, and he lived victorious.
Hebrews 2:15  And deliver them who through fear of death were all their lifetime subject to bondage.
If you are a Christian you need never fear death or the whimsical temporal approval of man.
Believe God, and change Canada or perhaps go as a missionary somewhere.
There are enemies in the land Patriarchs. same sex marriages that threaten the family unit. Legalization of Marijuana, Abortion, Child Pornography. Permits applied for Mosques and Hindu temples in our back yards. Stem-cell research and pornography on the Internet. Enemies of honour, enemies of freedom, enemies of God.
The disrespect exhibited for the elderly is appalling.
Leviticus 19:32  Thou shalt rise up before the hoary head, and honour the face of the old man, and fear thy God: I am the LORD.
While we pastured in Canada, before God moved in the Inuit, elderly people were considered excesses, and were told to go out upon the ice and die. Now, since Holy Spirit has moved in the North, elders are again respected, revered, and are set in place to help govern this new territory Nunavet.
It is said in Africa, "When an old man dies, a library burns to the ground."
Patriarchs and Matriarchs we need you to guide us with righteousness in this hour.
Phil 1: 21 ¶ For to me to live is Christ, and to die is gain.
22  But if I live in the flesh, this is the fruit of my labour: yet what I shall choose I wot not.
23  For I am in a strait betwixt two, having a desire to depart, and to be with Christ; which is far better:
24  Nevertheless to abide in the flesh is more needful for you.
And having this confidence, I know that I shall abide and continue with you all for your furtherance and joy of faith;
Dying is easy. Living takes faith. So the children have grown, and the grandchildren have come. Live for God.
Ps 91: 14  Because he hath set his love upon me, therefore will I deliver him: I will set him on high, because he hath known my name.
15  He shall call upon me, and I will answer him: I will be with him in trouble; I will deliver him, and honour him.
With long life will I satisfy him, and shew him my salvation.
'With long life will I satisfy him' Are you satisfied that you have fully obeyed God, and done everything you can for the gospel of our Lord Jesus Christ?
If not, get involved in a prayer group. Seek God for His plan. Stop Abortion. Picket the courts until just laws reflecting righteousness prevail. Leave a legacy that reaps eternal rewards. Go on with God.
I close with this word:
Psalms 118:17  I shall not die, but live, and declare the works of the LORD.
Prayer: Repent of disrespect for elderly. Pray Patriarchs and Matriarchs rise up across the land. Pray God send some into our midst.