A perpetual incense before the LORD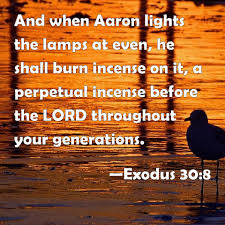 Ex 30: 7 And Aaron shall burn thereon sweet incense every morning: when he dresseth the lamps, he shall burn incense upon it.
8 And when Aaron lighteth the lamps at even, he shall burn incense upon it, a perpetual incense before the LORD throughout your generations.
Was thinking about how our lives, as we walk with Him, and cry out to him, become a living alter, our prayers the incense that rises from it….
Re 5:8 And when he had taken the book, the four beasts and four and twenty elders fell down before the Lamb, having every one of them harps, and golden vials full of odours, which are the prayers of saints.
Re 8:3 And another angel came and stood at the altar, having a golden censer; and there was given unto him much incense, that he should offer it with the prayers of all saints upon the golden altar which was before the throne.
Re 8:4 And the smoke of the incense, which came with the prayers of the saints, ascended up before God out of the angel's hand.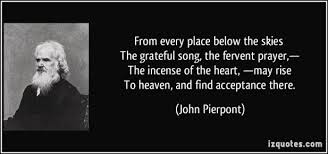 Let's sing:
"I love you Lord, and I lift my voice, to worship you. I love you Lord, and I lift my voice, O my soul, rejoice. Take joy my King, in what you hear, Let it be a sweet, sweet sound, in Your ear…."