Prophesy!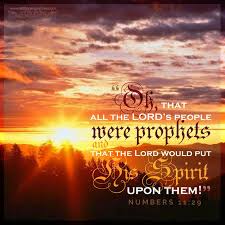 Ah! The anointing on the elders – visionary directives from heaven, to lead the people of God, into His perfect plan!
Num 11:
25 And the LORD came down in a cloud, and spake unto him, and took of the spirit that was upon him, and gave it unto the seventy elders: and it came to pass, that, when the spirit rested upon them, they prophesied, and did not cease.
29 And Moses said unto him, Enviest thou for my sake? would God that all the LORD'S people were prophets, and that the LORD would put his spirit upon them!
1Co 14:31 For ye may all prophesy one by one, that all may learn, and all may be comforted.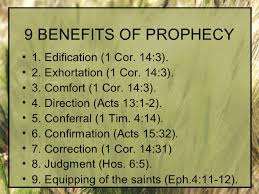 1Co 14:39 Wherefore, brethren, covet to prophesy, and forbid not to speak with tongues.
God cannot lie, and this is the last days, where He is pouring out His Spirit upon all flesh, with visions, dreams, revelation, signs, wonders and miracles following the utterance of His voice through His people.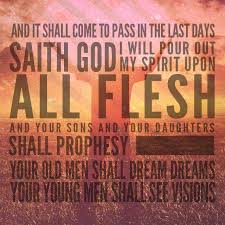 Rather, than give a long teaching on the prophetic, I am simply giving you a call to action, like Nike says: 'Just Do It!'.
Seek the prophetic today, and desire to prophesy. As you can see, it's in the book!
Let's Pray:
'Father, I thank you for pouring out precious Holy Spirit today in the earth, with signs, wonders and mighty acts of Your power demonstrating the utterance of Your decrees, through us, Your church. I fully surrender to You Lord Jesus! Use me today, flow through me, and grant me prophetic gifting and utterance, that You might be glorified Lord Jesus, Amen!"