Testimony Thursday!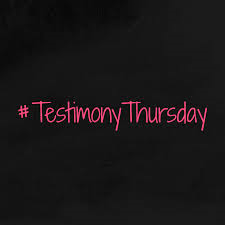 For all of you Social Media peeps, we have heard the term: 'throwback Thursday' where we are supposed to post pictures from the past.
Well, I think it would do much more good to make a new event called 'Testimony Thursday', where we post quips, quotes, Scriptures, and pictures of thing Jesus has clearly done in our lives.
Last night I was simply sitting in church, thinking about Thanksgiving today, and these following three verses came to mind:
Revelation 12:11 [Full Chapter]
And they overcame him by the blood of the Lamb, and by the word of their testimony; and they loved not their lives unto the death.
The law of the Lord is perfect, converting the soul: the testimony of the Lord is sure, making wise the simple
And I fell at his feet to worship him. And he said unto me, See thou do it not: I am thy fellowservant, and of thy brethren that have the testimony of Jesus: worship God: for the testimony of Jesus is the spirit of prophecy.
Seems fitting that today is Thanksgiving here in America. Great day to be thankful!
What are you thankful to God for today?