The Ghost Dance
"In the drying grass moon (October 9, 1890), about a year after the breaking up of the Great Reservation, a Minneconjou from the Cheyenne River agency came to Standing Rock to visit sitting Bull.  His name was Kicking Bear, and he brought news of the Paiute Messiah, Wovoka, who had founded the religion of the Ghost Dance.  Kicking Bear and his brother-in-law, Short Bull, had returned from a long journey beyond the Shining Mountains in search of the Messiah.  Hearing of this pilgrimage, Sitting Bull had sent for Kicking Bear in order to learn more about the Ghost Dance.
Kicking Bear told Sitting Bull of how a voice had commanded him to go forth and meet the ghosts of Indians who were to return and inhabit the earth.  On the cars of the Iron Horse he and Short Bull and nine other Sioux had traveled far toward the place where the sun sets, traveled until the railroad stopped. There they were met by two Indians they had never seen before, but who greeted them as brothers and gave them meat and bread.  They supplied the pilgrims with horses and they rode for four suns until they came to a camp of Fish Eaters (Paiutes) near Pyramid Lake in Nevada.
The Fish Eaters told the visitors that Christ had returned to earth again.  Christ must have sent for them to come there, Kicking Bear said; it was foreordained.  To see the Messiah they had to make another journey to the agency at Walker Lake.
For two days Kicking Bear and his friends waited at Walker Lake with hundreds of other Indians speaking in dozens of different tongues.  These Indians had come from many reservations to see the Messiah.
Just before sundown on the third day the Christ appeared, and the Indians made a big fire to throw light on him.  Kicking Bear had always thought that Christ was a white man like the missionaries, but this man looked like an Indian.  After a while he rose and spoke to the waiting crowd.  "I have sent for you and am glad to see you," he said.  "I am going to talk to you after a while about your relatives who are dead and gone.  My children, I want you to listen to all I have to say to you.  I will teach you how to dance a dance, and I want you to dance it.  Get ready for your dance, and when the dance is over, I will talk to you."  Then he commenced to dance, everybody joining in, the Christ singing while they danced.  They danced the Dance of the Ghosts until late at night, when the Messiah told them they had danced enough.
Next morning, Kicking Bear and the others went up close to the Messiah to see if he had the scars of crucifixion which the missionaries on the reservations had told them about.  There was a scar on his wrist and one on his face, but they could not see his feet, because he was wearing moccasins.  Throughout the day he talked to them.  In the beginning, he said, God made the earth, and then sent the Christ to earth to teach the people, but white men had treated him badly, leaving scars on his body and so he had gone back to heaven.  Now he had returned to earth as an Indian, and he was to renew everything as it used to be and make it better.
In the next springtime, when the grass was knee high, the earth would be covered with new soil which would bury all the white men, and the new land would be covered with sweet grass and running water and trees.  Great herds of buffalo and wild horses would come back.  The Indians who danced the Ghost Dance would be taken up in the air and suspended there while a wave of new earth was passing, and then they would be set down among the ghosts of their ancestors on the new earth, where only Indians would live."
And so began 'The Ghost Dance' with Indians in regalia, and specially made 'ghost shirts' dancing and whirling in worship, for hours and days on end, on almost every reservation in the United States of America.
There is much more said of this, in Dee Browns book, Bury My Heart At Wounded Knee, in  the chapter, 'The Dance of the Ghosts'
The question I have been asking of God is this: Was Ghost dancing of Him? Or was it just another devilish deception in the earth, designed ultimately to draw people away from Jesus, and into hell?
I believe that the Bible is the authoritative inerrant Word of God, and our sole means of judging spiritual truth.
2 Peter 1:3  According as his divine power hath given unto us all things that pertain unto life and godliness, through the knowledge of him that hath called us to glory and virtue:
4  Whereby are given unto us exceeding great and precious promises: that by these ye might be partakers of the divine nature, having escaped the corruption that is in the world through lust.
Heb 4:12  For the word of God is quick, and powerful, and sharper than any twoedged sword, piercing even to the dividing asunder of soul and spirit, and of the joints and marrow, and is a discerner of the thoughts and intents of the heart.
2Ti 3:16  All scripture is given by inspiration of God, and is profitable for doctrine, for reproof, for correction, for instruction in righteousness:
There are many Scriptures that would suggest that this phenomenon is not of God, although it was a supernatural event surely.
Since we are schooled in Scripture, and even under great prophetic teaching to discern good from evil, light from dark, truth from error, let's look at this logically, and see what we come up with.
First of all, let's look at the counsel against it.
Matt 24:4 ¶  And Jesus answered and said unto them, Take heed that no man deceive you.
5  For many shall come in my name, saying, I am Christ; and shall deceive many.
11  And many false prophets shall rise, and shall deceive many.
23  Then if any man shall say unto you, Lo, here is Christ, or there; believe it not.
24  For there shall arise false Christs, and false prophets, and shall shew great signs and wonders; insomuch that, if it were possible, they shall deceive the very elect.
25  Behold, I have told you before.
26  Wherefore if they shall say unto you, Behold, he is in the desert; go not forth: behold, he is in the secret chambers; believe it not.
So here we have an eyewitness account, of a 'Messiah' requesting Indians from many tribes to meet with him in the wilderness. Looks fishy! (Pun intended, the Paiutes are known among other tribes as 'fish eaters')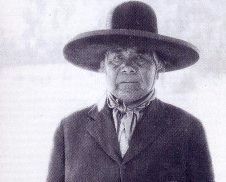 Wovoka
This is a quote, from a Christian leader, that is the gist of much Christian thought on the subject:
"I'm not an authority on the Native American religious beliefs but if I remember correctly, as I studied that subject many years ago, the ghost dance was developed in the late 1880's by the plains Indian tribes to give their people hope of an Indian nation resurrection or revival free from United States federal government interference.
The US federal government department of Indian affairs was very fearful that the ghost dance would bring an uprising of the young Sioux, Arapaho, Apache et al. And if I remember correctly the federal government had outlawed the ghost dance.
I believe the ghost dance was not originally instituted by God the father, I believe it was instituted by old-fashioned chiefs and medicine men who were tired of being pushed around by the United States government and since physical force had not won any victories they were looking to their ancestors and the spiritual realm for assistance to bring the victory without shedding blood.
There were missions established in Indian nations that were Christian but I see more paganism rituals than anything else in the ghost dance since it was just a dream of a few older Indians to return to the old ways."
If we study Church history, we find the supernatural workings of very deceptive spirits, in the lives of various founders of sects of Christianity.
Mohammed, if you recall, went up on to a mountaintop, where Gabriel supposedly appeared to him, and hugged him. When the angel clasped him to his breast, the oracles of God were imparted to him, and he came down off the mountain and though an uneducated man, wrote the Quran.
Now, we have a billion people, uneducated in the Scripture, claiming the Quran to be the 'more complete' revelation of God, and war upon war, bloodshed upon bloodshed has resulted. All because one man claimed have heard God.
If only they knew what was already written: 2Co 11:14  And no marvel; for Satan himself is transformed into an angel of light.
Jesus said that 'by their fruits we would know them' and the overall fruit of Islam in the earth is murder, mayhem, subjection of women, and brutality towards those not of the faith.. Of course organized institutionalized Christianity has a history of much blood too..
Then there is Joseph Smith, the founder of Mormonism, who claimed that Jesus and Mary appeared to him, to bring correction to Christian doctrine, and he began the new religion, we now call Mormonism.  'Another gospel' had entered the earth…
Ga 1:7  Which is not another; but there be some that trouble you, and would pervert the gospel of Christ.
Ga 1:8  But though we, or an angel from heaven, preach any other gospel unto you than that which we have preached unto you, let him be accursed.
Ga 1:9  As we said before, so say I now again, If any man preach any other gospel unto you than that ye have received, let him be accursed.
Even in this century, we have great Charismatic preachers obviously raised up by the hand of God, with great signs, wonders and miracles accompanying their ministries, yet doctrinally getting off into error. John Alexander Dowie, the founder of Zion, Illinois, and a man greatly used of God in the ministry of divine healing, near the end of his life, would dress in flowing white robes, claiming to be the second incarnation of Elijah.  William Branham, if you have ever seen old videos of him ministering, moved in a spirit of revelation, seeing and knowing, that was unprecedented in his day, with phenomenal documentable miracles in his ministry. Yet, in His teaching, he got off, denying the trinity, and preaching doctrine contrary to the Scripture.
It can happen to any one of us, no matter how much we are used of God in the ministry, we must love, long for, and become established in truth.
2Th 2:10  And with all deceivableness of unrighteousness in them that perish; because they received not the love of the truth, that they might be saved.
It seems, that as we walk with God over the years, we meet people who are set in their ways, and truth that will set them free, is generally not received.
2Ti 2:25  In meekness instructing those that oppose themselves; if God peradventure will give them repentance to the acknowledging of the truth;
Truth, spiritual truth, is a person, and that person is Jesus Christ, and He always sets the captives free.
Yet, what about the authentic manifestations of God? We have Martin Luther, who cried out to God and who was given the revelation that 'the just shall live by faith'.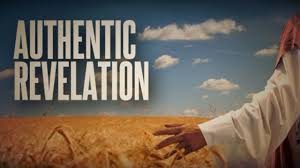 William Tyndale and Wycliffe convinced that the Scripture must be translated into the common language of the people, that people may meet God without clergy, that there come an objective standard by which all of us are judged, where a person can come directly to God through Jesus Christ, and join the church. Not through the church, to be joined to Jesus:
1Ti 2:5  For there is one God, and one mediator between God and men, the man Christ Jesus;
John 14:6  Jesus saith unto him, I am the way, the truth, and the life: no man cometh unto the Father, but by me.
Acts 4:12  Neither is there salvation in any other: for there is none other name under heaven given among men, whereby we must be saved.
So what about Ghost Dancing?
Could Jesus have physically appeared to the Piute people, at Walker lake?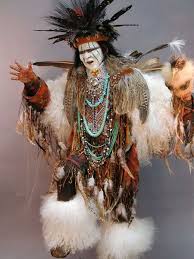 I believe He did, and here's why….
As I study Indian history, and the dealings of God among the tribes, it is clear that God has been visiting the host peoples of this land we call the United States, a long time before white men appeared here..
We read of 'the peacemaker' who went on his vision quest, seeking the Creator for peace among the tribes. He was given a visitation, that has proved to be of God, and he wrote what is known now as 'the Great law of peace'. It is this document, that became the constitution of the Iroquois confederacy, that was recited by 100 Iroquois elders to George Washington, John Quincy Adams, Benjamin Franklin and the founding fathers of the US, to become one of the contributing documents from which our US constitution is derived, this, and the Bible.

Here is the reference from the US Senate:
https://www.senate.gov/reference/resources/pdf/hconres331.pdf
We learn of the time of the great plagues ravaging the Indian tribes, when a Kiowa medicine man cried out to God for healing of his people. In a field one day, 'an olive skinned man' appeared to him, and walked with him, and showed him 300 medicinal uses of common plants, to heal his people. Much of this knowledge is the basis of the US pharmaceutical industry today.
Today, it is common knowledge of Jesus, or Yeshua as He is called by many tribes, is regularly appearing to Muslims around the world, and to many elders and tribal leaders here in the United States.
So how do we look at Ghost dancing?
Was it a move of God, a dance of the Holy Ghost, sent from heaven to heal, deliver, and bless the host peoples of America, or was it a damnable heresy, as some have said?
Remember the horror story of Wounded Knee, on Pine Ridge reservation with the Sioux. A group of Sioux, led by chief Big foot, left the reservation, armed, to go to a creek called wounded knee, simply because they wanted to worship, they wanted to Ghost dance.
In the account, missionaries, generally denominational preachers, not schooled in the power of God, and the gifts of the Holy Spirit, were concerned about this phenomena called Ghost dancing. It had erupted on every reservation, and the dances went deep into the night. Dancers were said to be clothed in 'an unearthly glow' when they danced, and the missionaries did not understand it, nor could they control it. The last of the great free chiefs, Sitting Bull lived on this reservation, and in the minds of the 'anti-indian' thinkers of the day, he was a great threat to the new American regime, and the rule of law in the land. He had to go…
Some wise men of God of the clergy counseled that this practice be allowed to continue, comparing it to the practices of the seven day Adventists of the day, who would dress in white robes and go up on mountaintops expecting the second coming of Jesus, not correct, but harmless behavior in and of itself. The message of the Ghost dance was peace with the white man, and though they did not understand the wild dancing in regalia, they did not see anything wrong with it.
Yet, fearful missionaries, who did not know the Holy Spirit I am sure, feared for their lives, afraid that these wild dances, were war dances, inciting the Indians to riot, to ride again in war, slaughtering 'innocent' white settlers. They went to the Calvary, and orders were issued: "Ghost dancing must be stopped."
Have you noticed historically that human nature has been the same? When someone doesn't understand something fully, they kill it.
And so we have the Wounded Knee massacre, where a group of peaceful Indians rode out to worship, and were confronted by Calvary. They turned in their weapons, and were unarmed. One deaf malcontent refused to give up his gun, and a soldier wrestled him for it. In the resulting commotion, the gun went off, in a shot heard around the world, and in that emotion charged atmosphere, the Calvary opened fire, killing over 300 men, women and children…At the same time, an assassin pulled his revolver, and shot and killed chief Sitting Bull.
Despite the murder, mayhem, and misunderstanding, God will not let me go on the topic…
In Mike Bickle's book, 'Growing in the Prophetic' he gives some wonderful insight on pastoring prophetic people.  Since Holy Spirit is the Spirit of truth, true prophecy is always true, pure, and holy.
He says that in rightly dividing prophetic words, usually people actually hear God accurately. The great errors seem to occur in interpretation and application of what God is saying.
Let me tell off on myself first, before we apply this principal to the dance of the Ghosts….
As I was growing (still am, I hope) in my gift and calling, there was a season where God had me learn the prophetic. I read many great books written by prophetic people and established new testament prophets, and attended a number of prophetic seminars.
Ac 2:18  And on my servants and on my handmaidens I will pour out in those days of my Spirit; and they shall prophesy:
1Co 13:9  For we know in part, and we prophesy in part.
1Co 14:39  Wherefore, brethren, covet to prophesy, and forbid not to speak with tongues.
Ac 11:27  And in these days came prophets from Jerusalem unto Antioch.
Ac 13:1  Now there were in the church that was at Antioch certain prophets and teachers; as Barnabas, and Simeon that was called Niger, and Lucius of Cyrene, and Manaen, which had been brought up with Herod the tetrarch, and Saul.
I desired to know, grow, and understand the prophetic, and I had a number of exciting experiences in the Holy Ghost.
Though I moved fairly accurately in my gifting, delivering many public words that really blessed some people and allowed God to do some really neat miracles, there was one day I missed it publically, and it cost me much pain…
Here's what happened.
I had been reading a series of Christian fiction books by an author named Roger Elwood. The first book in his trilogy, is a book titled 'AngelWalk' and it was really cool! It is the story of an angel named Darius that travelled through time, trying to discover how his previous friend from heaven, Lucifer, the glorious worship leader of heaven, had fallen, and become satan, evil prince of this world. He would travel through time, and people could only see him at the moment of their death, and it had a cool twist to the plot at the end.
Well, I read the next two books, and they were not as good, but one of them talked about aborted children crying out for their parents from heaven. Ugh!
Stayed up really late reading that Saturday night, (its hard to put a good book down isn't it?) and was pretty sleep deprived next morning in service, and praise and worship was awesome as usual. Sure enough, the Holy Spirit gave me three words. I don't remember the first, but I really remembered the second one. I was sitting behind a group of teens that were obviously 'party animals' that had been dragged to service by their parents.  I had my eyes closed in worship, when these words came out of me: 'You wonder if I exist, or if I am simply a figment of your parent's imagination, yet I know you, I see you, and have loved you since you were a little child. I did not bring the hard things that have happened to you, but have wept as I watched, wanting to heal your heart from the deep betrayals. You knew me as a child, but the pain was too much for you to bear, and you closed your heart to me, and ran in your pain, trying to hide from me. I know, I understand, and I wait…'
I had no idea who this word was for when I gave it, but phew! One of the young men in front of me began to shake uncontrollably, and then burst into tears! Right in front of his 'tough guy' friends! I learned later that he was heavily into drugs and considering suicide, and had given God an ultimatum, 'Either do something, or I'm outta here!'. He ended up giving his life to Jesus at the end of the service!
1 Cor 14:24  But if all prophesy, and there come in one that believeth not, or one unlearned, he is convinced of all, he is judged of all:
25  And thus are the secrets of his heart made manifest; and so falling down on his face he will worship God, and report that God is in you of a truth.
So, encouraged by accuracy, I reentered worship, my heart reaching out to see, to know, to perceive, to hear…
I was given another word. The single word, 'abortion'.
Since the last word had such a great sound and flow to it, my imagination raced as to how best deliver this word. In hindsight, I should have simply said: 'abortion', then allowed the congregation to pray into it. If an interpretation has not been given, we should never make one up!
Yet, in my spiritual pride, zeal, and foolishness, I tried to grasp a possible meaning of what I knew I had heard clearly. I thought about all the aborted babies from my fiction book I had read the night before, and so 'I THOUGHT', with my mind racing in the emotion of the moment, that maybe God wanted to minister to some woman that had an abortion or something, so I delivered the following word, 'I hear the cries of babies that have died in abortion, and feel the heart of our Father, to love, heal and restore. They are saying: 'I forgive you, and I love you'.
Pretty creative interpretation huh?
Well, my pastor got up behind the pulpit and said, 'Chris, the first two words you delivered were of the Lord, but we do not believe in hearing  from the dead around here. That word was not of God. I forbid you to prophesy again in this congregation until further notice.'
Well, I have always been sincere, but in this case I was sincerely wrong!
I sat down in the back row, publically humiliated, every eye upon me, crying out in my heart for understanding, crushed!
Two things came out of that. I was placed upon church discipline with a more seasoned prophetic person for the next six months, which I submitted to.
1Pe 5:5  Likewise, ye younger, submit yourselves unto the elder. Yea, all of you be subject one to another, and be clothed with humility: for God resisteth the proud, and giveth grace to the humble.
Submission, humility and brokenness will accompany the call of God, as we learn 'not my will, but thine be done…'
Secondly, I went home, knelt down beside my bed, and wept until I could weep no more.
I was reminded of Peter moving in authentic revelation one second, in understanding directly from the Father who Jesus really is, to 'get thee behind me satan' only a couple of verses later. He went from accurately hearing God in one instance, to being used of a devil only minutes later.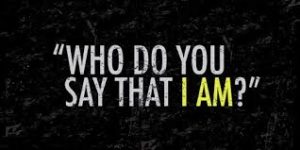 Matt 16:13 ¶  When Jesus came into the coasts of Caesarea Philippi, he asked his disciples, saying, Whom do men say that I the Son of man am?
14  And they said, Some say that thou art John the Baptist: some, Elias; and others, Jeremias, or one of the prophets.
15  He saith unto them, But whom say ye that I am?
16  And Simon Peter answered and said, Thou art the Christ, the Son of the living God.
17  And Jesus answered and said unto him, Blessed art thou, Simon Barjona: for flesh and blood hath not revealed it unto thee, but my Father which is in heaven.
18  And I say also unto thee, That thou art Peter, and upon this rock I will build my church; and the gates of hell shall not prevail against it.
19  And I will give unto thee the keys of the kingdom of heaven: and whatsoever thou shalt bind on earth shall be bound in heaven: and whatsoever thou shalt loose on earth shall be loosed in heaven.
20  Then charged he his disciples that they should tell no man that he was Jesus the Christ.
21 ¶  From that time forth began Jesus to shew unto his disciples, how that he must go unto Jerusalem, and suffer many things of the elders and chief priests and scribes, and be killed, and be raised again the third day.
22  Then Peter took him, and began to rebuke him, saying, Be it far from thee, Lord: this shall not be unto thee.
23  But he turned, and said unto Peter, Get thee behind me, Satan: thou art an offence unto me: for thou savourest not the things that be of God, but those that be of men.
24 ¶  Then said Jesus unto his disciples, If any man will come after me, let him deny himself, and take up his cross, and follow me.
2Co 11:14  And no marvel; for Satan himself is transformed into an angel of light.
So, back to my abortion word.
As I was repenting before the Lord, asking Him how I missed it, I walked out of my basement bedroom to walk across the recreation room to the bathroom, when my eyes caught a newspaper left there by my landlord. The headline read: 'Morgantholer to open abortion clinic in Ottawa'. Seems that our city ( I was living in Ottawa, Ontario, Canada at the time), was about to host its first dedicated abortion clinic, and the king of the Canadian abortion industry was coming to town the next day for the grand opening.
Suddenly, Holy Spirit spoke to me clearly:
"Do you see it? I gave you the word, so that the church could pray against this thing, that you knew nothing about, but you did not wait upon me for understanding!"
I felt like ten tons lifted off me. God loved me. I did hear correctly, but because of my limited understanding, and mind full of fiction, I had both interpreted incorrectly, and applied what I heard incorrectly.
If we are honest with ourselves, and before God, sometimes we can learn as much from our failures as our successes.
In spiritual matters, the cure for misuse is not no use, rather correct use.
I still prophesy, and if I am sure that I have heard a word for a certain place, I fear not the faces of men, and I will speak what He gives me….However, I have learned that most corrective words that He gives me for a people, are to become deep, broken hearted, prayer assignments, sometimes accompanied by fasting. This has become my primary prophetic ministry, providing clean, accurate protection and oversight to congregations and communities…
Now let's look at Ghost dancing.
Betweeen 1860 and 1890 almost every free Indian in America was forcibly removed from their ancestral lands, and forced upon often desolate reservations. Poorly armed warriors were no match for the US Calvary, and when they resisted, they were slaughtered. Almost every family was reeling from the grief and bitterness of lost loved ones, hearts were hurting in every tribe over the massacres, betrayals of sacred trusts, treaties broken, and the displacements from their homelands.
I have heard it said, in spirit filled churches, that 'When a Christian is wounded, they must bleed worship!"
This is generally good counsel, because God inhabits the praises of His people, and only He can forgive the unforgiveable, and heal hearts shattered by atrocity….
When I was in Rwanda in 2009, in a nation still attempting to rebuild after the horror of genocide, I witnessed deep, deep worship in the churches, where people would praise and worship until the manifest presence of God met them, personally, and we would all end up in weeping puddles before Him, as He, Creator of Heaven and the universe, met with us personally, deeply, healing us in our brokenness, loving out our deepest traumas and pain…
In the midst of this heartbreak and bitterness, a Piute prophet claims that Jesus, Yeshua, the Messiah, wishes to speak personally to all the tribes, in the wilderness, and the prophet has His message to bring to comfort the people.
I believe Jesus actually showed up at that meeting, in the flesh. That He left His throne, in answer to the anguished cries of hurting peoples, in answer to many, many praying saints of that day. His heart is love, and His mission is always the same: to seek and save the lost, to heal the broken hearted, to set the captives free, demonstrating the power of His Spirit…
And what did He ask the people to do? Dance before Him in worship…
In First Nation tradition, there is protocol.
Respect, Honor, and understanding of another elder or chief's authority among his or her people is critical to understanding the culture of host peoples.
When a chief is visiting another tribe or village, it is customary to bring and present honor gifts to the chief being visited, with the following traditions generally understood, respected, and in place:
When the protocol gifts are given, the host chief also gives honor gifts to the visiting chief. The message of acceptance is understood. They are friends; they recognize and honor one another's authority amongst their people. The visiting chief is then free to move amongst the hosts lands, without harm. His friendship and leadership is recognized upon the territory of his host.
If, for whatever reason, protocol is not performed, generally the visiting chief may sit in public meetings with the host chief, but in deference to his or her leadership, will not speak nor move amongst the host chief's people. It may have nothing at all to do with the relationship between the host chief and visiting chief personally, but may simply be an internal difficulty in the host chief's tribe, or perhaps some difficulty between the two tribes that needed to be discussed privately, but protocol is respected and honored among most tribes.
A man's gift [given in love or courtesy] makes room for him And brings him before great men.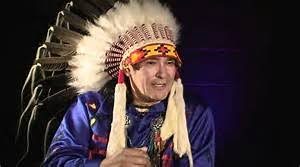 Chief Kenny Blacksmith, my friend and native pastor
In some of our Christian native American tribal gatherings, protocol can be very fun, with chiefs and elders publically honoring each other and giving gifts to each other for some time. God gets actively involved in this, and there have been great manifestations of the Holy Spirit in some of these meetings!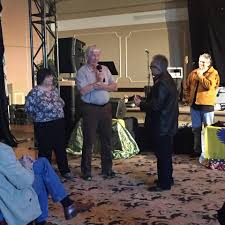 Presenting Mohawk pastor Willie Jock with a copy of my book at 'Gathering of Eagles' summit in Ottawa, Ontario
Yet, what if God gave protocol?
What if God actually gave the host peoples authority in this land we call the United States of America?
Ac 17:26  And hath made of one blood all nations of men for to dwell on all the face of the earth, and hath determined the times before appointed, and the bounds of their habitation;
What if the conquest of the North American Indian was not 'manifest destiny' as denominational preachers preached to steer the minds of the people in the thoughts like: 'The only good Indian, is a dead indian' or in the residential schools, where Indian children were horribly beaten, punished for speaking their native tongue, under the premise 'kill the Indian, save the man.'
What if God had a unique and special place in His kingdom for our First Nations brothers and sisters, where their culture and language was only to be superseded by the culture of heaven, not to be destroyed, rather redeemed…that the Scripture be fulfilled:
Re 5:9  And they sung a new song, saying, Thou art worthy to take the book, and to open the seals thereof: for thou wast slain, and hast redeemed us to God by thy blood out of every kindred, and tongue, and people, and nation;
In 1907, in a place called Azusa street, we had a visitation of God, that has resulted in the Charismatic or Pentecostal church in America. Great denominations have sprung out of this initial move, where Christians, as common practice, received the baptism in the Holy Spirit, with the evidence of speaking in other tongues.
Yet, in Murphy's Point, North Carolina, in 1898, a group of Cherokees experienced this supernatural gift of God, and then in the year 1900, history records the Ghost dance breaking out upon almost every reservation in the United States.
What if this was an authentic move of God, initiated of heaven to visit this nation, and to heal the relationship between the white and red man?
What if God honored First Nations protocol, and visited the host peoples of this land, first, with a move of the Holy Spirit?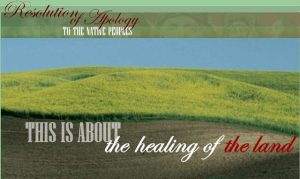 Could Jesus have actually appeared and initiated it?
Emphatically, YES!
Could He have taken the Piute prophet to heaven, and shown him the glories of the eternal world, glory too great to be articulated in human speech?
2 Cor 12:2  I knew a man in Christ above fourteen years ago, (whether in the body, I cannot tell; or whether out of the body, I cannot tell: God knoweth;) such an one caught up to the third heaven.
3  And I knew such a man, (whether in the body, or out of the body, I cannot tell: God knoweth;)
4  How that he was caught up into paradise, and heard unspeakable words, which it is not lawful for a man to utter.
5  Of such an one will I glory: yet of myself I will not glory, but in mine infirmities.
What if the prophet, in his limited understanding, having just seen the very much alive multitudes of Indians in heaven, tried to describe what he saw, in his limited understanding, and knowledge of the Word of God?
Then, he articulated having seen lost loved ones, and heart broken, bitter elders, tried to interpret what he was saying, through hearts full of pain.
Heb 12:15  Looking diligently lest any man fail of the grace of God; lest any root of bitterness springing up trouble you, and thereby many be defiled;
Simon the sorcerer was deceived, and rebuked by Peter…
Ac 8:23  For I perceive that thou art in the gall of bitterness, and in the bond of iniquity.
Elders, medicine men, trying to process this experience with the Messiah, through their own gridwork of pain…
Could this have distorted the message, defiling it with pain wracked imaginations, based upon misunderstanding of the Word of God….?
Questions, I find myself asking, as I diligently seek truth in the visitations of God among the tribes…..
What do you think about Ghost dancing?
Is it of God, a holy visitation of heaven, that needs to be stewarded prophetically, with seasoned, broken, humble teachable elders, or is it a false doctrine to be destroyed?
There is presently, a very deep move of the Holy Spirit happening among the tribes of Indians here in North America. I believe this move, is one of the prophetic events and keys that will unlock the greatest move of God America has ever seen, if responded to correctly. Will we break before God, and let our limited understandings fall at His feet, becoming Bereans in the Word of God,
Acts 17:10 ¶  And the brethren immediately sent away Paul and Silas by night unto Berea: who coming thither went into the synagogue of the Jews.
v11  These were more noble than those in Thessalonica, in that they received the word with all readiness of mind, and searched the scriptures daily, whether those things were so.
There are prophecies given by tribal elders, dreams, visions regarding the destinies of God for their people, and for America. Many of these are literally coming to pass before our eyes, if we would have eyes to see, and ears to hear…Together, red and white man can heal and redeem America, and bring it under the Lordship of Jesus Christ: the land will be healed…It will only happen through Jesus….
https://www.chrisaomministries.com/2017/02/27/do-you-want-to-go-to-heaven/