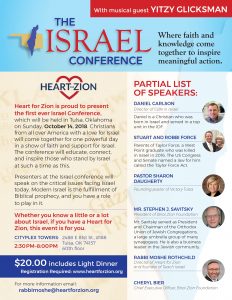 Hi Everyone,
We are helping with the Israel Conference Tulsa!
Last summer while in Israel, our family had the privilege of sharing Shabbat with rabbi Moshe Rothchild and his beautiful family in Efrat. My son and I attended synagoge with rabbi and his son, while my wife and daughter helped his precious wife Yonit prepare candles and the meal. From the prayer, to the Challah bread and the sharing of the cups, the candles, praying God's blessing on our families and children and the obvious love and joy we shared over dinner, this was one of the high points of the entire four weeks of our trip. Rabbi and I laughingly joked that it was easy to pray for Christians or Jews generically, but the way he was raised in a secluded Jewish community, he had never actually met a Christian, and truthfully, while I have love Israel and the Jewish people in a general sense, I honestly did not know any actual Jewish people. This is changing, as rabbi is gently opening the door for Christians to the orthodox Jewish community to Christians, and if you consider the history of blood libels, the pogroms, the holocaust, the Spanish Inquistion to name a few: many, many Jews were slaughtered by so called 'Christians'. While we cannot change the past, we can plan for a better future, deliberately learning from and respectfully loving each other, as we do life together.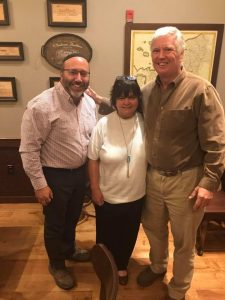 This event is unlike any other I have heard of, because it is hosted by an orthodox Jewish rabbi, with many Christian leaders contributing. Rabbi will be giving away a free tour of Israel during this event, and there will be many door prizes just because giving is close to the heart of God.
He has given 38 pastors free tours of Israel, in what is titled 'The Real Israel Tour', where Christian leaders get to see the real side of Israel, taken to holy sites not open to the public. Each participant will experience Shabbat not in a hotel or public venue, but with a Jewish family, in thier own home.
While there, I fell more in love with Jesus! Jesus is Jewish! Israel is His homeland, and He was raised as a Jew. To see the feasts and festivals practiced, and synagoges still worshipping pretty much exactly as it would have been in the days Jesus walked the earth, it is easy to understand His love and passion for His people, and His eternal covenant still practiced and upheld by heaven in the earth. There is special blessing from God for those who bless Israel, and we have proven this to be true.
There are still many expenses associated with this event and I am asking for two things: 1. Donate to help cover costs of the venue and speakers. 2. Register immediately: https://www.eventbrite.com/e/the-israel-conference-tickets-…
It is good to be part of Gods end time plan that includes Israel. This is the will of God. Even if you cannot attend, God will bless you as you bless Israel