Welcome to the Grand Illusion!
This is an introduction to my new book:-
Reminds me of an old rock and roll song, by the group Styx: http://www.youtube.com/watch?v=KcGP0nXPQ70
When you have an elected President that openly supports abortion, same-sex marriage, Islam, and who comes against Israel, there are clearly spiritual forces in operation here in the United States, operating against the minds of the American people. We see decisions being made in Washington, that are clearly against the Word of God, and the Media drawing our attention to this or that scandal.

In a magicians act, the trick is in the illusion. Our attention is always drawn to the trick, never to what the other hand is doing…
It is time to reveal what the puppeteer who is really pulling the strings is doing, for as he is revealed, when can accurately confront and dispatch him, with the mighty weapons of spiritual warfare, and again see this land of the free, home of the brave become the place of freedom, liberty, and justice for all that we all long for!

The Bible says of Satan, that he is a mind blinding spirit:
2Co 4:4 In whom the god of this world hath blinded the minds of them which believe not, lest the light of the glorious gospel of Christ, who is the image of God, should shine unto them.
In order for the majority of people to vote for a leader, that is acting directly against the Word of God, there must be spiritual blindness operating.
So, I began to ask God what was causing this blindness, because I really love Jesus, and the Bible is the Word of God, forever established in the heavens.
[
ל  Lamed
] For ever, O
Lord
,
thy
word
is settled in heaven.
If God is on the throne, according to Rom 13, the governments are in His hand, then how can this happen?
Well, there is no such thing as a spiritual vacuum.
As many of you know, I spent eight weeks in prayer and fasting, every waking moment, over the second term reelection of President Obama.
Many of you have heard it before, but it bears repeating. As many of you know, I and a business partner, owned and operated Grace Interior Trim, a high-end carpentry company providing trim and millwork for eight years, to build some really neat projects here around Tulsa, and throughout Oklahoma. https://www.facebook.com/pages/Grace-Interior-Trim-LLC/244907400682
Previous to that, I had given ten years of my life in preparation for the work of the ministry, that brought me here to Tulsa, to attend Rhema Bible training center from 1997-1999. Met my beautiful wife there, and I graduated on a Friday, was married on a Monday, then after a brief honeymoon hiking the Grand Canyon, we headed back to Canada, to pioneer Door of Faith church, where we served for five years, putting what we had learned into action. Although we saw a lot of miracles and healings, the church never really took off.
Well, broke, battered, and bruised, we returned here to Tulsa, with a cool word, and a dream, that we were going to minister in the US, and we were to go to Tulsa.
So, I obeyed, with a 2-1/2 year old, and a pregnant wife, and here we are…all these years later.

Yet, I God had to do some major remodel on me, before I was ready for this season, and He has used the rough and tumble of contracting to grow me up and make a man out of me.
Got so involved in the business, I completely forgot about the call….
Hooked up at Victory Christian Center, and after the hardship of the mission field, felt like we were in Christian Disneyland. For one who loves Jesus, is looking for a place to make an eternal impact with their life, Victory (Victory.com) has it going on.
Let me give my standard disclaimer about Victory:
1. Get in a connect group and set down roots and get to know some people cause you are going to need them.
2. Get a passport. Don't be fooled, the heart of Victory is missions.
With over 1500 Bible schools with 32,000 students enrolled in around 100 countries, there is a screaming cry being heard daily in heaven, crying out for skilled laborers.

And those nice padded pews in the sanctuary, are like a jet fighter pilots eject seat. When God thinks you are ready, you are going…usually that is far before we think we are ready….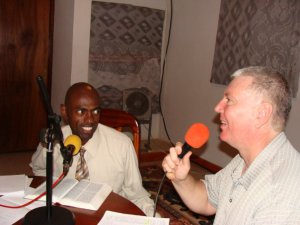 Preaching on the Radio, in Kigali, Rwanda
Well, I was planning a trip to Nigeria, Kenya and Israel, and God wrecked my plans and told me that He had need of my here, in the United States..
Well, on to the revelation….
I had two radical life changing encounters with heaven.
The first, was in the parking lot of our office and shop, behind the airport here in Jenks, Oklahoma. It was a Friday night, and everyone had gone, and I pulled in planning on scheduling everything for Monday, as usual. I was tired, so I asked the Lord, how long this excruciating schedule would go on in my life, and what about the ministry I trained for?
Suddenly, the windshield of my truck disappeared, and heaven opened, and I found myself in the glory of God. This was in 2009 after my pastor Billy Joe Daugherty had gone home, and I saw Jesus, Oral Roberts, Kenneth E Hagin, Billy Joe, and several others all looking at me, and the Word of the Lord came to me, telling me it was my time to take my place among them, and fulfill my heavenly calling. To leave carpentry, just like Jesus did, and follow Him, fully…

Took about a year to disentangle, but I did it.
Then, fast forward to Oct 2012, and the second term relection of President Obama. I had burden to pray for this country, that it was critical!
Ezekiel 22:30
And I sought for a man among them, that should make up the hedge, and stand in the gap before me for the land, that I should not destroy it: but I found none.
So, I set my face towards heaven, to pray. I did not know how to pray, so I prayed in other tongues, on purpose, from the time I got up, until the time I went to bed, all day.
Seems I am not alone in this, read a great book by a man named Dave Roberson –

Tossed and turned all night, awoke early, and did it again, the next day, all day.
We had no money, I had no job, and the utilities got disconnected in our house.
My wife and children looked at me like I was insane, but I could only pray. So, they packed up, and went to visit friends of ours in Missouri, for what we all thought would be a couple of days.
They were there five weeks.
For a total of eight weeks, I prayed in tongues, eating my pot of whatever on the back yard barbecue, filling up a couple of five gallon pails of water to cook, take a bucket bath, water our dogs, and flush the toilet….
And I prayed…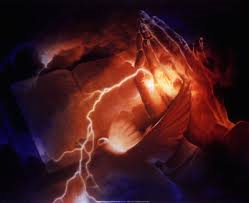 Every waking moment, I prayed, read the Bible, and wrote down what the Lord began to show me…
Prophetic Keys to unlock the United States to the move of the Holy Spirit, we all seek, for the solution to America will surely come from the church house, not the White House.
In Ezekial 28, we see the prince of Tyre, and king of Tyre. The prince being the earthly ruler, a man – the king, in this case, being Lucifer himself. I believe that he has set up rulership of the earth, wherever he can, through his hierarchy of demons, that work by ruling the minds and thoughts of people.
I believe that this is what satan showed to Jesus, when he tempted him in Matt 4:
8 Again, the devil taketh him up into an exceeding high mountain, and sheweth him all the kingdoms of the world, and the glory of them;
He saw, the actual rule and reign of demonic forces, operating and ruling over the affairs of men.
As I struggled to understand this verse, I saw a picture in minds eye, of an evil puppeteer, superimposed upon a map of the United States of America.
As I prayed, I saw this was a Demon Prince ruling through secret societies, fueled by three main root systems, that allow him access to American soil:
These three root systems are:
Abortion, Racism, and Plight of The North American Indian.
The Founders of this country heard God in framing our constitution, with the First Amendment granting us freedom of speech, and the second, the right to bear arms.
One of the verses our founding fathers used in the formation of this nation is:
Isaiah 33:22
Authorized (King James)
22 

For the

Lord

is our judge, the

Lord

is our lawgiver,
the

Lord

is our king; he will save us.
Notice here the last four words of this verse: HE WILL SAVE US!
Jesus is not judging America, as some have preached, our ill-conceived policies, historically, have allowed actual demonic forces, legal right in this land.
It is our job to correct these policies, and the fruit of them, through victorious prayer.

There is surely a brutal war currently being fought in the heavenlies for the destiny of this nation, that we are required to win, spiritually, in prayer and authority, and this battle must be fought with spiritual weapons, because bullets will not touch ancient demonic principalities…
It is us, the church of the living God who are called to exercise His authority in the earth.
Ephesians 2:6Authorized (King James)
6 and hath raised us up together, and made us sit together in heavenly places in Christ Jesus:
The nature of God is love. The nature of satan is hate, and he comes to kill, steal, and destroy….
We, warriors of love, are called to this battlefield of victory, or again, demons will glory in rivers of bloodshed across this land…
The First Amendment is greater than the second! It is time for us to pray, and speak His Word in authority, and He will honor our voice with signs following!
The good news, God has shown me clearly what is going on, and has given me a clear battle strategy to mobilize targeted intercession, that will prevail on behalf of this land….
2 Samuel 11
And it came to pass, after the year was expired, at the time when kings go forth to battle,
This is the topic of the book…Saints, it is time to rise up again to battle, it is time for war….