Romans 14:23 b "for whatsoever is not of faith is sin"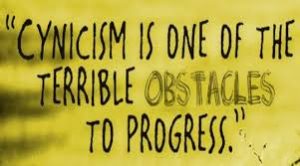 Here's an attitude check. Do you have a can do, or won't do attitude in life?
In my workplace, I have some long term contractors, that have become jaded, cynical, and perhaps bitter at life. Whenever a problem arises, they make a mountain out of a molehill, and instead of thinking about what to do to fix it, they explain all the reasons it won't work, can't work, and why they will not warranty it.
While I understand them not wanting to warranty an engineered solution that was not in their original scope of work, I cannot tolerate them holding up the entire project for something that is commonly done, and costing other companies and clients thousands of dollars.
I have a can do, solution based, attitude, that fixes the unfixable, daily.
Truly, our attitude determines our altitude.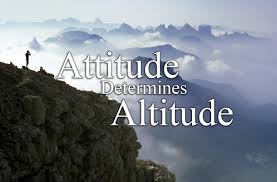 As I read my daily Bible reading today, these Scriptures come to mind:
Let all bitterness, and wrath, and anger, and clamour, and evil speaking, be put away from you, with all malice:
The heart knoweth his own bitterness; and a stranger doth not intermeddle with his joy.
looking diligently lest any man fail of the grace of God; lest any root of bitterness springing up trouble you,and thereby many be defiled;
And he that doubteth is damned if he eat, because he eateth not of faith: for whatsoever is not of faith is sin.
Simon Peter, a servant and an apostle of Jesus Christ, to them that have obtained like precious faith with us through the righteousness of God and our Saviour Jesus Christ:
and that we may be delivered from unreasonable and wicked men: for all men have not faith.
My prayer:
"Father, grant me see through faith for my projects, and grace to complete them on time, on budget. Surround me with people of excellence, of like precious faith, and deliver me from the bitter, the unfaithful, the jaded, the cynics of life, the unreasonable and wicked, that have not faith….May the fruit of love, mercy and self-control govern all that I do, that I not lower myself to their mess. I also ask that you give them hope, healing, a vision, and a dream to fulfill that is greater than their bitterness. I ask, knowing I'm heard, for I ask in Your name Lord Jesus, Amen'
Interesting: Seems I am living out this very teaching I wrote on relationships some years ago: https://www.chrisaomministries.com/2016/03/relationships