Wisdom Builds the House


Pr 24: 3 ¶ Through wisdom is an house builded; and by understanding it is established:
4 And by knowledge shall the chambers be filled with all precious and pleasant riches.
In men's prayer one morning, a friend of mine, John Van Harn, exhorted us through this word. John studies and regularly teaches on the wisdom of God, and has a tremendous CD series on this topic. He said, so many people focus on amassing knowledge, instead of wisdom. Knowledge will decorate the rooms, but it takes wisdom to actually build anything. Wisdom is the foundation upon which understanding and knowledge must rest. Wisdom is the principal thing.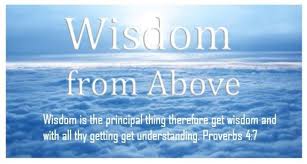 Jas 1:5 If any of you lack wisdom, let him ask of God, that giveth to all men liberally, and upbraideth not; and it shall be given him.
On that note, let's pray:
"Father God, we seek you for wisdom today. We ask for it, and I believe you are giving it to us, liberally, for we ask in your name Lord Jesus. We believe we receive it, now, Amen."