Awake to righteousness, and sin not; for some have not the knowledge of God: I speak this to your shame.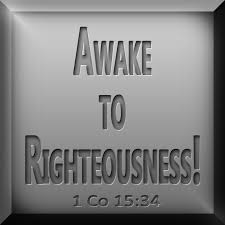 Since the fear of the Lord is the beginning of knowledge, so a revelation of Gods holiness, and great mercy that has forgiven us only through Jesus shed blood should cause us to live differently. Proverbs 28:1 The wicked flee when no man pursueth: but the righteous are bold as a lion.
Knowing we are in right standing with the Creator of the universe should make us bold, knowing that Romans 8:31 What shall we then say to these things? If God be for us, who can be against us?
We are on God's side! He is with us, and for us!
1 Corinthians 15:22 For as in Adam all die, even so in Christ shall all be made alive.
We have been made alive in Jesus, born again by the Spirit of God, Christ in us the hope of glory moving through us today! This will change any circumstance, and must be our confidence and attitude. We are loved and walk with God!
For if by one man's offence death reigned by one; much more they which receive abundance of grace and of the gift of righteousness shall reign in life by one, Jesus Christ.)
Sure there are some brutal circumstances that challenge us, yet we are born for battle. Designed to conquer to overcome….
Nay, in all these things we are more than conquerors through him that loved us.
God is with us, and for us. We then have the task of overcoming…
Let us take kingdom ground today, victoriously in Jesus!
If you dont know Jesus yet, please read this:https://www.chrisaomministries.com/2017/02/do-you-want-to-go-to-heaven