April 28, 2011 at 7:37am
 This is a simple meditation upon the Word, Scriptures that include the word: 'Christ!' I wrote it originally in 2011, or perhaps years before, yet strangly, encouraged myself in it here in the middle of the night in Branson, MO, in 2016. Truly, God's Word is eternal!

In Christ:
In Christ We Have:
A love that can never be fathomed A life that can never die A righteousness that can never be tarnished A peace that can never be understood A rest that can never be disturbed A joy that can never be diminished A hope that can never be disappointed A glory that can never be clouded A light that can never be darkened A purity that can never be defiled A beauty that can never be marred A wisdom that can never be baffled Resources that can never be exhausted.
Source Unknown.
We have been looking at the importance of understanding who we are in Christ, and in growing up in Him. Some time ago, I watched a children's cartoon with my 4 year old daughter named 'the Lion King'. I'm sure many of you have seen it. The story goes that Simba is falsely accused of killing his father, and runs away in shame. He hides out for some time, pretending he is not even a lion, eating bugs and living far below who he is called to be as king of the beasts. Finally, he is discovered in hiding by his childhood sweetheart and a monkey. They both confront him with who he is, the king. The monkey makes him look at his reflection in some water, and makes him remember his likeness to the king, His father. He leaves him admonishing him to remember who you are.
You too, are called to be a king by God Himself, displaying the likeness and image of Jesus in you.
Romans 6:5 For if we have been planted together in the likeness of his death, we shall be also in the likeness of his resurrection:
Romans 8:29 For whom he did foreknow, he also did predestinate to be conformed to the image of his Son, that he might be the firstborn among many brethren.
1 Corinthians 15:49 And as we have borne the image of the earthy, we shall also bear the image of the heavenly.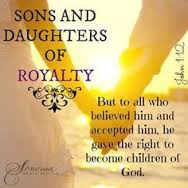 2 Corinthians 3:18 But we all, with open face beholding as in a glass the glory of the Lord, are changed into the same image from glory to glory, even as by the Spirit of the Lord.
Revelation 1:5 And from Jesus Christ, who is the faithful witness, and the first begotten of the dead, and the prince of the kings of the earth. Unto him that loved us, and washed us from our sins in his own blood,
Revelation 1:6 And hath made us kings and priests unto God and his Father; to him be glory and dominion for ever and ever. Amen.
Rev 5:8 And when he had taken the book, the four beasts and four and twenty elders fell down before the Lamb, having every one of them harps, and golden vials full of odours, which are the prayers of saints.
9 And they sung a new song, saying, Thou art worthy to take the book, and to open the seals thereof: for thou wast slain, and hast redeemed us to God by thy blood out of every kindred, and tongue, and people, and nation;
Revelation 5:10 And hast made us unto our God kings and priests: and we shall reign on the earth.
Priests pray and offer sacrifices to God. Kings rule and reign with Him, issuing His decrees and governing the earth, ever subject to the king of all kings and Lord of all Lords.
This understanding is essential before we move into instructing you about Spiritual warfare. Why? Even Jesus was challenged on who he was in His first confrontation with Satan in the wilderness.
Matthew 4:3 And when the tempter came to him, he said, If thou be the Son of God, command that these stones be made bread.
IF you are really God the Son Jesus, prove it by showing off. Break this fast and use your power to make bread.
In this instance Jesus said no, for it was not time. Could He have done it? Of course, on two other occasions, He divided the loaves and fishes.
Isaiah 9:6 For unto us a child is born, unto us a son is given: and the government shall be upon his shoulder: and his name shall be called Wonderful, Counsellor, The mighty God, The everlasting Father, The Prince of Peace.
Isaiah 9:7 Of the increase of his government and peace there shall be no end, upon the throne of David, and upon his kingdom, to order it, and to establish it with judgment and with justice from henceforth even for ever. The zeal of the LORD of hosts will perform this.
As you walk in intimacy with Jesus, He is going to make you more like Him. He is going to speak to you things He wants done in the earth.
Matthew 10:27 What I tell you in darkness, that speak ye in light: and what ye hear in the ear, that preach ye upon the housetops.
What shall happen when you preach what Jesus tells you in secret?
Mark 16:20 And they went forth, and preached every where, the Lord working with them, and confirming the word with signs following. Amen.
His kingdom will come in power, and confirmation in signs, wonders and miracles.
Here's another lion king clip: https://www.youtube.com/watch?v=y6INp3k-vFc
Like Simba, when you come of age in the kingdom, you too with roar!
Act 2:17 And it shall come to pass in the last days, saith God, I will pour out of my Spirit upon all flesh: and your sons and your daughters shall prophesy, and your young men shall see visions, and your old men shall dream dreams:
18 And on my servants and on my handmaidens I will pour out in those days of my Spirit; and they shall prophesy:
19 And I will shew wonders in heaven above, and signs in the earth beneath; blood, and fire, and vapour of smoke:
See it? We seek Him. God pours out His Spirit on us and we prophesy (that is proclaim what He is speaking to our hearts). He backs up His Word with power, performing wonders in heaven above, and signs in the earth beneath.
Walking with the King is great fun!
Well, a problem we all struggle with is our own humanity, beating ourselves up for our past and present failures. The Bible calls this condemnation. Satan is the accuser of the brethren so he loves to amplify our mistakes and paralyze us from moving forward in the call of God upon each of us. The ABC's of Satan are Accusation, Blame and Criticism.
Yet, it is written:
Romans 8:1 There is therefore now no condemnation to them which are in Christ Jesus, who walk not after the flesh, but after the Spirit.
Father help me to walk after the Holy Spirit today, in your love, that I remain free from all condemnation. Amen.
Some people try to punish themselves for their sins. They do not stand on the promises of forgiveness and Christ' propitiation. "Many years ago, a father and his daughter were walking through the grass on the Canadian prairie. In the distance, they saw a prairie fire, and they realized that it would soon engulf them. The father knew there was only one way of escape: They would quickly begin a fire right where they were and burn a large patch of grass. When the huge fire drew near, they then would stand on the section that had already burned. When the flames did approach them, the girl was terrified but her father assured her, 'The flames can't get to us. We are standing where the fire has already been.'"
Erwin Lutzer, Failure, The Back Door to Success.
The blood of Jesus has already burned up all of our sin and its consequences. When the consequences of our sin come to destroy us, they cannot touch us, for the power of God will deliver us and protect us!
Romans 8:2 For the law of the Spirit of life in Christ Jesus hath made me free from the law of sin and death.
Thank-you Father, that as I walk in your Holy Spirit today, I find freedom from all sin and death.
Lord Jesus, thou who art the way, the truth, and the life; hear us as we pray for the truth that shall make all free. Teach us that liberty is not only to be loved but also to be lived. Liberty is too precious a thing to be buried in books. It costs too much to be hoarded. Help us see that our liberty is not the right to do as we please, but the opportunity to please to do what is right.
Peter Marshall, Before the U.S. Senate.
The Word Christ used in Scripture is not Jesus' last name. It literally means 'the anointed one'. The anointing is literally the power of God smeared on Jesus and you, to make us set apart as kings and priests unto God. Every time you read the word Christ, think of 'the anointed one and His power.'
Romans 8:37 Nay, in all these things we are more than conquerors through him that loved us.
38 For I am persuaded, that neither death, nor life, nor angels, nor principalities, nor powers, nor things present, nor things to come,
Romans 8:39 Nor height, nor depth, nor any other creature, shall be able to separate us from the love of God, which is in Christ Jesus our Lord.
Thank you Lord, that I am more than a conqueror in you, that nothing can separate me from your love Father, revealed to me through Christ Jesus my Lord.
Thomas A. Edison was working on a crazy contraption called a "light bulb" and it took a whole team of men 24 straight hours to put just one together. The story goes that when Edison was finished with one light bulb, he gave it to a young boy helper, who nervously carried it up the stairs. Step by step he cautiously watched his hands, obviously frightened of dropping such a priceless piece of work. You've probably guessed what happened by now; the poor young fellow dropped the bulb at the top of the stairs. It took the entire team of men twenty-four more hours to make another bulb. Finally, tired and ready for a break, Edison was ready to have his bulb carried up the stairs. He gave it to the same young boy who dropped the first one. That's true forgiveness.
James Newton, Uncommon Friends.
Christ for sickness, Christ for health, Christ for poverty, Christ for wealth, Christ for joy, Christ for sorrow, Christ today and Christ tomorrow; Christ my Life, and Christ my Light, Christ for morning, noon and night, Christ when all around gives way Christ my everlasting Stay; Christ my Rest, and Christ my Food Christ above my highest good, Christ my Well-beloved Friend Christ my Pleasure without end; Christ my Savior, Christ my Lord Christ my Portion, Christ my God, Christ my Shepherd, I His sheep Christ Himself my soul to keep; Christ my Leader, Christ my Peace Christ hath wrought my soul's release, Christ my Righteousness divine Christ for me, for He is mine; Christ my Wisdom, Christ my Meat, Christ restores my wandering feet, Christ my Advocate and Priest Christ who ne'er forgets the least; Christ my Teacher, Christ my Guide, Christ my Rock, in Christ I hide, Christ the Ever-living Bread, Christ His precious Blood hath shed; Christ hath brought me nigh to God, Christ the everlasting Word Christ my Master, Christ my Head, Christ who for my sins hath bled; Christ my Glory, Christ my Crown, Christ the Plant of great renown, Christ my Comforter on high, Christ my Hope, draws ever nigh.
Source Unknown.
2 Corinthians 2:14 Now thanks be unto God, which always causeth us to triumph in Christ, and maketh manifest the savour of his knowledge by us in every place.
I thank you Father God, that no matter what I am up against today, you have given me victory over it.
2 Corinthians 3:14 But their minds were blinded: for until this day remaineth the same vail untaken away in the reading of the old testament; which vail is done away in Christ.
I thank you Lord that I walk in your light, and that you are revealing your Word to me today.
2 Corinthians 5:20 Now then we are ambassadors for Christ, as though God did beseech you by us: we pray you in Christ's stead, be ye reconciled to God.
I thank you Father, that I am an ambassador for Christ, the anointed one and His power. I go where you send me, and I speak what you command me, representing the interests of heaven on foreign soil.
Galatians 2:4 And that because of false brethren unawares brought in, who came in privily to spy out our liberty which we have in Christ Jesus, that they might bring us into bondage:
I thank you for the freedom and true liberty I have in the anointed one and His power today.
Galatians 3:26 For ye are all the children of God by faith in Christ Jesus.
I am a child of the king, immersed in His anointing and power today.
Ephesians 1:3 Blessed be the God and Father of our Lord Jesus Christ, who hath blessed us with all spiritual blessings in heavenly places in Christ:
Father, I see here that every spiritual blessing has been provided to us in the anointing and power of Jesus. Help me to see this today, and may your kingdom come, here in the earth, as it is in heavenly places today. I declare today is a day of heaven upon the earth in my life.
Ephesians 2:6 And hath raised us up together, and made us sit together in heavenly places in Christ Jesus:
I see that in your anointing and power, I have been given authority positionally over the earth and the devil. I thank you Father, for raising me up in Him, and making me to sit together with Jesus in heavenly places.
Ephesians 2:10 For we are his workmanship, created in Christ Jesus unto good works, which God hath before ordained that we should walk in them.
I see that there are good works for me to do, in your anointing and power today, ordained just for me to walk in. Help me to recognize and do these today.
Ephesians 2:13 But now in Christ Jesus ye who sometimes were far off are made nigh by the blood of Christ.
I was far off from you God, now I am drawn near by the precious blood, anointing and power of Lord Jesus. Thank-you Father for accepting me, and holding me close to you.
Ephesians 3:6 That the Gentiles should be fellow heirs, and of the same body, and partakers of his promise in Christ by the gospel:
Thank you that I have been grafted into your covenant Father, formerly only to the Jewish people. I am grateful for this, recognizing that I am a joint heir with the children of Israel, not a replacement to them. Therefore, I thank you for this, and pray for Israel and the Jewish people today, that you bless them as we seek to walk together in you.
Philippians 3:3 For we are the circumcision, which worship God in the spirit, and rejoice in Christ Jesus, and have no confidence in the flesh.
I determine to walk in the spirit today, confident in the anointed One and His power, with no confidence in my own flesh.
Philippians 3:14 I press toward the mark for the prize of the high calling of God in Christ Jesus.
I am a child of destiny, with eternal purpose and direction. Today I press towards God's best, my high calling of God, in the anointed one and His power, Jesus.
Philippians 4:21 Salute every saint in Christ Jesus. The brethren which are with me greet you.
Colossians 1:2 To the saints and faithful brethren in Christ which are at Colossi: Grace be unto you, and peace, from God our Father and the Lord Jesus Christ
Colossians 1:4 Since we heard of your faith in Christ Jesus, and of the love which ye have to all the saints,
Thank you Father – I am a saint!
A saint is one set apart unto God, not just a title bestowed on a person after death by certain religious denominations. Positionally, we are all saints in His anointing and power.
Colossians 1:28 Whom we preach, warning every man, and teaching every man in all wisdom; that we may present every man perfect in Christ Jesus:
The Word perfect used here means 'full grown, adult, of full age, mature'. As we hear and study the Word of God, we grow spiritually. This is the purpose of true ministry to feed, lead and grow the saints of God until they are 'full grown, adult, of full age, mature, in the anointed One and His power, Jesus.'
1 Thessalonians 5:18 In every thing give thanks: for this is the will of God in Christ Jesus concerning you.
Understanding the meaning of the word Christ sheds new light on this verse. Are we to thank God for bad things that happen? Not! He didn't send them. We are to thank God for the working of the Word of God overcoming bad things concerning us.
2 Timothy 1:9 Who hath saved us, and called us with an holy calling, not according to our works, but according to his own purpose and grace, which was given us in Christ Jesus before the world began,
Thank-you Father for my holy calling and destiny, according to your own purpose and grace, that already existed and was granted to me in the anointed one and His power, before the world even began.
2 Timothy 2:1 Thou therefore, my son, be strong in the grace that is in Christ Jesus.
Philippians 4:13 I can do all things through Christ which strengtheneth me.
Ephesians 6:10 Finally, my brethren, be strong in the Lord, and in the power of his might.
Father I see here that I do not have to be strong, in and of my own strength, but can be strong by your anointing and power working through me. By your grace, I receive strength from you today to do your will.
2 Timothy 3:12 Yea, and all that will live godly in Christ Jesus shall suffer persecution.
I see that because I have been adopted in you, your anointing and power upon my life make me contrary to unregenerate spirits of people, the devil, and this worldly system. I thank you that your power is far greater than all of these, and I prevail in love when I am persecuted.
Philemon 1:6 That the communication of thy faith may become effectual by the acknowledging of every good thing which is in you in Christ Jesus.
I see that mighty things happen as I confess your Word and testify of Jesus. I thank you for making me effective for your kingdom today, as I boldly live for you.
Philemon 1:23 There salute thee Epaphras, my fellow prisoner in Christ Jesus;
Notice this here. Fellow prisoner in Christ Jesus. See that ministry partners are ordained and set apart by the anointing of God. As you seek all that God has for you, as God to reveal to you people He is sending in your life by His Spirit, to further equip you in His gifting and callings.
1 Peter 3:16 Having a good conscience; that, whereas they speak evil of you, as of evildoers, they may be ashamed that falsely accuse your good conversation in Christ.
Conversation means lifestyle. You live for God, you will be persecuted, and misunderstood. Live for the glory of God, and care not what your persecutors think of you. Keep moving forward in Christ.
1 Peter 5:14 Greet ye one another with a kiss of charity. Peace is with you all that are in Christ Jesus. Amen.
I want you to see this thought. There is no distance in the Spirit. When Paul spoke peace to those in the anointing and power of God, actual peace must have manifest in the lives of those who heard this very word. I decree the peace of God into your life, right now!
1 Corinthians 12:27 Now ye are the body of Christ, and members in particular.
Confess: I am a member of the body of the anointed one and His power, specifically loved of God and set apart for his function.
2 Corinthians 1:21 Now he which stablisheth us with you in Christ, and hath anointed us, is God;
Notice here the use of the description of anointings. We are established in the body of the anointed one and His power, yet also Paul says 'and hath anointed us', signifying a special dispensation of God, another anointing, specifically granted to his (and all five-fold) ministries. This is an incredible truth, Kenneth E. Hagin has written a workbook on this topic describing the ministry gifts, that is a must read for all called into full-time ministry.
2 Corinthians 8:9 For ye know the grace of our Lord Jesus Christ, that, though he was rich, yet for your sakes he became poor, that ye through his poverty might be rich.
Money matters to God! We see here that when Jesus died upon the cross, he became poor on that cross as a substitute for you and me. That we through His poverty, might become rich (in every way, including financially).
I receive the prosperity of our covenant God, today, in Jesus name!
Galatians 3:13 Christ hath redeemed us from the curse of the law, being made a curse for us: for it is written, Cursed is every one that hangeth on a tree:
Galatians 3:14 That the blessing of Abraham might come on the Gentiles through Jesus Christ; that we might receive the promise of the Spirit through faith.
Galatians 3:27 For as many of you as have been baptized into Christ have put on Christ.
Galatians 3:28 There is neither Jew nor Greek, there is neither bond nor free, there is neither male nor female: for ye are all one in Christ Jesus.
Galatians 3:29 And if ye be Christ's, then are ye Abraham's seed, and heirs according to the promise.
You are redeemed from every curse known to man, by God's anointing and power. No sickness, poverty, oppression or any force of hell has a right to you.
John 14:6 Jesus saith unto him, I am the way, the truth, and the life: no man cometh unto the Father, but by me.
1 Timothy 2:5 For there is one God, and one mediator between God and men, the man Christ Jesus;
Acts 4:12 Neither is there salvation in any other: for there is none other name under heaven given among men, whereby we must be saved.
These verses separate true Christianity from any other religion on the face of the planet. Only Christians, walking in Christ, can demonstrate the power and glory of God. There is no other way to heaven outside of Jesus, and no other way to access the power of God in this earth in this life.
Homework:
1. Read Gen 12-26, the life of Abraham. Take a pen, and every time God makes a promise to Abraham, underline it and receive it for yourself, because we are the seed of Abraham! Confess it, and thank God for it in your own life.
2. Each day, until we meet again, deliberately confess these promises over your life.
Donate on-line: https://www.paypal.com/cgi-bin/webscr?cmd=_s-xclick&hosted_button_id=95XHSDDXDS7MC