Receive the Kingdom!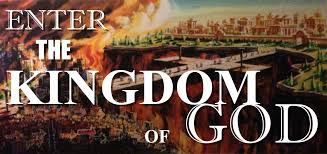 Listen to the words of Jesus:
Luke 12:32 Fear not, little flock; for it is your Father's good pleasure to give you the kingdom.,
John 1:12 But as many as received him, to them gave he power to become the sons of God, even to them that believe on his name:
The challenge of kingdom living, is simply receiving, daily, from heaven, that which we need. Everything we need, has already been provided for us through the promises of God, yet daily we must seek Him. Daily, we must enforce in His kingdom, here in the earth, in our lives, submitting to, and declaring and decreeing His promises, His rule, His reign, and goodness, love, mercy, honor, holiness, and blessing shall manifest in our lives, each day, one day at a time.
Let's Pray:
'Father, thank you for your love, your kingdom, your power, your rule and reign in my life, family, workplace, and church today. I believe I receive it, now, in your name I pray, Lord Jesus, Amen!'