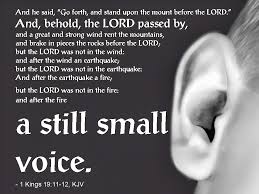 Still Small Voice:
God Speaks directly through His still small voice!
John 10:27 My sheep hear my voice, and I know them,  and they follow me:
This is one of my favorite verses in the Bible, and if you have a copy of my book, 'The Parable of the Sower', this is usually the verse I give when I autograph it.
Why?
The last thing the Body of Christ needs is yet another Bible study void of life and power. What is needed is a living, vital encounter with Jesus, freshly hot from His Word. Living Words that bring life!
Whether someone knows God, and walks with Him, or has walked away from Him, and gone their own way, God is still capable of speaking to them, Adam and Eve, AFTER they had sinned, still heard the voice of God, for is it not written:
"'In the last days, God says, I will pour out my Spirit on ALL people
Ge 3:8 And they heard the voice of the LORD God walking in the garden in the cool of the day: and Adam and his wife hid themselves from the presence of the  LORD God amongst the trees of the garden.
God expects us to hear Him!
Ex 15:26 And said, If thou wilt diligently hearken to the voice of the LORD thy God, and wilt do that which is right in his sight, and wilt give ear to his commandments, and keep all his statutes, I will put none of these diseases upon thee, which I have brought upon the Egyptians: for I am the LORD that healeth thee.
Hearing the voice of God then, according to this verse, is good for ones health. Notice hearing though, is not enough. In this verse He expects us to both hear Him, and OBEY Him.
De 28:1 And it shall come to pass, if thou shalt hearken diligently unto the voice of the LORD thy God, to observe and to do all his commandments which  I command thee this day, that the LORD thy God will set thee on high above all nations of the earth:
Surely He did that in Christ, for it is written: Ephesians 2:6 (KJV)  6 And hath raised us up together, and made us sit together in heavenly places in Christ Jesus:
1Sa 15:22 And Samuel said, Hath the LORD as great delight in burnt offerings and sacrifices, as in obeying the voice of the LORD? Behold, to obey is better than sacrifice, and to hearken than the fat of rams.
1Sa 28:18 Because thou obeyedst not the voice of the LORD, nor executedst his fierce wrath upon Amalek, therefore hath the LORD done this thing unto thee this day.
So God speaks, and He must be OBEYED!
Ps 106:25 But murmured in their tents, and hearkened not unto the voice of the LORD.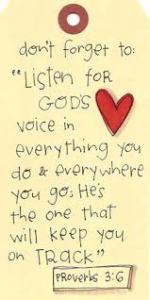 Isa 6:8 Also I heard the voice of the Lord, saying, Whom shall I send, and who will go for us? Then said I, Here am I; send me.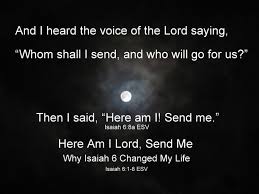 Hag 1:12 Then Zerubbabel the son of Shealtiel, and Joshua the son of Josedech, the high priest, with all the remnant of the people, obeyed the voice of the LORD  their God, and the words of Haggai the prophet, as the LORD their God had sent him, and the people did fear before the LORD.
Joh 10:3 To him the porter openeth; and the sheep hear his voice: and he calleth his own sheep by name, and leadeth them out.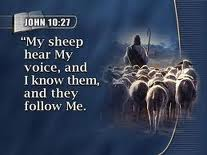 Heb 3:7 Wherefore (as the Holy Ghost saith, Today if ye will hear his voice,
Heb 3:15 While it is said, Today if ye will hear his voice, harden not your hearts, as in the provocation.
Heb 4:7 Again, he limiteth a certain day, saying in David, To day, after so long a time; as it is said, Today if ye will hear his voice, harden not your hearts.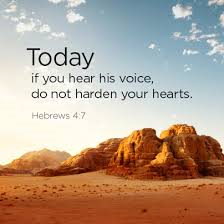 Why did I post so many Scriptures on hearing the voice of God?
Simple, faith comes by hearing, and hearing by the Word of God, and I am deliberately building your faith to hear the voice of Jesus, the voice of the  Holy Spirit in the earth. There is an entire generation depending upon it, upon you to do your part, in bringing from heaven, the bread of life, the only thing  that can honestly meet the needs of a hurting humanity.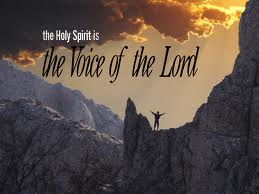 There is always a people on the other side of your obedience that need Jesus, somehow, some way.
Had I gone on with my story of how I truly met Jesus, I would have told about the part, where my well meaning mother tried to have me committed to a mental  institute, because I told her that God was speaking to me, and He has continued to speak to me, every day, since that experience way back in 1989.
He has, from that day til this. Though I have not always heard or obeyed perfectly, I have honestly tried, and now, 25 years later, He is still speaking to me.
Today, it is to write this article, for you, just because He loves you, and so do I…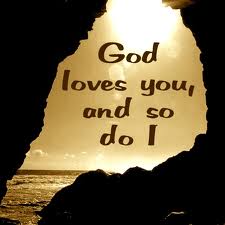 Let me give you two dramatic times I clearly heard the voice of God:
1. While I owed and operated our construction company, we did a contract supplying highly skilled carpenters to a man building a multi-million dollar estate. He failed to pay me $8500 he owed me, at a time we desperately needed the money. When I saw what he had done, and the way he was now hiding behind faxes, emails, secretaries, and attorney's, I was so angry I wanted to kill him and rid the earth of him. The work had been very difficult, and to not get paid for 3 months of hard work was infuriating. I knew I had to forgive him, and would pray for grace to forgive him each day, but as creditors called, and carpenters needed paychecks from money I did not have, I got ticked.
It became very serious over the next four months. I would pray each morning for the grace and strength of God to walk in love and obedience, but on several occasions woke up in a cold sweat from a nightmare where I had pulled a pistol on this man, and killed him. Vivid dreams, and during the day thoughts of rage would again come as I faced the mess this man created in my world.
I kept mouthing the prayer: Father forgive him, and deal with him, thinking that God would deal with him in the night to pay his bill, but that did not happen. Finally, in my truck one day I cried out to God in frustration: "Father, I have forgiven this snake, but what about the money? I still owe it, and have to fight every day to work long hours to earn back what that man stole!" ( I used to call these sessions 'Get in the truck and scream'.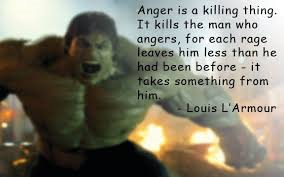 The only way I knew to live and walk honorably, and never vent anger in front of an employee, client, vendor, or my family. Be angry, but sin not! Anger may be a great motivator, but it is a lousy lord, and we can never make decisions based upon anger. We must lead people in love, honestly, with their best interests at heart, never control them through anger, intimidation and fear.)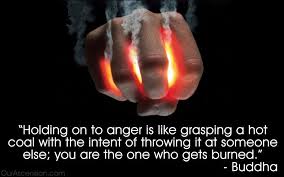 That night, I saw my problem. I saw Jesus looking at me in a dream, high and lifted up, and He spoke to me:
He said: 'Chris, you have forgiven ___ for lying and stealing from you, but what you need to do now, is present the fruit of your labor, the $8500 as an offering to me, sow it as a seed, for this is the actual financial cost of your forgiveness.'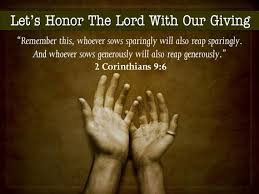 Suddenly, I saw this verse in a different light:
Romans 12:1-2King James Version (KJV)
12 I beseech you therefore, brethren, by the mercies of God, that ye present your bodies a living sacrifice, holy, acceptable unto God, which is your reasonable service.
2 And be not conformed to this world: but be ye transformed by the renewing of your mind, that ye may prove what is that good, and acceptable, and perfect, will of God.
I had a revelation that day of the cross of Jesus, and how I needed to get on my own personal alter, and become a living sacrifice as part of my worship to Him, recognizing He loved me, and He is Lord with a whole lot more resource than me, well able to provide.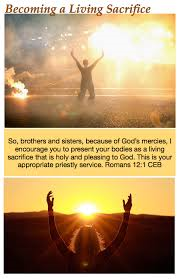 I got it, and quietly died to my passion, pride, will and way, and became more like Jesus that day:
'Would you be free from your passion and pride?
There's power in blood, power in the blood'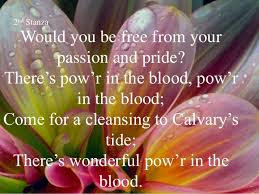 The Lord was faithful, and over the next couple of months, he blessed the company, and we made much more than I lost, and we were delivered.
Of course there is another side to the story, that took a little more time to digest. Gotta tell off on myself too. Two weeks past the due date of payment of my invoice, I saw the clients wife at the house with the architect and construction manager, and tore a strip off of her calling her husband everything but nice, embarrassing her publically. Never worked for the architect, the family, or the construction manager again, for this foolishness: Like I said: anger makes a lousy Lord…
Amazingly enough though, God used that incident to forever dethrone anger in my life. Never again have I gone off like a screaming idiot again before a client, carpenter, competitor, or my family (Although I have had many sessions of 'Get in the truck and scream' over the years!)
One more time where the voice of God got really serious.
Heard a story of a pastor visiting a prominent member of his congregation upon his deathbed: The man's family had called for him, because the man was terrified of dying. He came to the man, to bring comfort saying to Him: 'Brother, I know you are right with God, you have served Jesus faithfully for the twenty years you have been in our church, you are a pillar of the community, a man of honor, respected in business, by your family. You have provided well for your family, and your affairs are in order. Go, in peace to heaven and enter into the joy of the Lord."
The man turned to the pastor with fear in his eyes: 'That is what you, and everyone else in this community sees, but I am about to meet Jesus! Let me tell you a story: After I returned from Viet Nam, I had an encounter with God, where Jesus appeared to me, and told me to return to Viet Nam as a missionary, to help the children who suffer so horribly there. Yet, I married my childhood sweetheart, and had children, and never told anyone about it. Each year, for the past 20 years, we have had special services, revivals, missionaries come, and God has visited our church. Yet, in each of these services, repeatedly, Jesus has spoken to me clearly about my call to Viet Nam, and I have disobeyed, or tried to discount it as an 'emotional' experience. Now, I am about to face Him, I have no time left, and I have never obeyed Him…"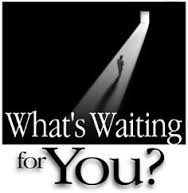 The question I ask myself is this: Did this man make heaven? I believe he did, for heaven and eternal life are granted to us by God through faith alone, and the heart of Jesus is to seek and save the lost.
Yet, I cannot think he would hear the words I long to hear one day: 'Well done, good and faithful servant, enter in the joy of the Lord"
The best he could hope for, is to see Jesus face to face (in His great love), and hear 'Well?'

In 2009, at my office, I had Jesus again speak to me powerfully, about His calling upon my life to do this, that is preach the gospel to the ends of the earth, that I was to leave our companies, and again follow Him. Took me over a year to disentangle myself from the two companies I was part owner of, and come back over to doing this. Yet, I knew then I had heard Him clearly, and I have endeavored to whole-heartedly obey Him.
There is always a people on the other side of our obedience. The gospel of the kingdom of God is designed to change lives, communities, nations, with the love, power and authority of heaven.
Yet, we are the chosen instruments, carriers of this glorious message of freedom, ambassadors of grace…
We are therefore Christ's ambassadors, as though God were making his appeal through us. We implore you on Christ's behalf: Be reconciled to God.

Let's Pray:
"Father, speak to me, cause me to hear Your voice, today. Help me to articulate, that which you speak to me, that I might tell others about You, that You might speak to them, and manifest Your great love, miracles, and power, to meet their needs, in Your mighty name I pray Lord Jesus, Amen'