Mountain Moving Faith!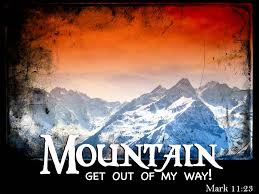 Mark 11:22-25
King James Version (KJV)
22 And Jesus answering saith unto them, Have faith in God.
23 For verily I say unto you, That whosoever shall say unto this mountain, Be thou removed, and be thou cast into the sea; and shall not doubt in his heart, but shall believe that those things which he saith shall come to pass; he shall have whatsoever he saith.
24 Therefore I say unto you, What things soever ye desire, when ye pray, believe that ye receive them, and ye shall have them.
Zechariah 4:6-7
King James Version (KJV)
6 Then he answered and spake unto me, saying, This is the word of the LORD unto Zerubbabel, saying, Not by might, nor by power, but by my spirit, saith the LORD of hosts.
7 Who art thou, O great mountain? before Zerubbabel thou shalt become a plain: and he shall bring forth the headstone thereof with shoutings, crying, Grace, grace unto it.
Funny how the whole counsel of God comes together! In yesterday's Bible reading, we read of a prophetic declaration to Zerubbabel, talking about how mountains move when we shout to it!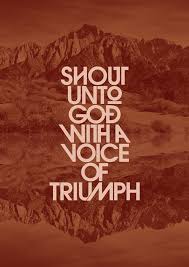 What do we shout?
Grace!
Not some kind of sloppy agape, limp wristed kind of greasy grace, but the manifest power of God in the earth.
Jesus told us to speak our faith, to speak to mountains, so let the redeemed of the Lord say so!
Let's do it!
"Father, you see the adversities I face. Now, I take my place in Jesus, and I speak to poverty, debt, lack, sickness, fear, depression, oppression, and every curse, snare, or hindering or soulical prayer prayed against me, now, and command these things MOVE! In the name and authority of Jesus, Amen."