May 1, 2011 at 12:50am
Public
Friends
Friends except Acquaintances
Only Me
Custom
Close Friends
Family
See all lists…
Prayer invite
unemployed
Grace Interior Trim LLC
Tulsa, Oklahoma Area
Acquaintances
Go Back
The Third voice
There is the voice of God, the Holy Spirit, where He speaks to people as only He can. His children hear, obey, and proclaim what He speaks, and He backs up His Word with mighty acts from heaven.
Satan knows this well, so he must destroy the Word, the person, or the credibility of the person who has authentically heard God.
In Eve's life, the serpant came to the woman, and said, 'Has God really said?"
Immediately, the enemy caused the woman to doubt, to question her husband, and her husbands clear command from the Lord.
The rest is history. She ate of the fruit. She talked her husband into eating of the fruit, and he chose to listen to his wife instead of God. Therein is wisdom husbands, know when to listen to your wife, and when to say, NO, as for me and my house, we shall serve the LORD!
Well, humanity was plunged into darkness that day, and we have all be born into, and born out of Adam's sin by the blood of Jesus.
Yet, like Adam, our life is designed to affect multitudes for good, for the kingdom of God. As we grow in the Word of God, and learn to hear clearly the voice of God, and to search the Scriptures to ensure we are hearing accurately, there comes kairos moments in the life of a man or a woman of God, where God reveals Himself in glory, and we know, but we know what we must do.
Then comes the test of time, as the onslaught of hell and hellish circumstances threaten to overwhelm the loving heart trying to honestly obey God. Satan screams to the mind and the emotions, the same old lie, 'Has God really said?', then brings his regular arsenal of weapons to bear on the holy life, and pure heart. His ABC's are accusation, blame and criticism, and his whispering campaign begins in the lives of those around us. Gentle insinuations, allegations, innuendoes, designed to malign the character of the saint trying to obey God.
Like Adam, multitudes depend upon our obedience to God, and purity of heart, our courage to uncompromisingly obey. Satan knows this, and as we press into Jesus and His Word, he begins to speak to others around us, to try and subvert the clarity of the call, with worldly wisdom, and the counsel of religious men. Their counsel sounds so wise, so Biblical, yet our heart screams!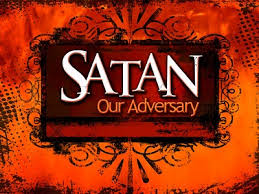 There are so many examples in the Scripture where the multitudes were saying one thing, claiming it to be God, where God was speaking the opposite. Micaiah in 2 Chron 18, and 1 Kings 22, actually had a clear revelation of the throne of God, and spoke a pure word from God, and got hit and persecuted for it, when 400 supposed prophets of God spoke the exact opposite (1 Chon 18:5).
So it has been my experience over the years. God speaks to an individual, and if we are lucky, to the other key people involved in what He has called us to do, then for whatever reason, many good Christian people, are left in the dark. They try to reason what I have heard through the Scriptures, but is they are wise, they say, "Unless the Lord reveal it to me, I have no way to judge what has been said.".
Most though, are not humble enough of heart to take this stance, so they join the 400 false prophets, and declare Scriptures, and proclaim 'Thus saith the Lord!" when He has not spoken.
I am slowly learning, to not cast my pearls before swine, and to reveal what God has told me, no matter how passionately it was spoken me of heaven, unless He shows me to reveal it.

My biggest error over the years, has been talking to much. Sharing precious revelations from the Lord, that were for me, or a select few I was called to walk with during different seasons of my life and ministry.
I heard Mike Murdoch make the statement, 'All godly relationships are destroyed by the counsel of a third voice.', and he went on to explain how godly people's lives are destroyed by counsel of one usually close to us. One who often cares deeply about us, but who has not heard God, nor understood fully the direction God has us to walk.
Remember Peter and Jesus? Peter had just experienced an authentic revelation from heaven that Jesus was the Son of God, the Messiah. Jesus praised Him, then went on to explain to Peter a difficult thing that must come to pass in His life. He told his disciples to keep secret who He was for a season and look what happened.
Matt 16: 20 Then charged he his disciples that they should tell no man that he was Jesus the Christ.
21 ¶ From that time forth began Jesus to shew unto his disciples, how that he must go unto Jerusalem, and suffer many things of the elders and chief priests and scribes, and be killed, and be raised again the third day.
22 Then Peter took him, and began to rebuke him, saying, Be it far from thee, Lord: this shall not be unto thee.
Peter loved Jesus, and wished Him no harm. He wanted to protect His master from pain, yet look at Jesus response.
23 But he turned, and said unto Peter, Get thee behind me, Satan: thou art an offence unto me: for thou savourest not the things that be of God, but those that be of men.
Jesus rebuked Peter, and determined to obey His Father, and head for the cross.
So it has been with often good friendships and sometimes even family relationships from people who honestly love me and want to protect me from pain and hardship.
Chris, don't do that, you'll lose everything you have worked for.
Were they right? In a sense, yes. I laid down my education, my career, my athletic career, and every earthly desire to follow Jesus, to the ends of the earth.
These people were not evil people, many of them were Christians who honestly cared for me, but they did not know nor understand what the Spirit of God was saying to me, and I had to go and embrace my own personal cross, in obedience to Him.
Look at Paul in Acts. God had told him to go preach in Jerusalem, and a prophet Agabus, confronted him with the hardships he would face there.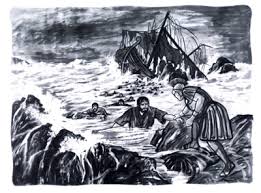 Ac 19:21 After these things were ended, Paul purposed in the spirit, when he had passed through Macedonia and Achaia, to go to Jerusalem, saying, After I have been there, I must also see Rome.
Ac 20:16 For Paul had determined to sail by Ephesus, because he would not spend the time in Asia: for he hasted, if it were possible for him, to be at Jerusalem the day of Pentecost.
Ac 20:22 And now, behold, I go bound in the spirit unto Jerusalem, not knowing the things that shall befall me there:
Ac 21:4 And finding disciples, we tarried there seven days: who said to Paul through the Spirit, that he should not go up to Jerusalem.
Ac 21:11 And when he was come unto us, he took Paul's girdle, and bound his own hands and feet, and said, Thus saith the Holy Ghost, So shall the Jews at Jerusalem bind the man that owneth this girdle, and shall deliver him into the hands of the Gentiles.
Ac 21:12 And when we heard these things, both we, and they of that place, besought him not to go up to Jerusalem.
Ac 21:13 Then Paul answered, What mean ye to weep and to break mine heart? for I am ready not to be bound only, but also to die at Jerusalem for the name of the Lord Jesus.
Interesting thought in the life of Paul! I believe Paul heard God to go to Jerusalem, and was on His way. In Acts 21, the Holy Ghost sent disciples to warn Paul not to go to Jerusalem, yet Paul determined to go anyway. Did he miss God here? I don't think so, and here's why I believe that. Paul continues on, and Agabus the prophet confronts Paul and shows him what pain will welcome him in Jerusalem, but here Paul's response:
Ac 21:13 Then Paul answered, What mean ye to weep and to break mine heart? for I am ready not to be bound only, but also to die at Jerusalem for the name of the Lord Jesus.
The prophet was right. Paul was bound, beaten, imprisoned, shipwrecked, yet testified in both Jerusalem and Rome, that the whole earth might hear the gospel of the Lord Jesus Christ.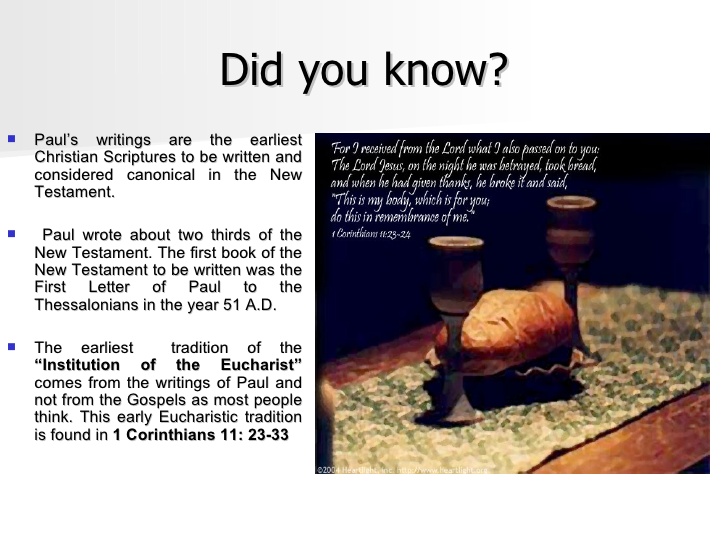 Obviously God thought much of Paul's life, allowing much of the New Testament to be written by him, and according to Jesse Duplantis in his trip to heaven, accorded a place among the 12 apostles of the Lamb in heaven.
So it is with me. I am in a difficult season of life, transitioning again at divine command, again seeing the multitudes, and being moved with compassion towards the nations.
All of what I have described here has happened or is happening in my life, yet my face is set like flint upon the high calling of God in Christ Jesus. It is a time of radical intimacy with Jesus through the Holy Spirit, and a time of great consternation for those close friends around me, who know me, care about me, and yet do not have the revelation from heaven I have been given specifically for me to obey personally. His love is a radical thing, and heaven is real! Like Jesus, like Paul, I must press forward in the call of God, no matter how persecuted, misunderstood, or misrepresented others have been to me. In light of eternity, only one thing matters: "Did you do what I asked you to do?"
Takes courage, but my prayer for you is the same as for me.
"Father, show me your perfect will for my life, without compromise, and give me the courage to obey it, no matter the cost. Amen"