Chasing the Anointing.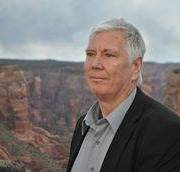 Rhinhart Bonnke, Graham Cooke, Morris Cerullo, Benny Hinn, Peter Youngren, John Arnott. Heidi Baker, Rod Parsley, Kenneth E Hagin.
When I was 20 years younger, on fire for Jesus, and determined to make an eternal difference with my life, I realized that God can do more in one second than I could accomplish in an entire lifetime. Also, I had the privilege of watching a video series entitled 'God's Generals' produced by a minister named Roberts Lairdon. In this series, Roberts documents the lives of this century's great miracle ministers: men and women of God that held tremendous power with God to witness great miracles of God, primarily in the divine healing ministries. So I said to myself, 'What do I need to do, to obtain power with God?' I tried prayer and fasting, with limited results – While Spirit-led fasting is a Biblical discipline, God does not honor a self-imposed hunger strike. I realized that the anointing was transferrable through the laying on of hands. So I decided that whatever it took, I would find the men and women of God that clearly demonstrated the power of God in their lives, and I would hunt them down, and ask them to lay hands upon me to impart the anointing to my life.
So began my interesting hobby of deliberately praying and seeking God for His anointed servants favor to lay hands upon me, and to impart His anointing to my life. The purpose of this article is to document some of these experiences, and how they have changed my life and ministry.
In doing so, I am deliberately doing, what Paul told Timothy to do: 2 Timothy 1:6
Therefore I remind you to stir up the gift of God which is in you through the laying on of my hands.
This is also practical teaching in that I am a results-oriented person. I am not interested in mere holy goosebumps and emotional hype, but tangible, documentable results of these impartations…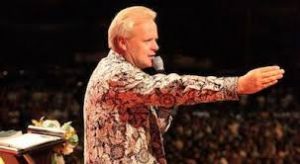 Let us begin, with an encounter with a man of God that occurred in Ottawa, Ontario at the pioneering of the Word of Life Church there with a minister named Peter Youngren. I had seen videos of Peter Youngren preaching in India to crowds of up to 800,000 people, with God demonstrating the gospel preached with mighty signs and wonders. I attended a few services back in the 1990s as pastor Jamie was pioneering the Word of Life church in the city, and learned that Peter Youngren, an international nation shaker, was coming to my hometown to preach! So I marked my calendar and made plans to attend his meeting at what was originally called the Talisman hotel on Carling Ave. Yet, just as God has a plan for our lives, so does satan.
So I fasted a couple of days and came down with a cold that progressed to become viral pneumonia, for which I was prescribed antibiotics. I was coughing and feeling pretty under the weather, the night of the meeting, but thought to myself: 'This man has an anointing to heal the sick, so I'm gonna go anyway'. So, I parked and entered the hotel and found the meeting room where praise and worship had already begun. I found a seat at the back, dressed in my baggy sweatsuit trying to simply make it through the service, quietly praying under my breath 'Father, I came here to get healed and to receive the anointing to serve you'. Then it happened: ' Peter Youngren took the pulpit, and an electrifying presence of God entered the room. He immediately said: 'There is someone here with a breathing infection, that doctors prescribed medicine for that has faith to be healed. Stand up and come up here, now! So, I got my sniffling whimpering self up and headed to the front, amazed that he had diagnosed me so accurately supernaturally, and when he laid his hands upon me, all strength left my body, and I collapsed upon the carpet, unable to get up or even move, under the tremendous weight of the glory of God. I'm told I was there on the floor for almost an hour while the service continued, basking in the glory of God. When I was finally able to get up, all symptoms of pneumonia had left, and I felt as strong as a warrior!

We were attending an Elim church named Dayspring up in Ottawa and used to drive a senior member home after services named Rita Hare. She invited us to drive to Toronto for an anointing service with the late Morris Cerullo. We drove down there and as the service progressed, Dr. Cerullo invited us to come forward where he had a big jug of oil that he kept his hands dripping with as he prayed for people. As he prayed, I felt the presence of God like a warm oil go through my entire body. Several weeks later as we drove Miss Rita home after church with a handicapped young lady named Cindi also in the car. We went into Miss Rita's house for lunch and asked Miss Cindi what was wrong with her because she had crutches and a neck brace. She claimed to have been run over by a bus, and one of her feet was a calcified lump of bone and tissue. When I knelt down to lay hands upon her club foot, that warm oil sensation like at Dr. Cerrullos anointing service flowed out of my hands into her foot, and when it did, it felt like her foot turned into Jello in my hands as God literally recreated it while we all watched. Another man named Clint Clark gently placed his hands upon her head and prayed for her neck to be healed. He then told her to take off her neck brace and do something that she couldn't do before. Reportedly she had been unable to move her neck before prayer, after prayer she received complete mobility in her neck, demonstrating it by looking side to side twisting her neck to each side, pain-free. To God be the glory, He still does miracles today. She left that place without crutches or a neck brace!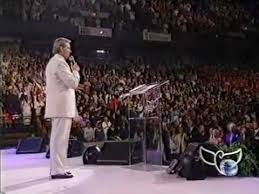 In 1994 I had the privilege of flying down to Anaheim, California to attend the Full Gospel Businessman's World Convention. During one of the services Benny Hinn invited people to come forward to receive the anointing, and the service threatened to go out of control. Roughly 5,000 people rushed the platform and threatened to crush those of us in front. Benny yelled, 'Back!' and it was like a ring of fire descended around him about 15' in diameter, and everyone in that circle was thrown back from him. I will always remember him in the center of that circle with his arms raised in worship as the Holy Spirit moved like a wave of glory emanating out from that circle, knocking thousands of people to the ground like dominos. I was at the bottom of the steps leading up to the platform and I had my arms out trying to shield a man with Cerebral Palsy, crawling and drooling painfully up those steps. Security stepped in and ended the service, and I remember feeling disappointed that pastor Benny had not laid hands upon me, but felt the voice of the Holy Spirit whisper to my heart, that I had received what I came for. Well, when security rushed pastor Benny off stage and commanded us all to leave, I witnessed an usher commanding that crippled man to get off the platform. This man shook his head in defiance and said 'NO!', so I said to the usher: "Sir, this man crawled up there and cannot walk' and the usher brutally said 'If you crawled up here, then crawl back down, I got to clear the stair' So I said to the usher' Did not pastor Benny just pray for us all to be anointed, why don't we pray for this man?' The usher smiled and said: "Why not?' So we prayed for this crippled man, and like lightening the power of God shot through him, and he stood up unaided, and then walked down the stairs completely healed!' So, like everyone else, I left the auditorium and went out into the foyer where I met the man from Ottawa that I had traveled there with. He said he had tried to go forward to receive from God but could not get through the crowd, and asked if I had received anything? I nodded 'Yes!', and suggested we raise our hands and worship God for a couple of minutes, As we sang Hallelujah, I saw the throne of God and His glory being poured out, so I opened my eyes and said to the group of 6-10 people I was with: 'Do you see that, God is pouring out His glory!' but as I looked, I discovered that I was the only one of our group left standing, the other 6-10 people were on the floor surrounding me, knocked down by the glory of God! I believe I received an anointing from heaven that day through the office and anointing of God's servant Benny Hinn.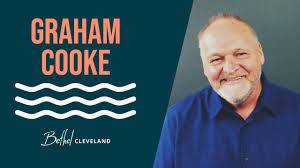 Graham Cooke – If you have ever wondered what a New Testament prophet looks like, find Graham Cooke. Graham moves tremendously in revelatory gifts of the Holy Spirit, and His book: 'Developing Your Prophetic Gifting' is like the required 'cookbook' to find the perfect recipe for the prophetic.ministry. Graham is a humble servant of God that I had the privilege of hearing speak several times at the great revival known as 'The Toronto Blessing'. During one of these meeting, Graham was praying for anyone that wanted a prophetic word, and the altars were full, with a line up out into the lobby. Ministry time went well after midnight, and I was getting tired and bored, waiting for my place in line. So I prayed, and I believe the Holy Spirit brought the story of the woman with the issue of blood to my mind. All she did was to touch the hem of Jesus' garment, and she was healed. I did not need healing, or yet another prophetic word upon my life, I knew I was called of God and required one thing out of that meeting, the touch of God through the office of the prophet. So, I quietly snuck out of my place in line and edged towards the front where Graham was ministering to an older lady in great power. Before anyone could tell me not to, I reached my hand through the crowd and touched Rev Cooke's shoulder, and there was an explosion of light, and I found myself knocked to the floor under the familiar glory and presence of God. Graham exclaimed: 'Who touched me? I felt power go out of me!'. The joy of the Lord was on me and I was laughing uncontrollably on the floor, so I waved at him. He did not like me being out of order, but at that point, I did not care, for God had given me what I came to Toronto for. Since then, prophetic words, interpretation of tongues, and increased dreams and visions from God have been standard practice in my life…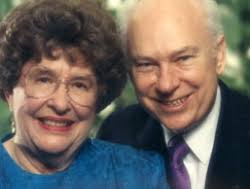 The Happy Hunters
Sometime in those glory years between 1994-1997 Charles and Francis Hunter ministered at the Toronto revival. I had read many of their books in my insatiable hunger for the things of God and longed to meet them and have them pray for me. Francis was like liquid love, very gentle and compassionate as she prayed with a great love for the sick, but Charles was a warrior, calling down the 'lightenings of God' as I had read of the late John G Lakes ministry. They gave an altar call and prayed for those of us desiring it: fresh anointing from God. Francis prayed first, and like a warm, comforting oil flowed over my body from the top of my head right through my toes! Then Charles prayed, and like lightning, the power of God shot through my body. In that same meeting, he prayed for a man with a broken back from a motorcycle wreck, and the man was instantly miraculously healed, able to take off his back brace, and bend and twist his back around, pain-free!
Well, time moved on, and I moved from Ottawa to Tulsa Oklahoma to attend Rhema Bible Training Center. Since I entered the USA under a student visa US immigration made it very clear that I was forbidden to work, but could only study. God supernaturally provided for me for the entire 2 years of Bible college, for true obedience is better than sacrifice. I am not lazy, so while my roommates went off to work each day, I would attend prayer and healing school each day and serve on alter care, usher crew, and prison ministry. During one of the prison outreaches to the prison in Vinita, Oklahoma, we students were asked to pray for people who came forward at the altar call. A huge mountain of a man, a native American brother about 350 pounds and 6'6" tall came forward for prayer. I asked him what he needed God to do for him, and he placed my hand upon his lower back. He had broken his back in a motorcycle accident, and reportedly, doctors had removed shattered vertebrae. You could feel a 'v' in his spine where the vertebrae were missing. So I simply prayed, "Father, in the name of Jesus, I release his miracle now!' Then I gently slapped him on the back. There was a little black sister standing beside me, also praying for him in other tongues. When I slapped him, this man collapsed like a sack of potatoes, falling backward into the crowd. The black sister also fell out, falling in the opposite direction. Immediately, prison guards drew weapons and waded into the chaos demanding to know what happened. I simply said:'God touched him, I simply prayed for him' They ordered the service ended, and inmates back into their cell blocks, while we were ordered back on to the church bus. We were read the riot act by Rhema leadership, that because this was a maximum-security cell block, that no one could fall on the floor especially women in a men prison, those guards were only moving to ensure order and our safety. I was amazed! I had grabbed a seat directly behind the precious sister who had fallen down beside me at the altar, and she was still experiencing Gods glory on the bus, eyes closed, quietly praying in the Holy Spirit, so I did not interrupt what was clearly a holy moment between her and Jesus. As we drove home, she opened her eyes, so I tapped her on the shoulder and asked her:" What did Jesus do for you?' His answer was riveting. She said: "While we were at the altar praying for that man, I saw the glory of God as a waterfall start to flow into the meeting. Then you slapped that big man in the back, but in the air, I saw new vertebrae appear in your hand as you touched him' To make a long story short, I understand that that big Indian wrote Rhema, thanking us for coming, stating he had gone to the doctor and his back was completely healed! That is was a miracle, because the vertebrae that doctors removed was no longer missing, he had a new one put in by Jesus!
This to me is why chasing the anointing is so consequential. There are suffering people that need what only the supernatural power of God can deliver.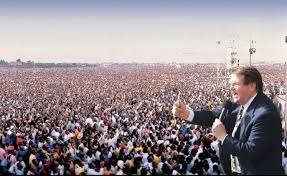 Rhinhart Bonnke – Phew! What an incredible man of God. To my knowledge brother Rhinhart held the largest gospel crusade in human history in Nigeria with over 3 million in attendance and over one million people born again in one night, (watch: https://www.youtube.com/watch?v=MBtBHZtdU78) then over one million people baptized in the Holy Spirit with the evidence of speaking in other tongues in one instant! The legendary impact of this great man of God stirs me to this day! I devoured his books and teachings and loved his 'Life of Fire' video testimonies of his life. The story he told of his huge gospel tent being destroyed by demonically inspired winds, stirs me still.(https://www.youtube.com/watch?v=J7lqSYRkckY). He cried out to God for a 'Storm stopping Anointing!'.  His great gospel tent destroyed! Yet from the destruction came a cry to heaven that released power over the weather systems. So I said to God: 'I must have this anointing!!' Then I thought:' There's no way Bonnke can pray for you, for he is in Africa, and you are in Canada', so I prayed boldly, 'God, send Bonnke to Canada and I will go to his meeting and He will pray for me to receive this powerful anointing'. Then, the years began to roll by, and I thought God had forgotten my prayer. Then 1994 came and 'The Fathers Blessing' or 'Toronto Blessing' began to happen. Who's who in the Christian zoo, all began to come through Toronto, and I attended 21 conferences there from 1994-97, hungry for more of heaven. Hard after the call of God upon my life, passionately pursuing Jesus and His gifts. I believe I prayed that prayer sometime in 90 or 91, and it was at least 5 years before Bonnke came to preach in Toronto. I did what I did often in those days, I fasted, prayed, and believed God for Bonnke to lay his holy hands upon me to impart his storm stopping anointing. So, I drove the five hours to Toronto the night before, stayed in the Christian rest home run by Ruth Murray in those days, and then got myself over to the meeting an hour early, and got a front-row seat to hear Bonnke. Worship was ballistic, and the glory of God descended upon the service. As Bonnke took the platform, Holy Spirit stopped him and he proclaimed: 'I came here to preach, but first, I must lay hands on people who have come to receive the anointing!'!! So I ran to the altar and was the first of thousands to be prayed for, and as the power of God like lightning struck me, I found myself in the typical Toronto position, that is laid out on the carpet, basking in the glory of God. Eventually, the service went on, Bonnke preached, and there were miracles, but in my heart, I KNEW that I had got what I came for, and I couldn't wait for an opportunity to exercise what i had received. Yet, God had to prepare me for it first.
In the Spring of 1997, there was an event held in Ottawa, Ontario, initiated by a man of God named Bill Bright, entitled 40 days Ablaze. 25 churches joined together and committed to meet daily for a 40 day fast, seeking the face of God for revival and a move of the Holy Spirit. During this time, I was grieving the deaths of both my mother and father who died of lung cancer, and I must admit, only the manifest presence of God ministered to me daily during the revival gave me the strength to endure walking with my parents through all the chemo, radiation, hospice and eventually palliative care, watching my dad go from a 240-pound strong man to an 80lb skeleton as cancer ravaged his body. They died, despite my best efforts to get them healed through God's power to no avail. In the end, During the 40 days, I was eating one meal a day, because I was still driving a school bus during cold Canadian winter days, and I did not have faith to not pass out on the road, without some food in my system. As my dads disease progressed, I did 10 days drinking only water seeking his healing, and even prayed and raised him from the dead once, yet he died. After losing his wife of almost 40 years, he lost his will to live, and i could not convince him to receive his healing. Here is a critical lesson we must learn in ministering to the sick. Its not what we want, or what relatives want, but what does the sick person want? If they want to die and go home to Jesus, God will not violate their free will, they will die..So, dad died, and I was heartbroken, for I truly loved him.
Somewhere in that time, I had my out-of-body death experience, where my spirit left my body for 10-15 minutes during worship, and Holy Spirit took me to heaven to see my loved ones dancing before God's throne. My dad was there! So his deathbed confession of Jesus had worked! God saved him, and then lifted all the heavy grief and depression off of me. He also spoke to me to attend Rhema, and then spoke to an Inuit lady from Bible study to buy me a plane ticket from Ottawa to Tulsa to 'Get Acquainted' Rhema weekend in April of 1997. I bumped into an older gentleman in Rhema park headed for the complimentary Barbecue (My first full meal in 40 days), and I exclaimed 'I'm so sorry, please excuse me, wow! you're Kenneth Hagin!', He laughed and said; 'Well, that's what my mother called me. So young man, are you coming to Rhema in September?' I replied 'Well, I guess the correct answer is; "By faith I am" and the rest is history. He said: "According to your faith, let it be done son, see you in September!" and the rest is history. I went through the 2 years there and graduated in the pastor's group in 1999 on Friday, May 21st, and married my beautiful wife Karen on Monday, May 24th in Rhema Bible Chapel by rev. Gary Crowl. We then headed out to Grand Canyon for a honeymoon and then pointed the car north to head up to Canada to pioneer Door of Faith Church. Before I graduated, I had another powerful Holy Spirit with Kenneth E. Hagin where he laid his hands upon me to send me out to go pioneer the church and a dramatic power encounter with God at graduation with Rod Parsley. God knew what I was about to enter into and endued me with power before He sent me.
Door of Faith Church
In 2nd year at Rhema, we had been going door to door in North Tulsa, knocking on people's doors with our little 'tickets to heaven' tracts from some of the Evangelist group students. Over 1500 people accepted the gospel and prayed with us for salvation and we created a list of people's contact information to arrange to follow up the ministry. We asked several churches to put a bus ministry on this list and to bus people into their churches, but the only person interested was pastor Billy Joe Daugherty of Victory Christian Center. He grabbed that list out of William Babcock's hands, and said: 'Give me that list, I'll follow up with them" and he did! I learned how pastor Rod Baker receive that list and called and visited every one of those new converts and arranged bus transportation for them to Sunday services. During this time I understand God birthed the Tulsa Dream Center.
Since we had such good success with the gospel tickets to heaven outreach, I printed up a couple hundred of them and went door to door in Debra Dynes community center near Hogsback bridge in Ottawa, On. I borrowed a sound system with 3 microphones and we decided to spend each Saturday going door to door evangelizing, and hosting a gospel crusade each Sat night in the park. The first night's meeting was providential in that as soon as we began to set up the sound system, huge dark thunder clouds arose in the sky and warning drops of rain began to fall. Most people told me the sound system would be ruined, and I commanded, "Set it up anyway and plug this thing in!", By the time we had cords run, and the system plugged in, the wind was blowing hard, splattering big raindrops on our little platform. Suddenly, I remembered who I was, and the storm stopping anointing that I had received from Bonnke, and with great boldness, I yelled into the microphone: "I am a servant of the Lord Jesus Christ, and by the power and authority entrusted to me, I command this storm to stop and the sun to come out that the gospel be preached here'. It was amazing, electrifying that first night as we watched the huge thunderheads roll out of the sky and the sun came shining through. It poured rain within a quarter-mile around us, but we were under an open heaven! and not one more drop fell upon us. If I recall correctly, 57 people received Jesus that day, and there was a remarkable miracle where a scandalous alcoholic and drug addict got saved and set completely free from both his addiction and his life of crime he used to pay for them, after his then 8-year-old daughter came forward in tears, begging us to pray for her dad.
We met in that park for the next 6 weeks, and each week it would threaten rain, yet I would rebuke it, and it would immediately dissipate from the storm stopping anointing I had received at the hands of Rhinhart Bonnke. By the 3rd week, I began to laugh at the devil publically mocking him saying: 'Hey devil, you are amazingly bold and foolish, trying to disrupt this meeting again with bad weather, don't you remember what happened last week?' and I would rebuke the storm and the sun would come out and we had church. 6 weeks in a row of preparation for what was to come….Since 2004 I have lived here in Tulsa and faced tornado's and severe storms, yet I have consistently rebuked them all successfully with no harm to myself or my family. The anointing still is working…
I also had tremendous impartations through the ministries of Rhinhart Bonnke,(my storm stopping anointing!
) Kenneth E Hagin (pastor/teaching gift imparted) and Rod Parsley, (a funny story of how Jesus interrupted my Rhema graduation)and of course Rodney Howard Brown and Billy Joe Daugherty but I am working on a school assignment that requires attention right now, so I will write more later.